Quick Easter Appetizers That Are The Real Dill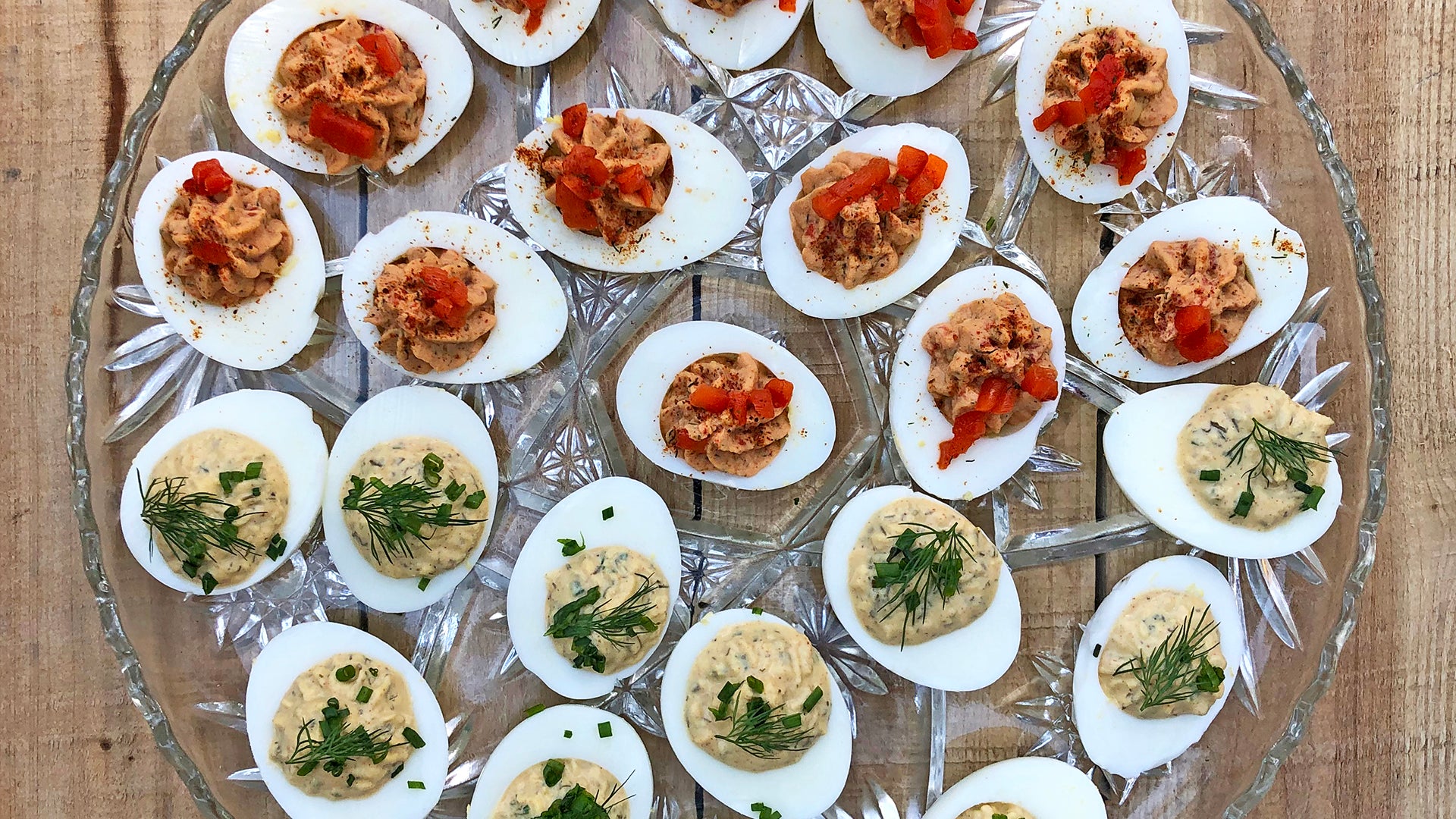 The sun is setting later, the flowers are in bloom, the trees are budding, and the Easter candy has hit the grocery store shelves. It is safe to say, spring has finally sprung, and warmer weather is just around the corner. Before you dive head first into the chocolate bunnies and candy eggs this year, we suggest planning out your Easter meals ahead of Easter Sunday. Traditional Easter lamb or ham may steal the spotlight on your dinner table, but let's be real, it is the Easter appetizers that really kick off the holiday festivities. In case you want a bite or two before the big holiday meal, especially after you have built up an appetite from your Easter egg hunt, here are the best starters to begin your family feast the right way. We gathered the perfect Easter appetizers ideas to get the party started on Easter Sunday, which of course center around pickles and a Bloody Mary or two.
The Nibbles
First-impression bites to tide everyone over until Easter dinner is ready. 
Jalapeño Honey Deviled Eggs
Nothing screams Easter like eggs, and deviled eggs are arguably one of the most delicious styles of eggs you can find. If taste and flavor have not convinced you to make these delectables, here is another excuse to make deviled eggs for the holiday: you can make these recipes ahead of Easter, making them the Easter appetizer idea that will help you save time so you can enjoy the holiday instead of getting stuck in the kitchen all day long. These Jalapeño Honey Deviled Eggs have the perfect balance of sweet and heat, plus they repurpose the other ingredients in your pickle jar, aside from the pickle spears.
Bloody Mary Deviled Eggs
Bloody Mary Mix is not only made for drinking in Bloody Marys and cocktails. This deviled egg recipe features all of the bold flavors found in our Bloody Mary Mix, and unlike Bloody Marys, it can be enjoyed by all ages! And trust us, it will be.
Bloody Mary Rimming Spice Party Nuts
The salty, crunchy star that will carry your guests from Easter lunch to Easter dinner. The recipe is super simple, and you can also make it several days ahead if you are pressed for time on Easter Sunday.
Parmesan Bloody Mary Rimming Spice Pretzels
Parmesan Bloody Mary Rimming Spice Pretzels couldn't be easier to make or more addicting. You can mix in these pretzels with Bloody Mary Rimming Spice Party Nuts for the ultimate delicious Easter party mix. Set these out on Easter morning and let your guests snack away all of Easter day.
Naked Bacon Wrapped Pickle Bites
Our pals at Naked Bacon put together the ultimate low-carb Easter recipe that will satisfy all of your cravings while keeping your health-goals in check. Made with only two ingredients and baked to crispy perfection, these treats are what salty and sweet dreams are made of. Serve with ranch or Dilly Dipping Sauce.
Simple Slider Skewers
These adorable slider skewers are both addictive and low carb. Plus, they have all of the fixins that make for a delicious burger, and they will not spoil your appetite before the big holiday meal. They are the perfect Easter appetizer to kick off the picnic and backyard barbecue season to come.
Bloody Mary Rimming Spice Sautéed Shrimp
Easy pan fried shrimp feature bright flavors found in The Real Dill Bloody Mary Rimming Spice. Bonus points: the lightness from the seafood will not fill up your guests before Easter dinner. Doubles as a great Bloody Mary garnish.
The Veggies
Spring is for colorful produce, and these healthy, fresh recipes are the perfect appetizers to serve before a heavy holiday meal.

Hot Weather Gazpacho

Gazpacho [guh-spah-choh]
1. a Spanish soup made from tomatoes, peppers, etc., and served cold like revenge
2. a stupid-good Spanish soup when made with The Real Dill's Bloody Mary Mix and Bill St. John's recipe
Cool down with this tasty recipe after your Easter egg hunt.
Bloody Mary Rimming Spice Roasted Veggies
An easy way to sneak in seasonal vegetables on your Easter appetizer table while using up the fresh produce you are neglecting in your fridge over the holiday weekend. The Bloody Mary Rimming Spice gives a welcomed bold, citrusy, and slightly-salty kick to the dish. Plus, they make for great leftovers.
Bloody Mary Rimming Spice Brussels Sprouts
These addicting, crispy Brussels sprouts are the perfect spring side dish for your Easter holiday gatherings and the easiest way to get your kids to eat their green vegetables.
Bloody Mary Rimming Spice Potato Wedges
This recipe is a healthier hybrid between french fries and home fries. The results are crispy on the outside and soft and pillowy on the inside. The Bloody Mary Rimming Spice takes this Easter appetizer to the next level by welcoming bold, zesty flavors.
The Dips
The perfect accessories for your Easter appetizer table to accompany hot sauces, ketchup, salt, and pepper. Use these recipes to dip in, dress up, and douse your dishes.
Creamy Healthy Pickle Dip
This creamy pickle dip is loaded with herbs, spices, and of course, chopped pickles. Greek yogurt and reduced fat cream cheese provide a healthy twist to this unique dip. Perfect for the pickle lovers at your Easter gathering. Serve with pita chips, tortilla chips, crostini, and crudités.
Creamy Green Chile Hot Sauce Aioli
Our favorite sauce to dip vegetables into, and the ideal accompaniment for Bloody Mary Rimming Spice Roasted Veggies, Bloody Mary Rimming Spice Brussels Sprouts, and potatoes. If you want to earn extra gold stars, substitute this recipe in place of the mayo in your deviled eggs.
Dilly Dipping Sauce
Sour cream makes everything better, and yes, you can fight us on this notion. Herby, tangy, slightly spicy, and obviously, creamy, this recipe makes sour cream shine even more than it does on its own, and that says a lot. Not to mention, this sauce is a ten out of ten on Bloody Mary Rimming Spice Potato Wedges.
Bloody Good Dipping Sauce
This sauce truly lives up to its name. It's just that bloody good. Featuring Bloody Mary Mix and Habanero Horseradish Dills, this recipe is bold, tangy, and slightly spicy. Think a jazzed up thousand island dressing meets cocktail sauce. Serve with roasted vegetables, crab legs and seafood, or Bloody Mary Rimming Spice Sautéed Shrimp.
Extra Credit
The Ultimate Grazing Board
For the hosts and hostesses who wants to earn extra brownie points with their Easter guests, we recommend building a grazing board. This is a charcuterie board on steroids. You can mix and match any of these simple Easter appetizer recipe ideas with your favorite meats, cheeses, fresh fruits and veggies, and of course, pickles. If you want to go all out, check out this step-by-step guide to creating the blow-out noshing table that will keep everyone happy all day long.
The Ultimate DIY Bloody Mary Bar
Of course, you cannot have a holiday celebration without delicious cocktails, and that means ample Bloody Marys, if you are anything like us. Building a fully loaded Bloody Mary bar at home is easier than you would think. Combine your favorite Easter appetizer ideas with traditional Bloody Mary toppings such as celery, carrots, pickles, olives, lemon and lime wedges, cheese, and bacon. Get creative with it! Since you are setting this up at home, the sky is the limit.
Looking for more appetizer ideas? Check out all of our recipes here.
Leave a comment