Tackling Game Day, One Snack At a Time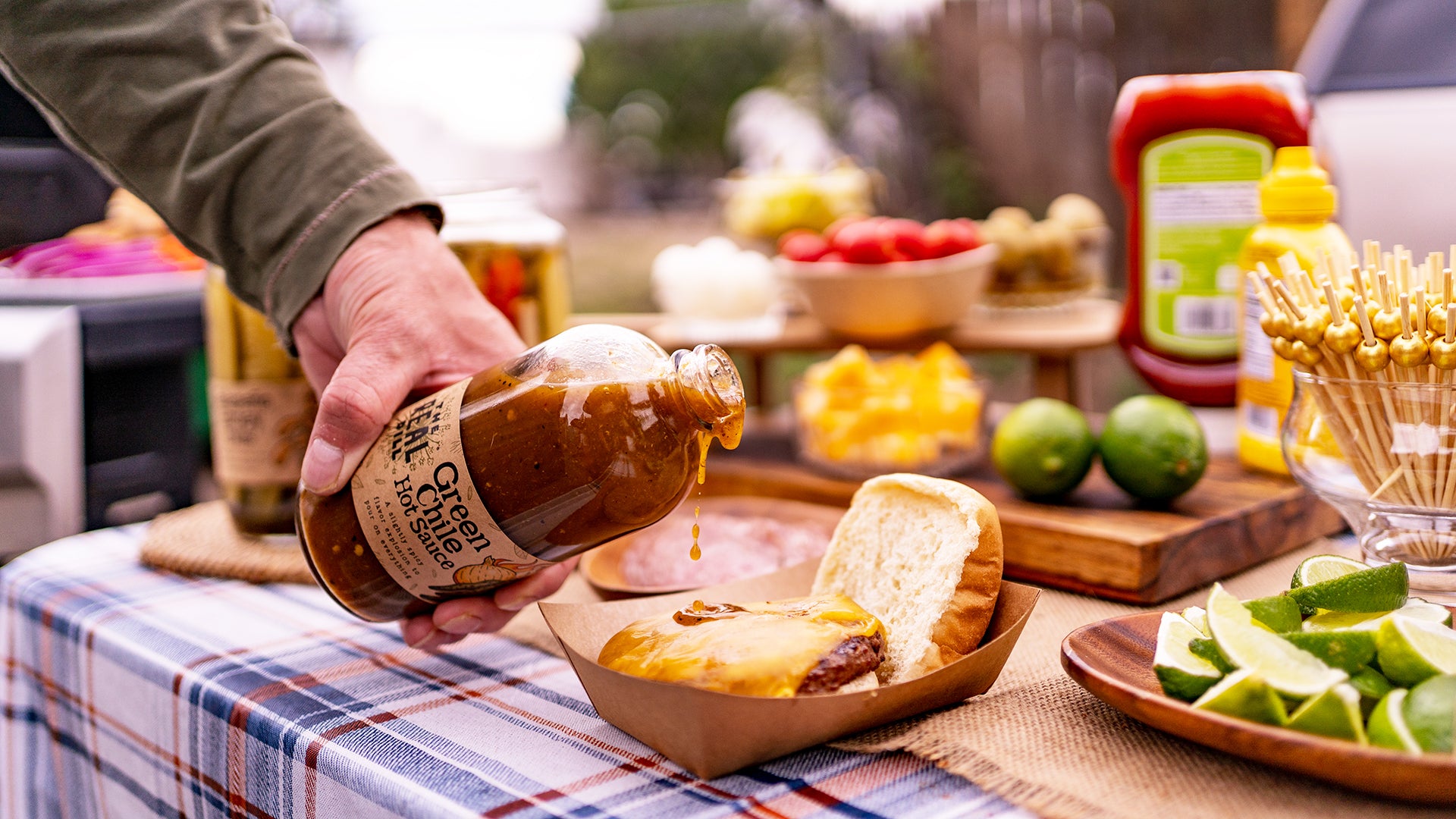 Football season is here, which means it's time for tailgate food! Even if your team is struggling this year, or maybe sports aren't your thing, we can all agree that game day snacks are always a touchdown.
Bust out your home-team jersey and turn up your favorite fight song because your tailgating game is about to move up in the power rankings. It's never too early to start planning your tailgate menu, so you bring home the game winning spread.
Score some major points during Sunday football with these fist-pumping worthy tailgate food ideas featuring our MVPs (most valuable pickles) and Bloody Mary Mix. Some are easy football snacks that you can prepare ahead, and others are great for preparing in the parking lot before the game starts.
This creamy and salty flatbread, made with store bought crust, can easily be made in an oven or on a grill, depending on where you're enjoying Sunday football. The winning combination of melty cheese, slightly sweet and spicy pickles, and salty salami is always a crowd pleaser.
Pickle pops are a great tailgate dish for a warm afternoon game day. These popsicles are refreshing and tangy. Think of them as a savory drink on a stick. All you need is your favorite pickle brine, water, sugar, popsicle molds, and a few hours to let them chill in the freezer. Feel free to add vodka for a boozy treat.
Bloody Mary Rimming Spice Grilled Veggies
This healthy tailgate dish requires minimal prep and cook time. Grab some peppers, onions, mushrooms, zucchini, or fresh corn, and a tin of Bloody Mary Rimming Spice. Toss the veggies in the Bloody Mary Rimming Spice and some high heat oil, throw them on the grill, and enjoy.
Sliders are a tailgate classic, and they can easily be enjoyed in a football stadium parking lot, when skewered on a stick. Grill up some sliders, add your favorite burger toppings such as lettuce, tomatoes, cheese, and pickles, and dig in.
Bloody Mary Bacon Wrapped Jalapeño Poppers
Jalapeño poppers are one of the best appetizers you can make. They're spicy, cheesy, salty, crispy, and oh-so-satisfying. Wrap them in smoky bacon and add in bold Bloody Mary flavor, and quite honestly, you have yourself one of the greatest football snacks of all time.
Jalapeño Honey Coleslaw is a slightly sweet and tangy twist on a classic coleslaw recipe. Crunchy cabbage and carrots are tossed in a punchy, flavorful dressing, which features pickle brine in place of vinegar. This cold dish is perfect for as a side dish or on top of fish tacos, burgers, and sandwiches.
Bloody Mary Rimming Spice Street Corn
Fall is peak corn harvest season, and one of our favorite ways to enjoy it is in a dish called Elote, otherwise known as Mexican street corn. This recipe features corn on the cob, mayo, sour cream, cotija cheese, a squeeze of lime, and flavorful Bloody Mary Rimming Spice, The Real Dill twist. You can make this tailgate dish ahead or serve it straight off of the grill in the parking lot. 
If college football is your thing, you likely attend morning tailgates where Bloody Marys are served. These refreshing popsicles are a fun way to enjoy a classic brunch cocktail and the perfect way to cool off ahead of game time.
Spicy Green Chile Almond Butter Wings
Skip the hassle that comes with deep frying wings. These chicken wings are crisped to perfection in the air fryer, oven, or on the grill, and coated in a delicious spicy, nutty sauce featuring our Green Chile Hot Sauce and almond butter to finish. They're sure to be a hit at your next tailgate.
Bloody Mary Bar
There's no better way to kick off Sunday football or a tailgate than with a DIY Bloody Mary bar. A mobile Bloody Mary bar is easier to make than you think. Grab your favorite spirits (we recommend vodka, tequila, whiskey, and gin), a few jars of pickles, Bloody Mary Mix, and your favorite garnishes. Set out skewers and let everyone build their own Bloody Marys. 
Leave a comment