5 Unexpected Pickle Pairings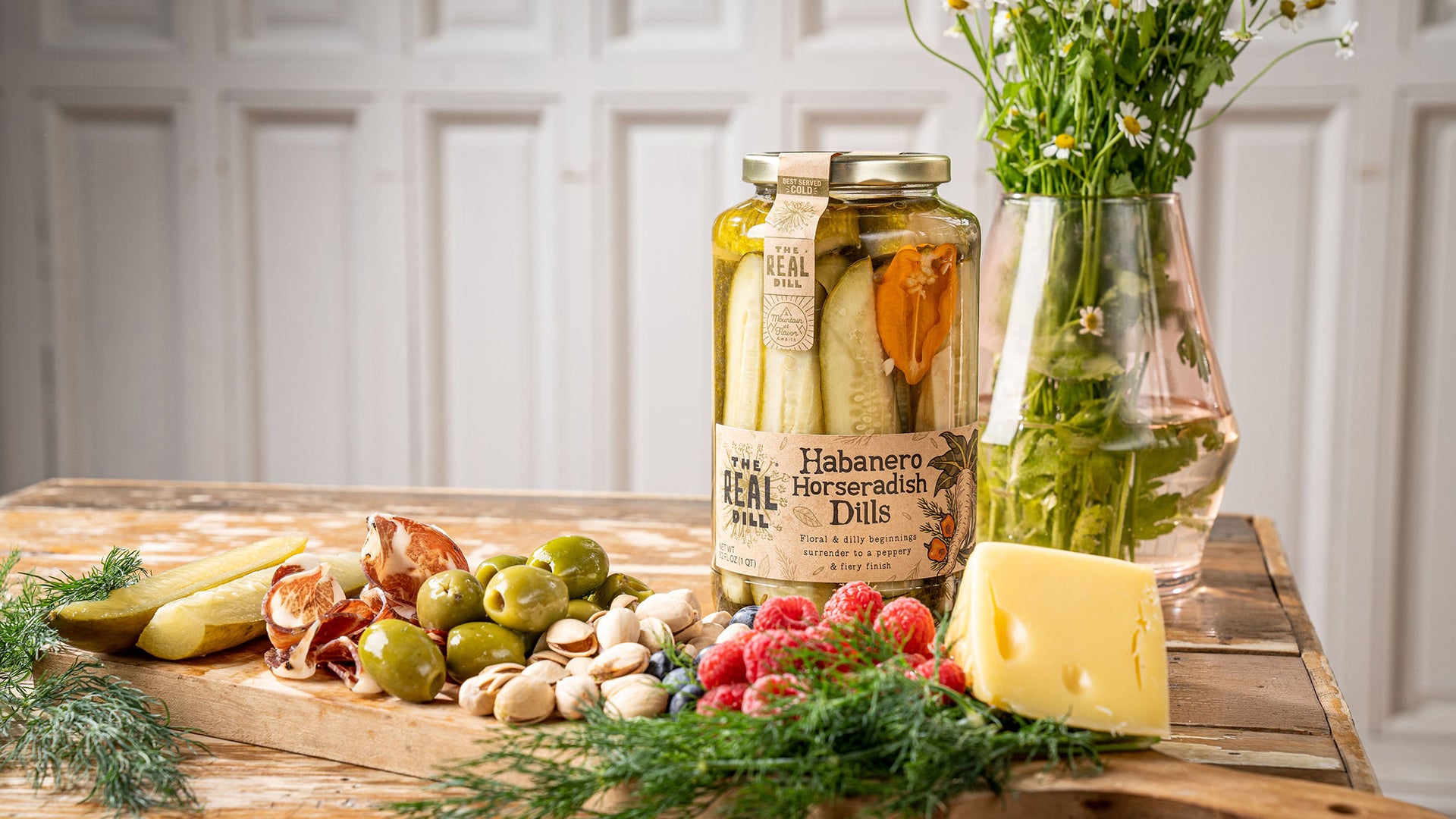 Some believe that there is a time for pickles. A pickle next to a sandwich, alongside charcuterie on a cheeseboard, sliced on top of a hamburger, fried with creamy ranch, and chopped into relish on a hotdog. These classic pickle pairings have stood the test of time, and even the pickle skeptics welcome pickles in these cases.
There are also some who believe that pickles are great, no matter the occasion, and we happen to be in that camp, of course. Nothing compares to the salty, pungent flavors found in pickles. Pickles make everything better. They are the ideal quick snack when you are craving something salty and crunchy. They add texture and pizzazz to ordinary dishes, and their tangy acidity cuts through rich, creamy foods in the most refreshing way.
Pickles are extremely versatile. You can pickle almost any ingredient, which is an optimal method to preserving produce that would otherwise spoil in your fridge or garden. You can also use almost any flavor in a pickle, and most cultures across the globe have their own version of a pickle. In Italy, they eat giardiniera, South Korea, Kimchi, India, pickled mangos, Germany, sauerkraut, Sweden, pickled herring, Mexico, Escabeche...and we could go on.
Pickles know no bounds, and they expand far beyond their typical condiment status. For the adventurous eaters out there, here are five unexpected pickle pairings that push the boundaries both on paper and in flavor.
Peanut Butter and Pickle Sandwich
Elvis Presley made the peanut butter, banana, and bacon sandwich famous, better known as the "Elvis" sandwich. The sweet, salty, creamy, and crunchy masterpiece is almost as well known as his music career. Fun fact, this sandwich was first served in a Denver eatery called Colorado Gold Mine Co.
Now we know what you are thinking. Peanut butter and pickles sounds insane. We agree, it is weird! But if you can eat salty, crunchy, savory bacon with peanut butter, why not pickles?
The peanut butter and pickle sandwich is an oddly addicting combination, and one of the strangest recipes with pickles that we have ever tried. For this sandwich, we recommend using a pickle with a hint of sweetness, such as The Real Dill Jalapeño Honey Dills. For peanut butter, we say creamy works best. However, almond butter works too, if peanuts are not in your diet. Crusty bread is optimal, and do not forget to toast it. Thinly slice your pickles to keep things balanced both from a flavor standpoint and texturally. Close your eyes and dig in. You will be coming back for this sweet, salty, nutty, and crunchy pickle pairing more than you will ever admit!
Chicken and Pickle Brine
Did you know the secret behind Chick-fil-A's famous nuggets is brining the chicken in pickle brine? Brining chicken is the best way to get juicy, tender chicken, which is why most people brine chicken before frying it. Instead of making your own chicken brine, you can save yourself a little prep time and eliminate food waste by repurposing the pickle brine left in your jar, after you finish all of the pickle spears.
That is what we used in this recipe for Pickle Brined Fried Chicken and Waffle Sandwiches.
Juicy, crispy, pickle brined fried chicken that sits between two fluffy, made-from-scratch waffles. Maple syrup is substituted with sweet and spicy hot honey pickle spread that bumps up the flavor to another level. Dress it all up and cool it off with crunchy Greek yogurt slaw to finish the masterpiece. If you're ready to lick your screen reading this, you aren't alone.
Pickle Brined Chicken Nuggets is another recipe that upcycles your leftover pickle brine.
These are a gluten free, grain free, healthier version of your favorite drive through nuggets. They are crispy on the outside and moist on the inside.
If fried food is not for you, try this recipe with pickles: Dill Pickle Chicken Salad Spring Rolls.
It is light, healthy, and full of unexpected flavors.
Pickle Ice Cream
This combo may take the cake as the most unusual pickle pairing, but we promise it is delicious. Pickles and ice cream are the de-facto poster foods of pregnancy cravings. Combining both at the same time creates the oddest and satisfying flavor. In 2016, the ice cream magicians over at Denver's Sweet Action Ice Cream released their Jalapeño Honey Pickle ice cream, which is inspired by and made with our Jalapeño Honey Dill pickles.
Spoon University called it Colorado's weirdest ice cream flavor, because, it is weird. Yet six years later, and Sweet Action Ice Cream still scoops this flavor on an annual basis. Pregnant or not, it is worth a taste!
Pickle Hummus
Looking for an easy, yet unconventional, recipe with pickles? Dill Pickle Hummus is a surprising and briny take on a classic, creamy, vegan hummus. It's tangy, salty (but not too salty), and bursting with pickle flavor.
Whip it up in under 10 minutes and snack on this dip every time the pickle cravings come.
Pickles and Cheese
Chances are you have mingled with pickles and cheese before. Perhaps on a cheeseburger or cheese plate. However, if you are eager to enjoy a pickle's true potential, we recommend going a step further, because cheese and pickles create one epic flavor bomb.
Here are a few of our favorite recipes with pickles and cheese:
A Pickle Grilled Cheese Sandwich is the most classic way to enjoy pickles and cheese, despite it still being an unexpected combo.
If you really want to indulge, we recommend making this decadent Bloody Mary Grilled Cheese recipe, which features our pickle-inspired Bloody Mary Mix and best selling pickle flavor, Habanero Horseradish Dills.
Pickle pizza is quite possibly the most polarizing pizza combination since the Hawaiian pizza added pineapples into the mix. We think this Jalapeño Honey Dill Pickle Pizza is a home run that will pleasantly surprise the skeptics out there.
We know it sounds crazy, but the savory, smokey, briny, spicy, creamy, and sweet flavors come together and hit every flavor note known to your tastebuds.
Simple Pickle Flatbread is a charcuterie board and pizza's love child.
Creamy, buttery cheese, crispy flatbread, salty salami, and tangy pickles blend together seamlessly in this easy recipe.
If you want to make your friends and family join in on this unusual pickle pairing, Dill Pickle Cheese Ball is the perfect conversation piece for your next dinner party.
We gave a traditional cheese ball a makeover by adding chopped pickles, a splash of pickle brine, and tons of fresh dill to pack this dip with extra flavor. 
Honorary mention: Vegan Pickle Dip.
While cheese is not actually an ingredient in this vegan dip recipe, blended cashews and nutritional yeast emulate cheesy, creamy flavors. We want to make sure our dairy-free friends get to try a "cheese" and pickle pairing too!
You know what they say, don't knock it till you try it. But if you are a traditionalist who fears eating outside of the box, here is an article for you: Pickle Pairings: A Snack Combo for Each of Our Dills.
Leave a comment