Jalapeño Honey Dill Pickle Pizza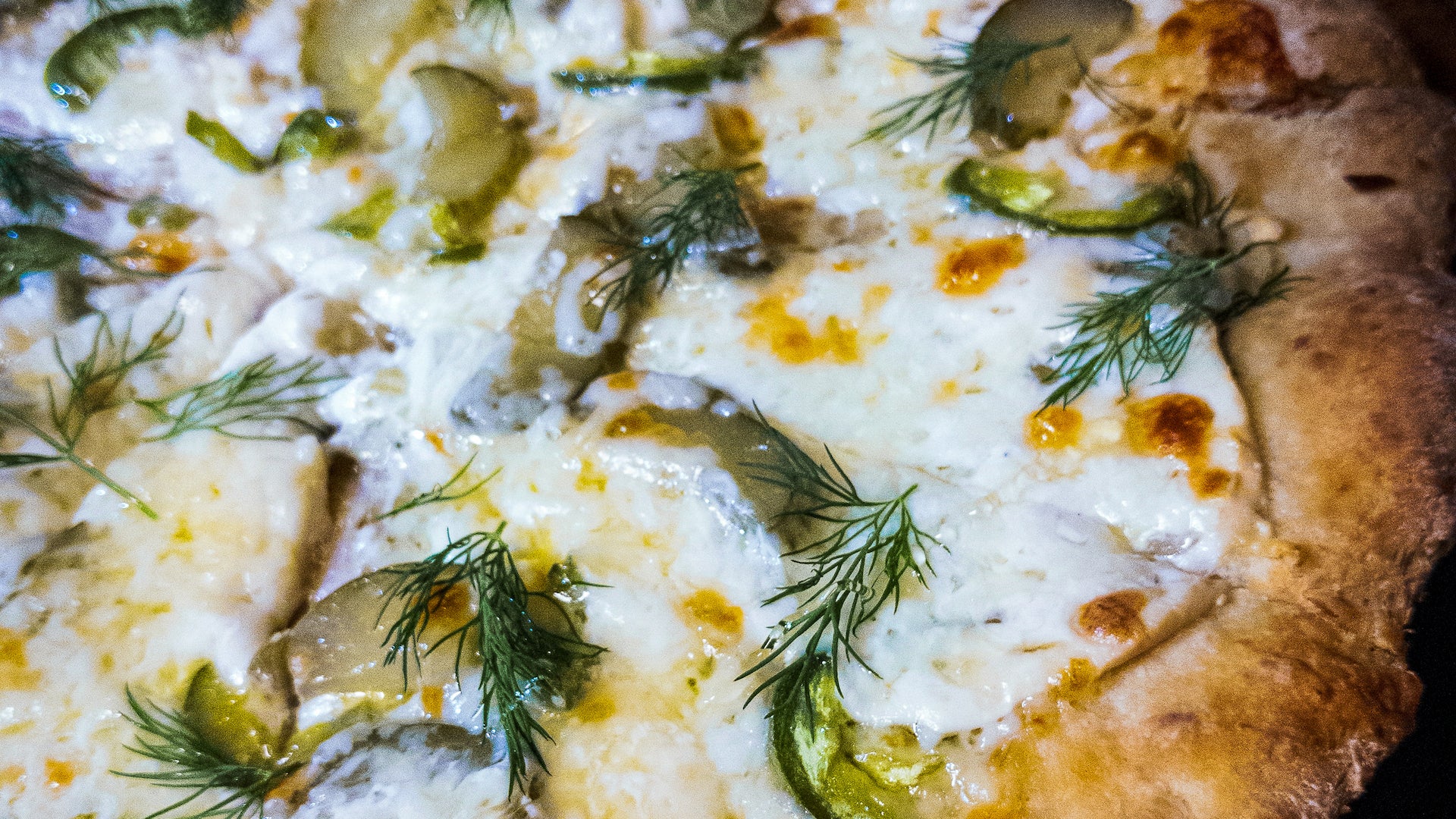 As pickle people, you could say that we like to throw pickles on almost everything (although we do have our limits.) Naturally, as we have seen pickle pizzas pop up on menus and on the internet, we figured it was time for us to put our own spin on this unconventional dish. 
This Jalapeño Honey Dill Pickle Pizza is for more than the average pickle fanatic. We know it sounds crazy, but the savory, smokey, briney, spicy, creamy, and sweet flavors come together and hit every flavor note known to your tastebuds. 
Quite possibly the most polarizing pizza combination since the Hawaiian pizza added pineapples into the mix, we think this version of pickle pizza is a home run that will pleasantly surprise the skeptics out there.
Ingredients:
2 cloves garlic, minced
1/4 cup extra virgin olive oil
1 16 oz. pizza dough
1/2 cup chopped fresh dill, divided
4 oz. smoked mozzarella, grated
6 oz. fontina, grated
2 The Real Dill Jalapeño Honey Dills spears, sliced
1 jalapeño, thinly sliced
1 tbsp honey
Directions:
Place pizza stone in oven & preheat to 550 degrees F. 

Add minced garlic to olive oil.

Prepare dough for toppings.

Brush surface of dough with garlic olive oil. Top evenly with half of chopped fresh dill, mozzarella, fontina, pickle spears & sliced jalapeño.

Transfer topped pizza dough to your hot pizza stone.

Bake on pizza stone until the cheese is golden-brown and bubbly, about 8 minutes.

Finish with a drizzle of honey & remaining half of chopped fresh dill.

Slice and enjoy!
Recipe made in collaboration with Chefs Nicole & David, @nicolesmoveablefeast