Strike Gold: The Prospector Series Featuring Pedro's Dynamite Pickles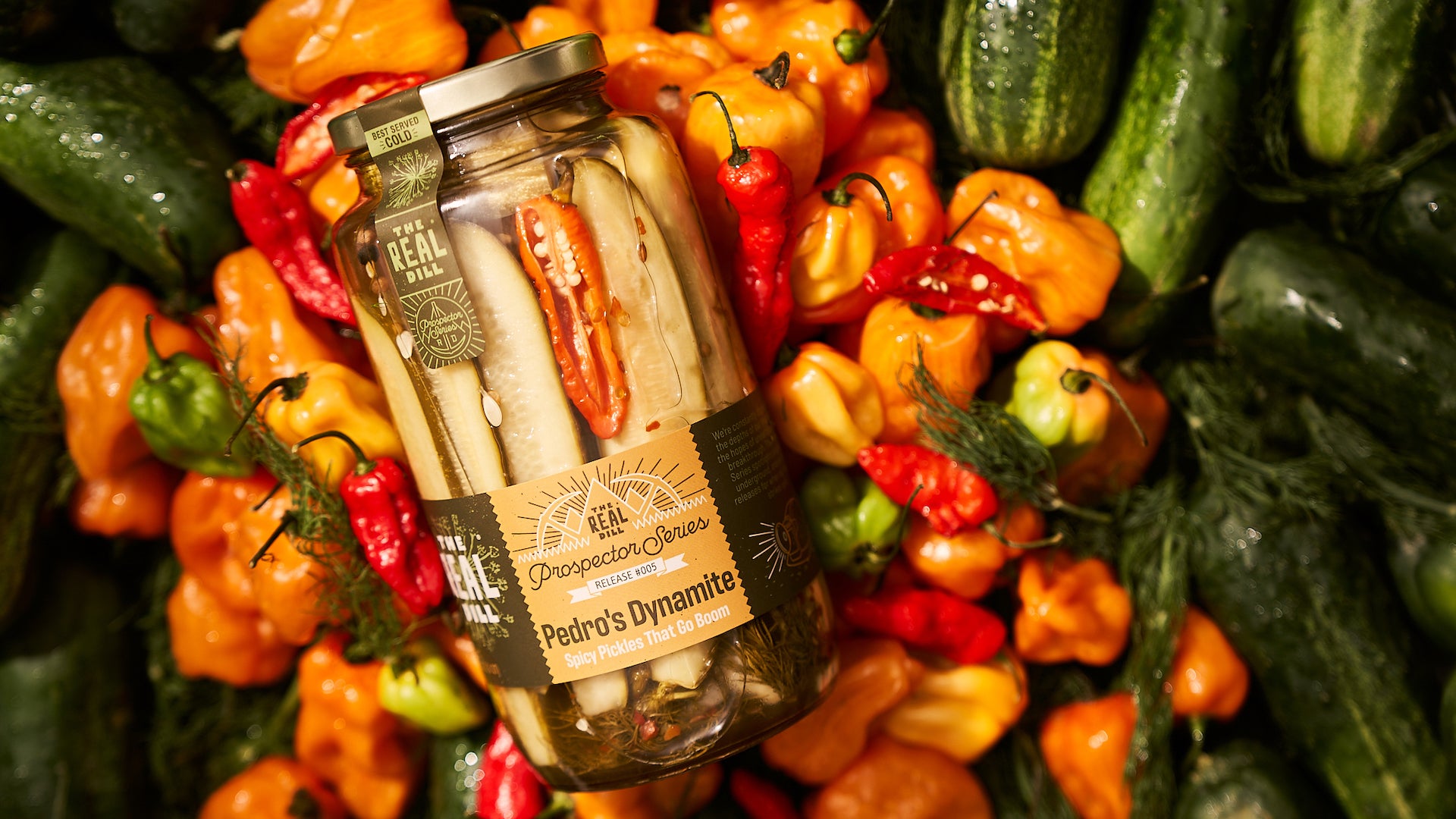 Our love of gardening and fresh produce runs deep, and without these passions, The Real Dill may never have come to fruition. Tyler DuBois, our co-founder, started pickling his community garden crops back in 2012 to eliminate his food waste, after he grew more fresh produce than he could eat. He later learned that his friend Justin Park, our other co-founder, shared a mutual passion for pickling, and the two started creating scratch-made pickles in their home kitchens. Fast forward to 2023, and both friends have been making pickles together, as the co-owners of The Real Dill, for the last eleven years.
At The Real Dill, we have always believed in clean, simple, real food, and we focus on letting the fresh ingredients shine in all of our products. All of our products are made with ingredients that you would find in your garden or pantry, and all of our products only contain singular, whole ingredients.
When it comes to the fresh ingredients that we source, we employ rigid standards for the quality that we will accept. After all, we believe that in the end, our products can only be as good as the ingredients that go into them. From the beautiful presentation to the fresh flavors, our products are designed around the natural ingredients that we use in each unique recipe.
In 2021, we launched the Prospector Series, which since has served as a new home that we can use as a creative outlet to develop a more limited line of products. As a collection of culinary trailblazers, independent thinkers, and innovative makers, we are constantly digging through the depths of our imaginations in the hopes of unearthing a creative breakthrough. With this notion, we developed the Prospector Series, our newest series that spotlights single-batch, underground, and limited edition releases, for when our inspiration strikes gold.
Sometimes you have to dig a little deeper to find something truly unique. The Prospector Series features our most exclusive, experimental product offerings and taps into rare ingredients and eccentric combinations.
In 2021, we were gifted seventeen types of homegrown hot peppers, grown in our friend's garden, including ghost peppers, scorpion peppers, and Carolina reaper chiles. We needed to do something special with the vibrant, fiery crop.
To start, we processed the chiles into a mash, which was lacto-fermented for preservation. The resulting mash was incredibly spicy with a funky acidity and tropical fruit undertones. We didn't have enough to mash make a hot sauce, so we decided it was finally time to sell a very limited, super spicy pickle, like the ones we make for our spicy pickle eating contests, using the mash as a base for the pickle brine.
These spicy spears are inspired by the legendary spicy pickle eating contests we have held over the years. When we first started The Real Dill, we were working out of a commissary kitchen in the Westwood neighborhood of Denver. One of the employees at the commissary was a character named Pedro. "We were constantly messing with each other and trying to get him to eat spicy things, and he was constantly making fun of us for it," says Tyler DuBois, Co-founder of The Real Dill. "So once we decided to throw our first "Spicy Pickle Eating Contest" at the very first Beers and Spears event at Denver Beer Company, we knew we had to name the hot pickles after him, in his honor."
Throughout the years, the spicy pickle eating contests have continued, and every time we throw another contest, the pickles get more and more spicy. They have all been named with a nod to Pedro: "Pedro's Revenge", "The Ghost of Pedro", "Pedro's Payback", "Pedro's Reincarnation", and so on.
For our fifth Prospector Series release, we're excited to unveil Pedro's Dynamite. Pedro's Dynamite pickles are super spicy dills made in the fiery tradition of these past spicy pickle eating contests. This grenade of a pickle is made with an in-house fermented chile pepper mash using home-grown varieties of scorpions, reapers, ghosts, and habaneros. The spicy spears hint at the smoky, fruity, citrusy, and nutty flavors of these specialty chiles, before exploding with incendiary heat. These pickles are not for the faint-hearted. Caution: detonate at your own risk.
Every time we host a contest, people ask us to sell the incredibly spicy pickles, and we're excited to finally share them with our audience who can't participate in these events in Denver.
Pedro's Dynamite is hotter than the blazing sun. We cannot think of a better way to close out a scorching hot summer season than with these limited devilish dills, which are exclusively available at therealdill.com.
Be on the lookout for forthcoming Prospector Series releases in the future. Due to the unqiueness of the Prospector Series, each release is crafted in extremely small quantities and only available at therealdill.com.
Leave a comment