Beat the Cold with Extra Spicy Bloody Mary Mix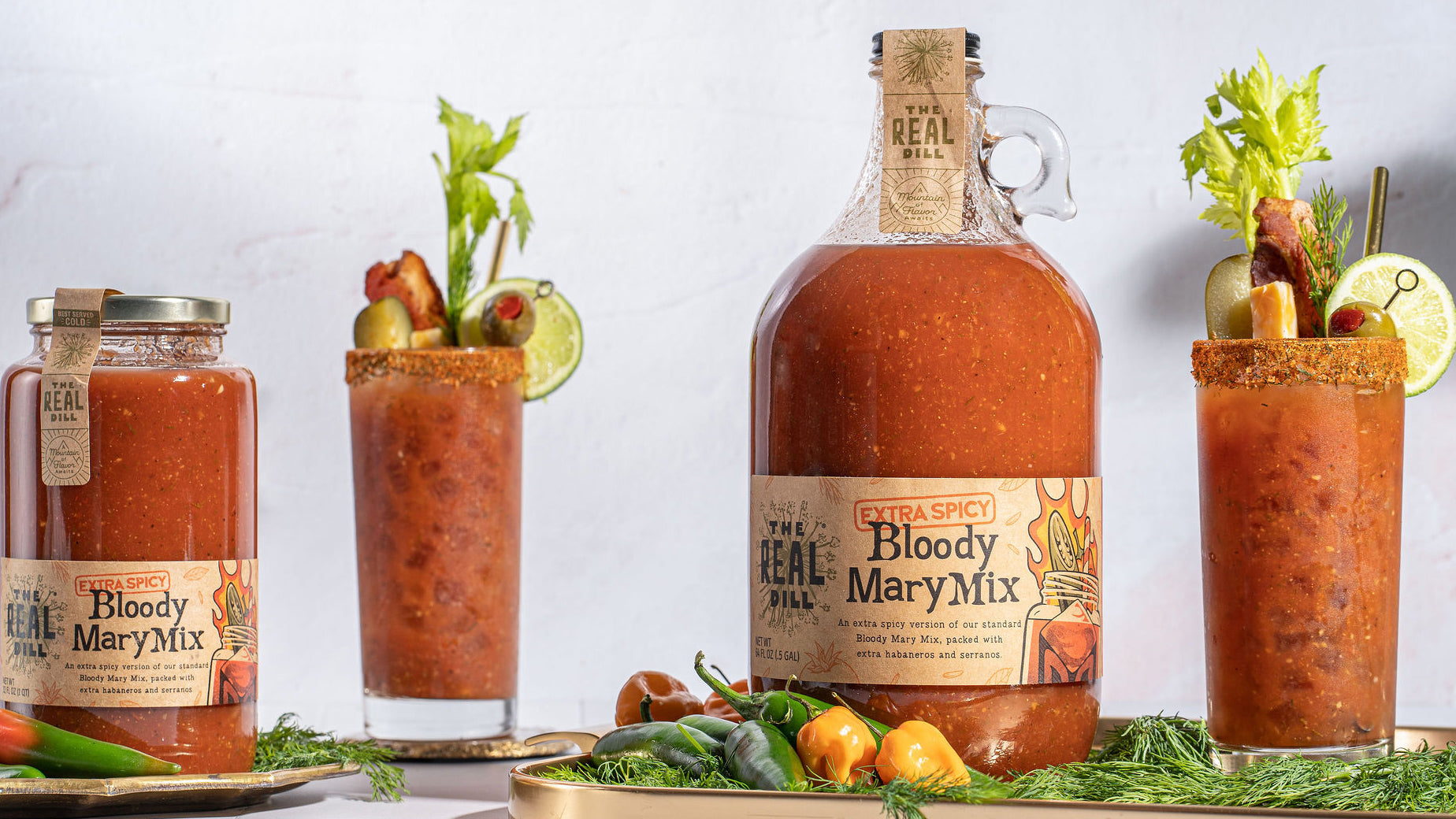 Believe it or not, when we started The Real Dill, we had no intention of creating a Bloody Mary recipe. In fact, we consider it a happy accident that became our best selling product. Our pickling process results in a delicious and refreshing cucumber-infused water, which, in the early days, we were throwing away. The overwhelming smell of fresh cucumbers made us feel guilty every time we disposed of it.
"Waste not, want not" is a proverb that we take to heart, and with that notion we decided the days of dumping this fragrant byproduct were over. Instead, we began experimenting with a Bloody Mary recipe that highlighted this cucumber-infused water as the star ingredient. What we did not know at the time is that people would eventually recognize us for our Bloody Mary Mix more than our pickles, causing us to joke that we are no longer just a pickle company, but a Bloody Mary company with a pickle problem!
Over the years, as our Bloody Mary following grew, we received a ton of requests for a spicier version of our famed Bloody Mary Mix. Nine years later, we finally dialed up the heat. We're so excited to release our second, full-time Bloody Mary flavor: Extra Spicy Bloody Mary Mix!
Cucumber infused water, originally, a byproduct of our pickling process, is still the star ingredient. Plus, this mix boasts generous amounts of horseradish, dill, garlic, extra habaneros, and a new fiery flavor: serrano peppers. Unlike most mixes, this one only contains eleven simple, high-quality ingredients bursting with explosively fresh flavors. Tangy, peppery, and spirited, we set a new standard for what spicy Bloody Marys can and should be.
You might be wondering, how is Extra Spicy Bloody Mary Mix different than Bloody Mary Mix? Both are made with the same ten simple, high-quality, ingredients that make up the classic and fresh Bloody Mary flavor that you love. But there are three differences that make Extra Spicy Bloody Mary Mix 3 times spicer than our slightly spicy OG Bloody Mary Mix:
Extra Spicy Bloody Mary Mix has extra fresh horseradish.
Extra Spicy Bloody Mary Mix has extra fresh habaneros.
Extra Spicy Bloody Mary Mix has a new ingredient: serrano peppers.
Not only was Extra Spicy Bloody Mary Mix our most requested product for the last nine years, we also love spicy foods and drinks. When we set out to create Extra Spicy Bloody Mary Mix, we wanted to balance the heat with the fresh Bloody Mary flavor that makes our regular Bloody Mary Mix stand out.
Most spicy products are made with chili powders and chile oils that do a great job of adding intense spice, but they don't add much flavor. Often times, the spice is so powerful that it masks the rest of the flavors in the product. Extra Spicy Bloody Mary Mix is made with tons of fresh chiles, so it has a great level of heat, and it comes across in a way that doesn't interfere with the fresh flavors in the product. Instead of scorching the palate with intense heat, you will get a mouthful of fresh cucumber juice, fresh garlic, bold tomato, fresh dill, and spices, followed followed by a fiery, building heat.
Whether you love a classic or to dial up the heat, we now have a Bloody Mary flavor for everyone. Want to give this new product a sip? Extra Spicy Bloody Mary Mix is now available in stores, and you can use our store locator tool to search by location to find a store near year. You can also get Extra Spicy Bloody Mary Mix and your other favorite products from The Real Dill delivered to your door by heading to our shop page.
Leave a comment