Strike Gold: The Prospector Series Featuring Harvest Bloody Mary Mix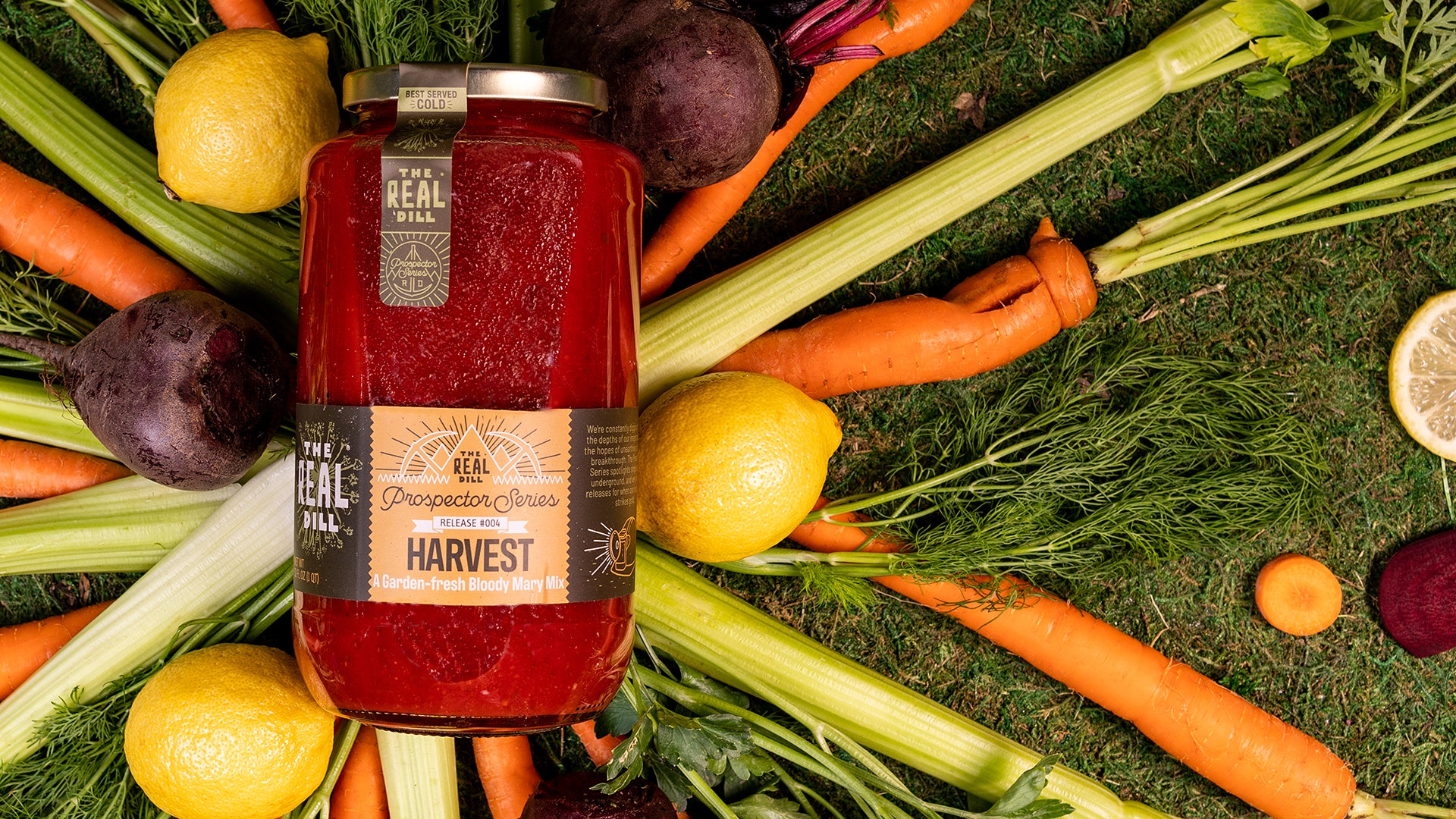 In 2012, when The Real Dill Co-founder Tyler Dubois and his wife reserved a plot at their local community garden for the summer, they ended up with more fresh produce than they could ever eat or give to friends and family. Tyler, a trained chef, began pickling his crops to preserve his harvest and eliminate his food waste. When Tyler discovered that his friend Justin Park shared a mutual love for pickling, they started collaborating on scratch-made pickles together in their home kitchens. Later in 2012, The Real Dill was born, and fast forward ten years, and the two friends are still making pickles together, but now as business partners.
Due to our love of gardening and good food, at The Real Dill, we believe in clean, simple, real food. We have always focused on letting the fresh ingredients shine in all of our products. In fact, all of our products are made with ingredients that you would find in your garden or pantry, and all of our products only contain singular, whole ingredients.
When it comes to the fresh ingredients that we source, we employ rigid standards for the quality that we will accept. After all, we believe that in the end, our products can only be as good as the ingredients that go into them. From the beautiful presentation to the fresh flavors, our products are designed around the natural ingredients that we use in each unique recipe.
In 2021, we launched the Prospector Series, which since has served as a new home that we can use as a creative outlet to develop a more limited line of products. As a collection of culinary trailblazers, independent thinkers, and innovative makers, we are constantly digging through the depths of our imaginations in the hopes of unearthing a creative breakthrough. With this notion, we developed the Prospector Series, our newest series that spotlights single-batch, underground, and limited edition releases, for when our inspiration strikes gold.
Sometimes you have to dig a little deeper to find something truly unique. The Prospector Series features our most exclusive, experimental product offerings and taps into rare ingredients and eccentric combinations.
Last summer, we released our first Prospector Series product and second-ever Bloody Mary Mix flavor: Powder Keg Barrel-aged Bloody Mary Mix, made in collaboration with Weldwerks Brewing Co. We never imagined creating a scratch-made Bloody Mary Mix in general, which ironically is now our best selling product. Before the creation of Powder Keg, we never imagined creating a second scratch-made Bloody Mary flavor. However after overwhelmingly positive feedback from the Powder Keg release, we knew that we wanted to make another Bloody Mary product this year, and the Prospector Series was the perfect vehicle to make this possible.
For our fourth Prospector Series release, we turned to our love of gardening and fresh ingredients to create Harvest: A Garden-fresh Bloody Mary Mix. As we approach the start of harvest season, we think about the long winter ahead. "Much like a squirrel hoarding nuts, we just wanted to preserve the bounty of the harvest before winter takes hold," says Tyler DuBois, Co-founder of The Real Dill.
For this limited edition, garden fresh Bloody Mary flavor, we wanted to create something that was akin to fresh pressed juice, which is one of our favorite ways to start the day and appreciate the flavors, as well as reap the benefits, of raw fruits and vegetables.
Harvest is a ruby red mixer, which is as bright and crisp in color as it is in flavor. Like its name suggests, we dug up our favorite garden vegetables, including beets, celery, carrots, and parsley, to create a garden
fresh version of our flagship Bloody Mary Mix recipe.
Harvest is a better-than restaurant quality mix that makes your Bloody Mary taste like it was poured directly out of your backyard garden. Mix with vodka or gin and a squeeze of lemon, or just pour Harvest straight into your glass, for a Bloody Mary with a uniquely refreshing personality. "This mix is really a "fresh pressed juice" take on a Bloody Mary. For that reason it is great on it own or with booze," says Justin Park, Co-founder of The Real Dill.
Harvest represents all of summer's bounty, and it makes for an energizing summer cocktail to sip on in the heat. We cannot think of a better way to close out the sunshine season. This lively mix is exclusively available at therealdill.com for a limited time.
Be on the lookout for forthcoming Prospector Series releases in the future. Due to the specialness of the Prospector Series, each release is crafted in extremely small quantities and only available at therealdill.com.
Leave a comment