Simple Slider Skewers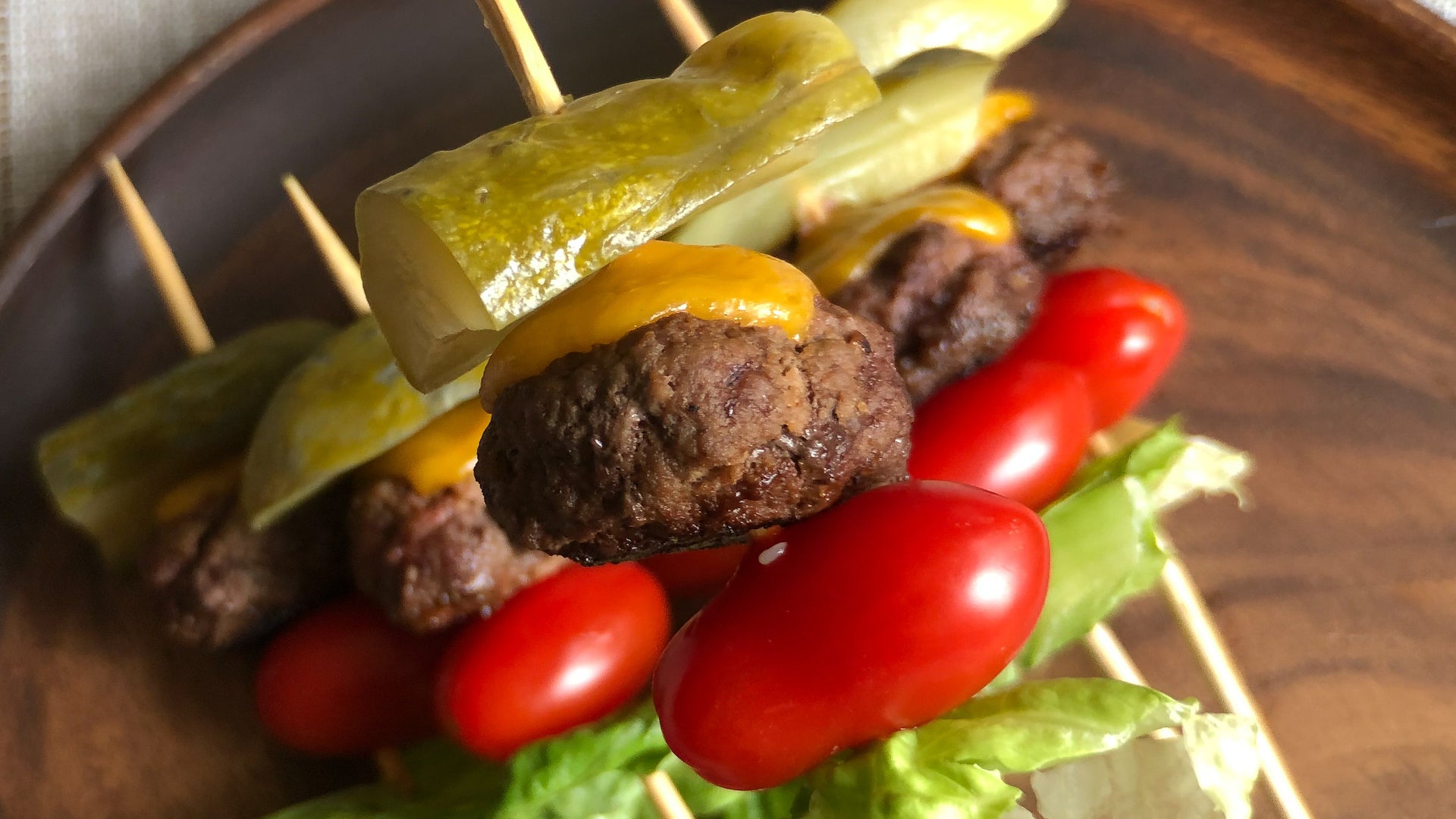 Ingredients:
1 lb. ground beef (ground turkey and chicken would work as well)
1 tbsp Worcestershire sauce
1 1/2 tsp. onion powder
1 1/2 tsp. garlic powder
1/2 tsp. smoked paprika 
1 tsp. dijon mustard
1 tsp. salt
1 tsp. pepper
1 tsp. high heat oil such as avocado oil, canola oil, or sunflower oil
3 slices sharp cheddar cheese, chopped into 1 in. squares
Cherry tomatoes 
Lettuce chopped into small pieces
2-3 The Real Dill Caraway Garlic Dills spears cut into bite size pieces 
Directions:
In a mixing bowl, mix ground beef with Worcestershire sauce, onion powder, garlic powder, smoked paprika, dijon mustard, salt, and pepper. 
Take 2 tbsp of beef mixtures and press into patty shapes. 
Place cast iron skillet on stove over medium high heat with oil. 
Once the skillet is hot, add the beef patties to the pan (don't overcrowd). 
Cook patties 3-4 min. per side depending on desired wellness and size.
Remove skillet from the hot burner and drape each patty with cheddar cheese. Cover pan until cheese melts. 
Take bamboo skewers and thread with lettuce, cherry tomatoes, and cheeseburger sliders. Top with a pickle spear.
Notes:
Feel free to add additional toppings to your skewers such as onions, bacon, and jalapeños. Get creative! 
Serve with Dilly Dipping Sauce, Creamy Green Chile Hot Sauce Aioli, and other dipping sauces of choice.