3 Ways to Be the Hostess with the Mostest this Memorial Day Weekend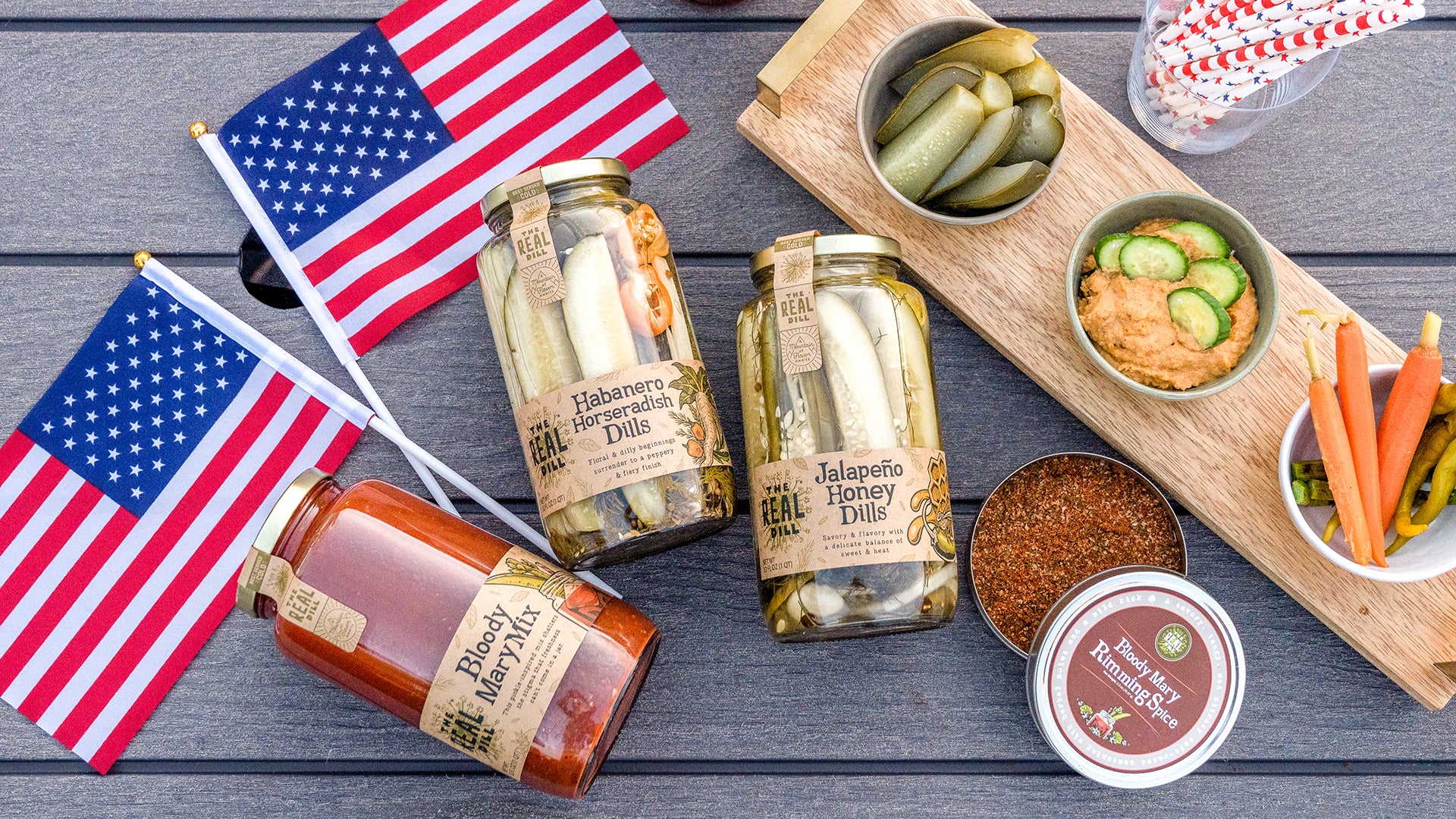 Fire up your grills, dust off your picnic baskets, and bust open a new bottle of sunscreen. Memorial Day weekend is around the corner, which means three days full of cookouts, campouts, picnics, and fireworks are in your future. While holidays like Memorial Day are meant for kicking back and relaxing and having fun, there is nothing worse than being unprepared and stuck in the kitchen during your long weekend. Memorial Day weekend kicks off the summer, and you deserve a holiday weekend to celebrate with your friends and family without stressing about what everyone is eating next. We put together this simple guide to help you be the hostess with the mostest this Memorial Day Weekend. In it, you will find three categories-- the appetizers, the mains, and the sides-- of warm-weather, crowd-pleasing Memorial Day ideas that will kick your backyard bash up a notch and satisfy your guests all weekend long.
The Appetizers
Nibbles and bites to keep everyone's snack cravings in check all weekend long. 
Naked Bacon Wrapped Pickle Bites
Our pals at Naked Bacon put together the ultimate low-carb, keto friendly recipe that will satisfy all of your cravings while keeping your health-goals in check. Made with only two ingredients, bacon and pickles, and baked to crispy perfection, these treats are what salty and sweet dreams are made of. Serve with ranch or Dilly Dipping Sauce.
Boozy Bloody Mary Wings
Nothing screams hot-weather holiday weekend like booze and wings. This recipe combines the flavors found in your favorite Bloody Mary with a classic chicken wing. You can make this recipe ahead and throw it in the oven before your guests arrive. Bonus points if you have an air fryer to use to make your wings extra crispy.
Dill Pickle Dip
This creamy dill pickle dip is packed with chopped pickles, fresh dill, and garlic, all blended together into cheesy, tangy perfection. You can whip it up in about 5 minutes, which is an even bigger bonus. Dill pickle dip is the ideal appetizer for anyone who loves pickles, and trust us, your guests will ask you for the recipe. You can make it up to 8 hours in advance, and you can easily double it for a larger crowd. This recipe was shared by our friend Geneva from Macaroni and Butter. Geneva served it up on a stunning snack board full of popcorn, pretzels, mini bacon pickle grilled cheese, French fries, and tater tots. Alternatively, this dip would be amazing as a spread on wraps, sandwiches, and burgers.
Green Chile Queso
Simple, creamy, and melty Green Chile Queso- coming in hot! A spicy twist on a classic queso featuring our Green Chile Hot Sauce, roasted jalapeños, and cilantro. You will want to save this recipe to add to your Taco Tuesday repertoire post-Memorial Day weekend. Pairs wonderfully with Bloody Marias.
The Mains
When snack time is over, you will need showstoppers for the main event. These Memorial Day recipes require little prep and cook time and they pack loads of flavor. Your guests may think you slaved in the kitchen all day, but do not worry, your secret is safe with us!

Simple Slider Skewers
These adorable slider skewers are both addictive and low carb. Plus, they have all of the fixin's that make for a delicious burger, and they will not spoil your appetite while you graze and snack your way through Memorial Day weekend.
Bloody Mary-Inspired Tuna Salad 
Here is a simple meal prep recipe that you can throw together in no time. This Bloody Mary-inspired Tuna Salad is herby, lightly spicy, and super crunchy. One of the best Memorial Day ideas that you can make ahead and pack up for your picnic or potluck or put out on your pool-side spread.
Bloody Mary Brined Fried Chicken
This is a classic buttermilk fried chicken recipe with an elevated twist. An excellent main dish for your Memorial Day weekend brunch spread, a crispy, crunchy Bloody Mary topping, or a great addition to a holiday picnic in the sun.
Spatchcock Bloody Mary Rimming Spice Chicken
This spatchcock chicken is flattened for uniform, even cooking and flavored with salty, citrusy, herby notes from our Bloody Mary Rimming Spice. Spatchcocking your chicken creates a level surface on the bird. The white and dark meat cook at the same speed, ensuring that the meat stays tender and juicy, and the skin gets maximum exposure to the heat, which leads to crispy, golden brown skin. Plus, a spatchcock chicken cooks quicker than a traditional roast chicken, making this the quintessential Memorial Day idea to maximize your relaxation time. Toss your bird on a smoker, grill, or into the oven, and sit back and chill.
Bloody Mary Marinated Jackfruit Sandwich
Bloody Mary marinated jackfruit sandwich is the ultimate meat-free, plant based treat, and it is a simple addition to your Memorial Day recipes that are suitable for the vegans and vegetarians on your guest list. You can make the jackfruit ahead, and it has a wonderfully shredded, meaty texture and is loaded with Bloody Mary flavors that the meat eaters at your table will also enjoy. Tangy, fresh, dilly, herby, spicy, and salty. A true savory delight.
The Sides
Burgers, hot dogs, and other grilled goodies usually steal the show on Memorial Day weekend. However, these star dishes are nothing without their sides. Serve up these out-of-the-box Memorial Day recipes alongside traditional sides like corn, watermelon, and potato chips.
Crunchy Green Chile Sheet Pan Mac & Cheese
Mac & cheese belongs at every meal no matter the occasion, and Memorial Day weekend is the perfect excuse to make it. This recipe is the ideal barbecue and picnic companion. A subtly spicy, extra crispy update to a classic mac & cheese recipe, this dish features our Green Chile Hot Sauce and roasted chiles. Cheesy, creamy, crunchy with the right amount of zing.
Bloody Mary Rimming Spice Street Corn
Although slightly ahead of its season, Memorial Day weekend usually includes sweet corn. This recipe is a tangy take on classic street corn, featuring citrusy, salty, and herby notes from our Bloody Mary Rimming Spice. You can throw this dish together in no time and grill the corn at the same time as all of your barbecue delights. Creamy, punchy, and dangerously addictive, you can serve this street corn warm, at room temperature, or straight from the fridge, making it easy to bring with you to your holiday picnics and potlucks.
Pickle Potato Salad
There's nothing that screams American cookout like potato salad. This recipe is an elevated twist on classic potato salad and features our elevated take on the classic dill pickle, Caraway Garlic Dills. You can make it up to a day in advance, and it makes for great leftovers.
Bloody Mary Spiced Fries
These Bloody Mary Spiced fries are crispy, addicting, flavorful, and healthy. You can whip up these hand-cut French fries in no time for summer barbecues or a quick snack. They're best served with sriracha ketchup and your favorite dipping sauces.
Bloody Mary Pasta Salad
An easy pasta salad recipe that you can bring to your BBQs, picnics, and get-togethers. Loaded with all of the fixings that make for a great Bloody Mary and dressed with our flavorful Bloody Mary Mix and Bloody Mary Rimming Spice.

Looking for more Memorial Day ideas? Check out all of our recipes here.
Leave a comment