Red, White, and Brine: What to Bring to Your 4th of July Bash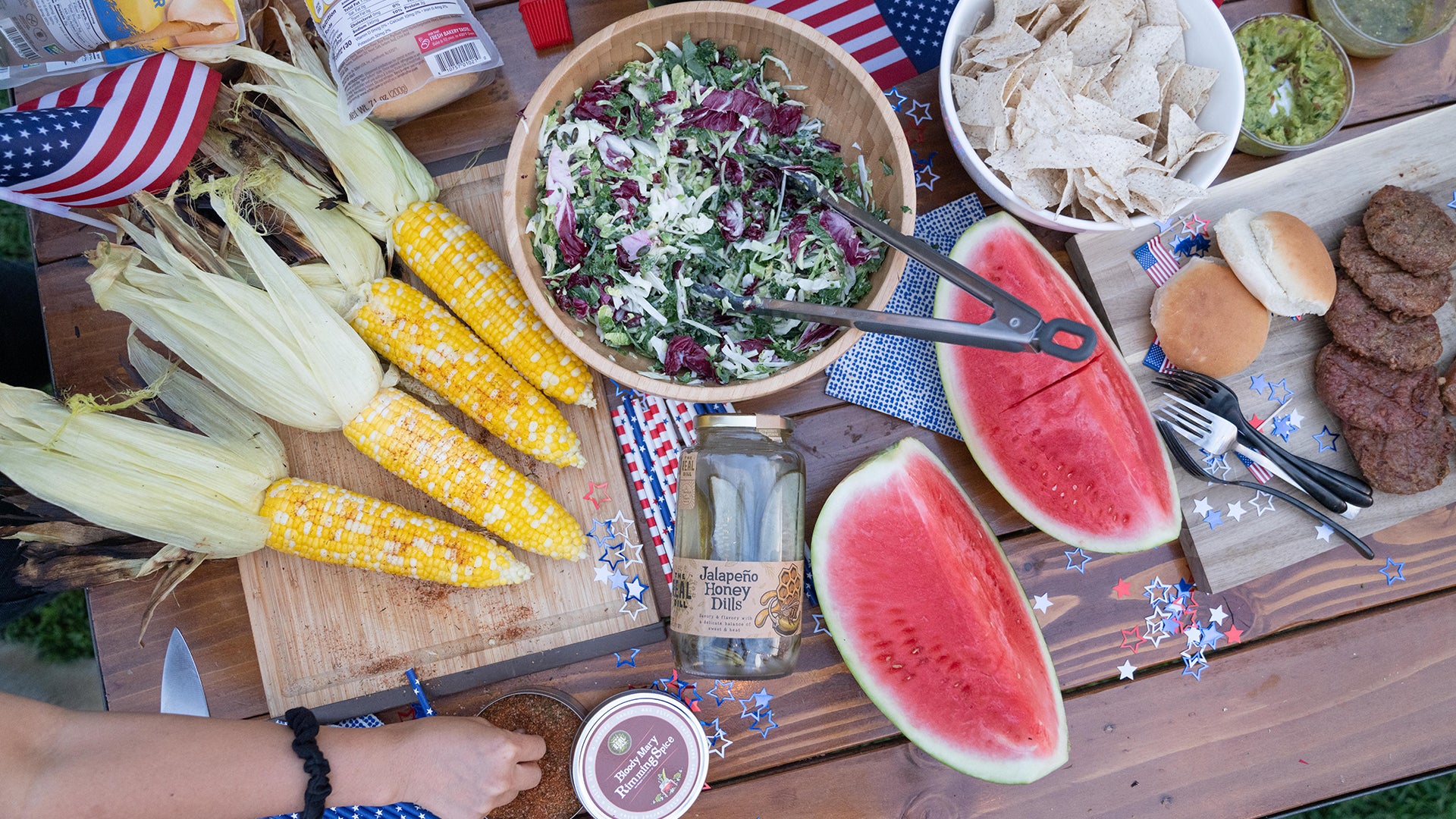 Fireworks, red, white, and blue decor, and plenty of good ol' American eats are around the corner. Happy (almost) birthday, America!
July 4th is coming, which means the pinnacle of the summer grilling season is almost here. From potlucks to pool hangs, barbecues to park picnics, we have rounded up our favorite summer recipes that your 4th of July parties simply cannot do without.
Russian Vinaigrette Salad
Russian Vinaigrette Salad is a classic Eastern European recipe with vibrant beets, potatoes and pickles. It's the perfect dish to bring to a barbecue as a Fourth of July side for a bright, healthy addition to your 4th of July menu. The beets are slowly roasted in the oven in foil, which is the simplest way to cook beets. Next, the potatoes and carrots are boiled. Finally, mix it all together with chopped pickles and a delicious vinaigrette sauce. In this recipe, food blogger Meghan Lavin uses Caraway Garlic Dills, both the pickles and the brine, which are packed with flavor that perfectly compliments the dish. The pickle brine is filled with toasted caraway seeds, sprigs of fresh dill, and chunks of fresh garlic and used in the light, bright, and refreshing vinaigrette. This is the perfect summertime salad.
Spicy Bloody Mary Kabobs
Grilled kabobs are must make during the summer months especially on the Fourth of July. They're simple, fresh, and oh so flavorful. However, we can promise you have never had kabobs like these before! Fun, tangy, zingy, and fiery, our Spicy Bloody Mary Kabobs feature Charcutnuvo's delicious, all-natural sausages, fresh veggies, our citrusy Bloody Mary Rimming Spice and an unexpected twist: fried pickles. Serve them up at as one of your Fourth of July appetizers or as a garnish on your Bloody Mary bar. Trust us, your guests will be impressed.
Dill Pickle Hummus
Here is an unexpected, briny take on a classic, creamy, vegan hummus. It's tangy, salty (but not too salty), and bursting with pickle flavor. Whip it up in under 10 minutes and snack on this healthy dip every time the pickle cravings come during Fourth of July.
Spicy Green Chile Almond Butter Wings
Skip the hassle that comes with deep frying wings. These chicken wings are crisped to perfection in the air fryer or oven and coated in a delicious spicy, nutty sauce featuring our Green Chile Hot Sauce and Georgia Grinders Original Almond Butter to finish. Plus, you can reheat them after making the journey to your Fourth of July potlucks, barbecues, and hangouts. One of the most ideal Fourth of July appetizers and snacks.
Crispy Fried Jalapeño Honey Dills with Point Reyes Original Blue Dip
If you've never had fried pickles, you're seriously missing out. If you've had fried pickles before, we can promise you've never had any like these. Our incredibly talented cheese-making friends at Point Reyes Cheese Co. crafted this insanely addictive and lavish recipe featuring our Jalapeño Honey Dills and their bold, sweet Original Blue. It makes for a crispy, crunchy, golden brown plate of perfection. The sweet and savory notes from our Jalapeño Honey Dills pair flawlessly with the bold, tangy, and sweet flavors from the Point Reyes Original Blue. Fun fact, this recipe marries together both of the products that started our respective companies. Disclaimer: you may want to double the recipe because these fried pickles will disappear quickly and will surely be one of the most popular Fourth of July appetizers at your celebration. Best served hot with Point Reyes Original Blue Dip and an ice cold Bloody Mary.
Dill Pickle Dip
This creamy dill pickle dip is packed with chopped pickles, fresh dill, and garlic, all blended together into cheesy, tangy perfection. You can whip it up in about 5 minutes, which is an even bigger bonus. Dill pickle dip is the ideal appetizer for anyone who loves pickles, and trust us, your guests will ask you for the recipe. You can make it up to 8 hours in advance, and you can easily double it for a larger crowd, making it the perfect addition for your 4th of July menu. Served it up on a stunning snack board full of your favorite snacks such as pita chips, tortilla chips, crostini, and crudités or more creative treats like recipe creator Geneva of Macaroni and Butter did. You can also use it as a spread on wraps, sandwiches, and burgers. 
Naked Bacon Wrapped Pickle Bites
Our pals at Naked Bacon put together the ultimate low-carb, keto friendly recipe that will satisfy all of your cravings while keeping your health-goals in check while indulging in all of the treats on your 4th of July menu. Made with only two ingredients, bacon and pickles, and baked to crispy perfection, these treats are what salty and sweet dreams are made of. Serve with ranch or Dilly Dipping Sauce. 
Simple Slider Skewers
These adorable slider skewers are both addictive and low carb. Plus, they have all of the fixin's that make for a delicious burger, and they will not spoil your appetite while you graze and snack your way through 4th of July weekend. 
Crunchy Green Chile Sheet Pan Mac & Cheese
Mac & cheese belongs at every meal no matter the occasion, and 4th of July weekend is the perfect excuse to make it. This recipe is the ideal barbecue and picnic companion. A subtly spicy, extra crispy update to a classic mac & cheese recipe, this dish features our Green Chile Hot Sauce and roasted chiles. Cheesy, creamy, crunchy with the right amount of zing.
Bloody Mary Rimming Spice Street Corn
Fourth of July aligns with the start of sweet corn season, so you have to include a corn-based dish on your 4th of July menu. This recipe is a tangy take on classic street corn, featuring citrusy, salty, and herby notes from our Bloody Mary Rimming Spice. You can throw this dish together in no time and grill the corn at the same time as all of your barbecue delights. Creamy, punchy, and dangerously addictive, you can serve this street corn warm, at room temperature, or straight from the fridge, making it easy to bring with you to your holiday picnics and potlucks.
Bonus Points: Creole Spiced Okra
While not a recipe, we had to include our Summer Seasonal Series Creole Spiced Okra on our 4th of July menu list. After all, nothing screams American summer like pickled okra. 
Okra is a fundamental Southern food that is as quintessential to the culturally rich region as collard greens. In the sticky heat of the summer harvest season, farmers and gardeners across the South pick bright green okra pods from the field. Okra is a staple for Southern side dishes, and you commonly find it in soul food sides all over this area of the United States.
Our Creole Spiced Okra is seasoned with approval from the Bayou. We brought in the freshest okra during peak harvest season and pickled it with oregano, thyme, green onions, and Creole spices. The flavorful, crunchy, and spicy results shatter okra's slimy stereotype.
We have witnessed many okra naysayers become okra enthusiasts after one bite. Pop open a jar on the 4th of July, sit back, relax, and let the good times roll. Seriously, if you close your eyes, you may transport yourself to The Big Easy no matter where you are sitting. Creole Spiced Okra also make for an incredible base for spicy deep fried okra, one of our favorite southern side dishes. Plus, its only available once a year, in the summertime, so grab some while you can.
Looking for more ideas for your 4th of July menu? Check out all of our recipes
here
.
Leave a comment