Russian Vinaigrette Salad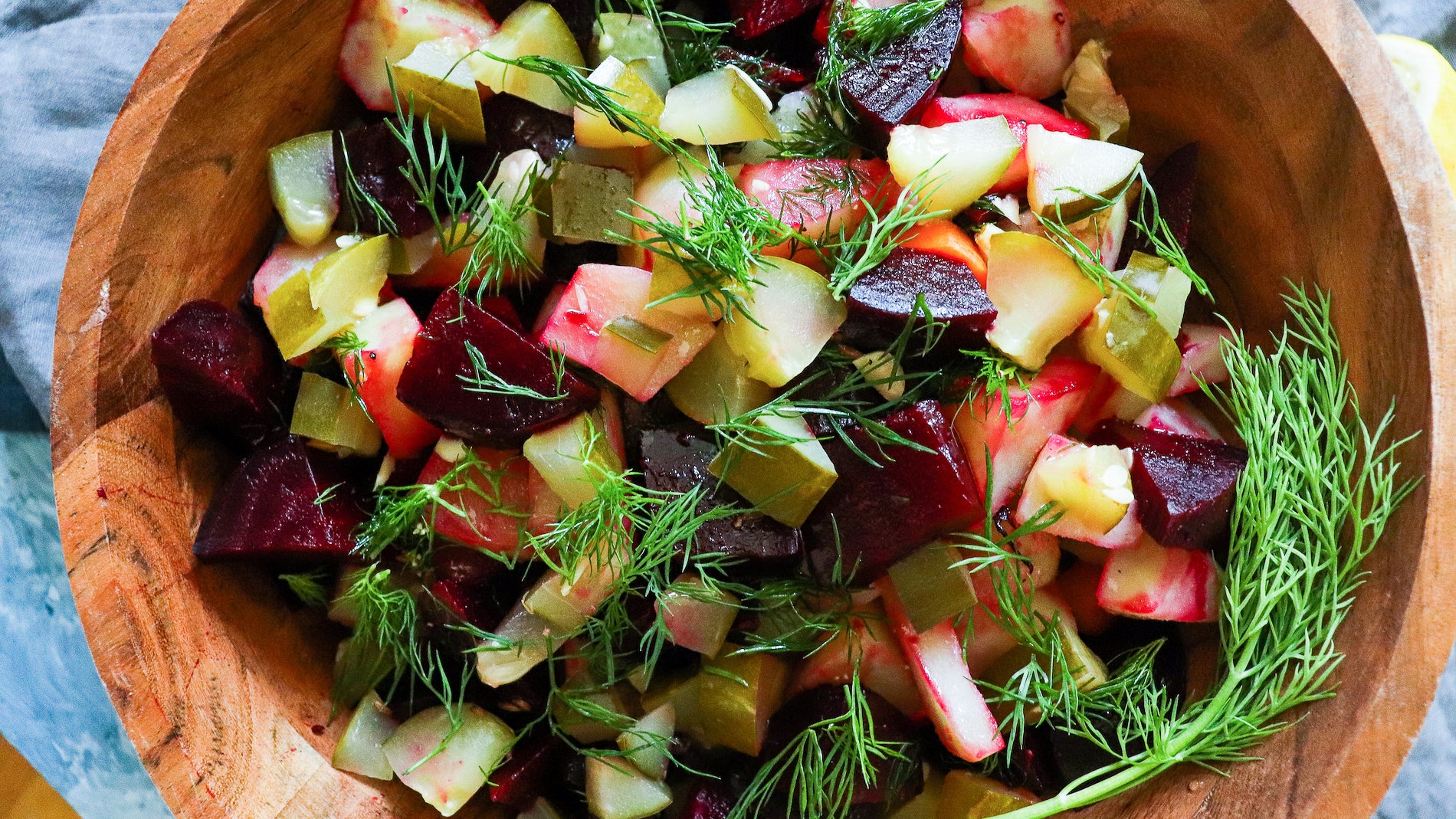 Russian Vinaigrette Salad is a classic Eastern European recipe with vibrant beets, potatoes and pickles. It's the perfect dish to bring to a barbecue as a side or as a bright, healthy addition to any meal.
Beets are slowly roasted in the oven and the potatoes and carrots are boiled, making this recipe extremely easy to prepare. Once assembled, the salad is mixed together with chopped pickles and a delicious vinaigrette dressing made with Caraway Garlic Dills, which are packed with flavor that perfectly compliments the dish.
Ingredients:
Beet Salad:
Vinaigrette:
Directions: 
Preheat the oven to 400°F.

Trim the beets if the leaves are still attached. Wrap each beet individually in aluminum foil, and roast for 45 minutes until tender when pierced with a fork. 

Meanwhile, dice the potatoes and carrot into cubes. Bring the vegetables to a boil and then reduce heat to medium-high. Cook until the vegetables are tender, about 15 minutes. 

Drain and cool to room temperature.

Once the beets are cooked, remove from the oven and let cool completely.

Peel the beets and cut into small cubes. 

In a large bowl, combine the potatoes, carrots, beets, dill and Caraway Garlic Dills. 

Mix the vinaigrette ingredients together in a small bowl and pour over the salad. Mix until incorporated. 

Garnish with more sprigs of fresh dill.
Recipe made in collaboration with Meghan Lavin @megsspeaks