3 Ways to Make a Big Dill Out of Brunch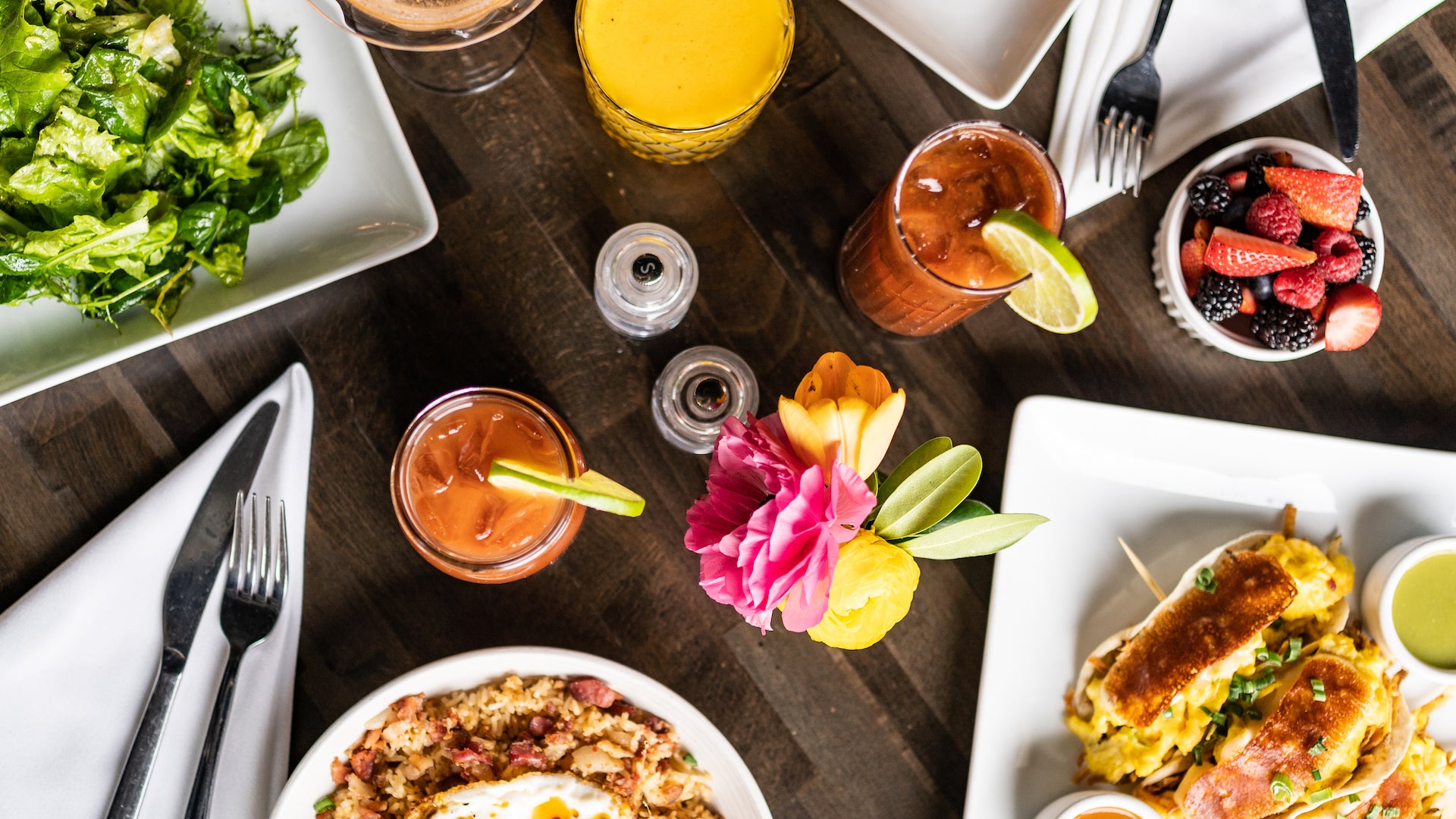 One of the best things about hosting brunch at home is that you don't need a reservation. While going out for a boozy brunch on a sunny weekend is one of our favorite activities, recreating your favorite restaurant-style brunch at home is actually easier than you would think. All you need is a handful of Bloody Mary cocktail recipes, a stocked bar, and a few easy brunch menu ideas, and you can throw together a Sunday brunch party in no time. Here are our three favorite ways to make a restaurant quality brunch at home:
The Cocktails
Making restaurant quality brunch cocktails at home requires a little creativity that goes a long way. Here are some of our favorites.

Bloody Mary
We go to brunch for the Bloody Marys, and making a Bloody Mary drink at home is so easy when you use The Real Dill Bloody Mary Mix. Cucumber infused water, a byproduct of our pickling process, is the star ingredient in our Bloody Mary Mix. Paired with generous amounts of horseradish, dill, garlic, and habaneros, this mix is ready to drink without any doctoring needed. For a traditional Bloody Mary, add ice cubes to a glass, pour in your favorite vodka and some Bloody Mary Mix, stir, and enjoy.
Bloody Maria
Sometimes you want to start your day off with a little tequila. We do too. While we love a classic vodka Bloody Mary, a Bloody Maria just hits different. Grab your favorite tequila, a lime, and a jar of Bloody Mary Mix for an unconventional twist on this classic brunch cocktail.

Michelada (Red Beer)
We believe that the most socially acceptable way to drink a beer for breakfast is to turn it into a Bloody Mary drink. The addition of lime juice adds a bright, sour kick, and the Worcestershire Sauce brings in a welcomed umami flavor.
Red Snapper
The gin lover's Bloody Mary drink brings a dose of unexpected botanical flavor to your favorite Bloody Mary cocktail. It sounds strange at first, but do not knock it until you try it!
Bloody Mary Martini
The perfect hybrid of two staples: the martini and the Bloody Mary. Also known as the breakfast martini.
Bloody Drop Martini
Show off your bartending skills by freezing The Real Dill Bloody Mary Mix in to ice cubes for this creative and tasty cocktail. Pro tip: these Bloody Mary ice cubes are a great addition to any style Bloody Mary drink.
Habanero Horseradish Infused Vodka
Impress your guests by making pickle infused vodka at home. Trust us, it requires minimum effort, and it will leave a lasting impression. You can add this floral and subtly spicy spirit to Bloody Marys, cocktails, or serve it on the rocks.
The Bloody Mary Bar Supplies
Now that you have your cocktail menu down, it is time to build the DIY Bloody Mary bar. The number one secret to recreating the restaurant magic at your home brunch is by making a decked out Bloody Mary garnish bar. If you really want to up the entertainment value, have your guests build their garnish skewers themselves.
The Real Dill Bloody Mary Rimming Spice
Your rim deserves some love too, and this savory, tangy, and citrusy salt based seasoning perfectly compliments the flavors found in our Bloody Mary Mix. Set out some limes or limes and let your guests add this rimming spice to their glasses before they make their cocktails.
Pickles
Caraway Garlic Dills for the guests who like traditional pickles, Jalapeño Honey Dills for those who prefer a little heat and sweet, and Habanero Horseradish Dills since they have been our standard bearer and crowd favorite flavor since day one (plus, our Bloody Mary Mix is modeled after this recipe).
Non-cucumber Pickles
Bloody Mary garnishes are half of the fun of drinking a Bloody Mary drink at brunch. One of our favorite garnish categories is pickles, of course. Aside from cucumber pickles, we like pickled garlic, pickled onions, olives, pickled green beans, pickled peppers...the more pickled things, the better!
Veggies
Fresh veggies add pops of color to your garnish bar and an extra crunch to your beverage. Celery stalks, sweet mini peppers, watermelon radishes, carrot sticks, and cherry tomatoes are some of our favorites to add to Bloody Mary cocktails.
Meats
Bacon, jerky, and salami are our top picks for Bloody Mary garnishes. We also love this recipe for Bloody Mary Rimming Spice Sautéed Shrimp, if seafood is more your speed.
Cheese
Pepper jack, Swiss, and sharp cheddar...let's be honest, you can't go wrong with cheese, so pick your favorite kind.
Citrus
Set out a bowl of lemon or lime wedges for a pop of freshness.
The Brunch Menu
Now that the drinks and bar are in order, it is time for the brunch food. Here are some brunch menu ideas that feature your favorite products from The Real Dill.

Love dill pickles? This dip is for you! It's creamy, simple, and a natural crowd pleaser. Not to mention, it's vegan and gluten free, so it checks some of the boxes for the dietary restrictions that you or your friends might have.

Made-from-scratch mac and cheese is easier to make than you would think, and this is one of the best recipes we have ever tried. The chorizo adds a subtle heat and burst of salty flavor, and the Bloody Mary Rimming Spice provides a tangy zing to counterbalance the richness of the melty cheese. Baked until perfection with a crispy, buttery topping, this creamy and savory mac and cheese is the perfect comfort dish that you can always count on.
Pickle Brined Fried Chicken Waffle Sandwiches

Homemade fried chicken and waffles is food for the soul. Transform this crave-able brunch dish into a sandwich, and you have the perfect comfort food. Juicy, crispy pickle brined fried chicken sits between two fluffy, made-from-scratch waffles. Maple syrup is substituted with sweet and spicy hot honey pickle spread that bumps up the flavor to another level. Dress it all up and cool it off with crunchy Greek yogurt slaw to finish the masterpiece. If you're ready to lick your screen reading this, you aren't alone.
Bloody Mary Shakshuka Brunch Skillet

Shakshuka is a healthy, simple dish that is traditionally served at breakfast and brunch in Israel and the Middle East. Typically, Shakshuka combines tomatoes, peppers, onions, garlic, spices, and poached eggs. However, flavorful Bloody Mary Mix, tangy Bloody Mary Rimming Spice, hearty garbanzo beans, and salty feta take conventional Shakshuka to the next level in this recipe. Nourishing, filling, and satisfying, after you make this Bloody Mary Shakshuka Brunch Skillet once, you'll find yourself cooking it over and over again every chance you get.

Bloody Mary bruschetta is a spicy, vegan appetizer that packs the same bold flavors found in your favorite Bloody Mary. This perfect party snack is simple and easy to prep ahead of time. Dress it up with whipped ricotta or your favorite spreadable cheese for a quick vegetarian snack. Or crumble some bacon over the top if that is up your alley.
Savory Bloody Mary Parmesan Palmiers

A palmier is a classic French pastry that is crispy, sweet, and buttery. Although complex in appearance, these impressive palm shaped cookies only require a few simple ingredients. Palmiers are traditionally a sweet treat, but our savory version is delightfully cheesy, tangy, and slightly spicy.
Leave a comment