Bloody Mary Shakshuka Brunch Skillet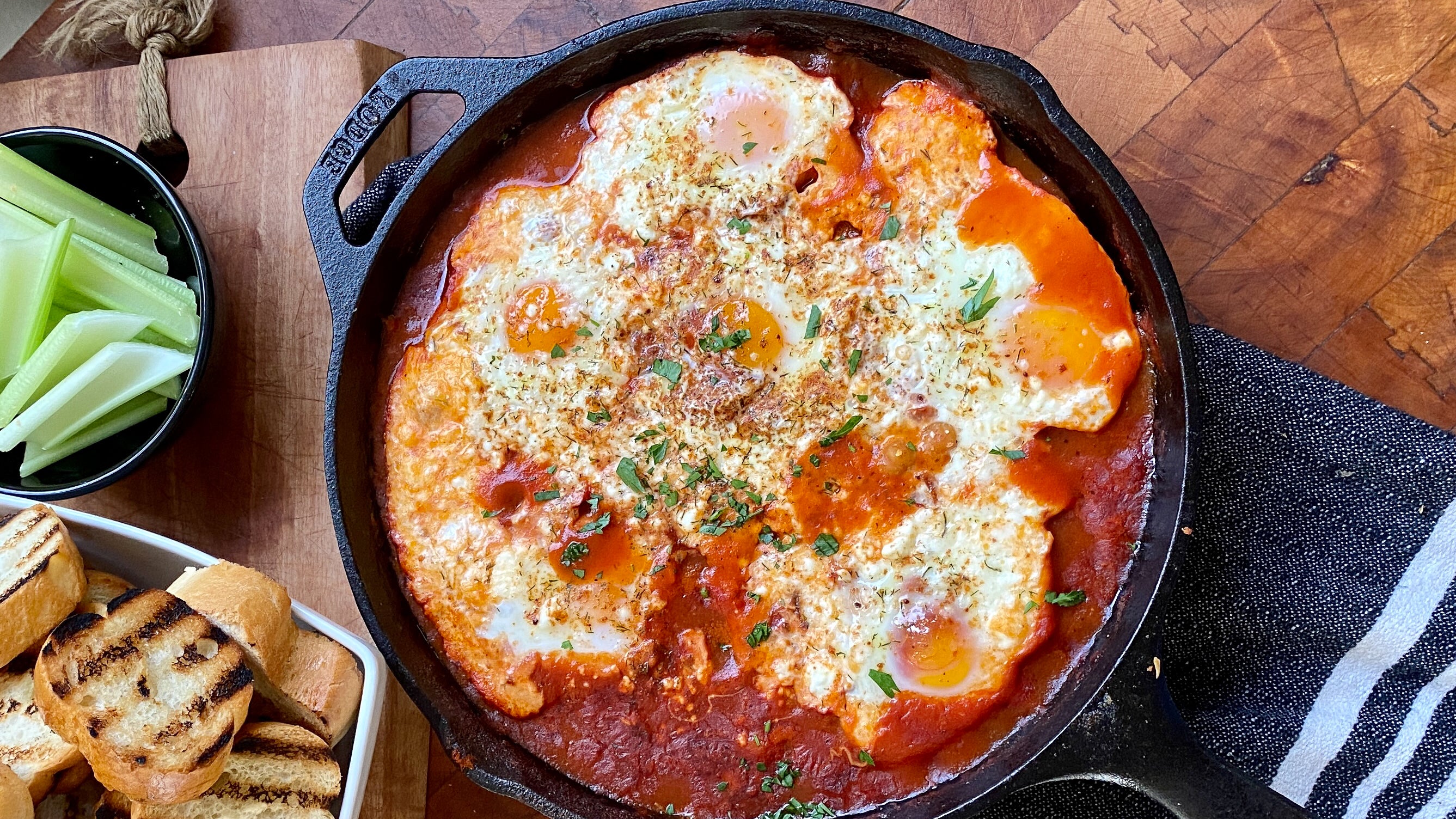 Shakshuka is a healthy, simple dish that is traditionally served at breakfast and brunch in Israel and the Middle East, but it also is an easy dinner. Typically, Shakshuka combines tomatoes, peppers, onions, garlic, spices, and poached eggs. However, flavorful Bloody Mary Mix, tangy Bloody Mary Rimming Spice, hearty garbanzo beans, and salty feta take conventional Shakshuka to the next level in this recipe. Nourishing, filling, and satisfying, after you make this Bloody Mary Shakshuka Brunch Skillet once, you'll find yourself cooking it over and over again every chance you get.
Ingredients:
1 32 oz. jar of The Real Dill  Original Bloody Mary Mix
1 tbsp of The Real Dill Bloody Mary Rimming Spice
15 oz. can of crushed tomatoes, preferably fire roasted
Extra virgin olive oil
1 white or yellow onion, diced
3 garlic cloves
1 red bell pepper, diced
1 14 oz. can of garbanzo beans, drained and rinsed
6 large eggs
1/4 cup crumbled feta
Baguette or pita for dipping
Salt
Pepper
Directions:
Preheat oven to 375 degrees F.
Add extra virgin olive oil to a cast iron skillet or large ovenproof pan on medium high heat. Sauté onions, garlic, and red bell pepper until soft, about 4-6 minutes. Season with salt and pepper.
While the vegetables are softening in your pan, mix together the crushed tomatoes and 14 oz. of The Real Dill Bloody Mary Mix in a separate bowl. 
Once the vegetables are soft, pour the tomato mixture into your skillet with the drained and rinsed garbanzo beans. Stir to combine all components.
Lower the heat to medium and let the tomatoes thicken, about 10 minutes.
Crack 6 eggs over the tomato mixture. Sprinkle The Real Dill Bloody Mary Rimming Spice and crumbled feta over the top.
Place the skillet in the oven until the eggs set, around 9 minutes. Make sure to check on the eggs so that they don't overcook. Runny yolks are key in this dish!
Garnish with fresh parsley or cilantro and your favorite hot sauce. Serve with crusty bread or pita for dipping.
Recipe made in collaboration with Cassidy Ceresa, @cassidyeats