10 Recipes For A Holiday Bash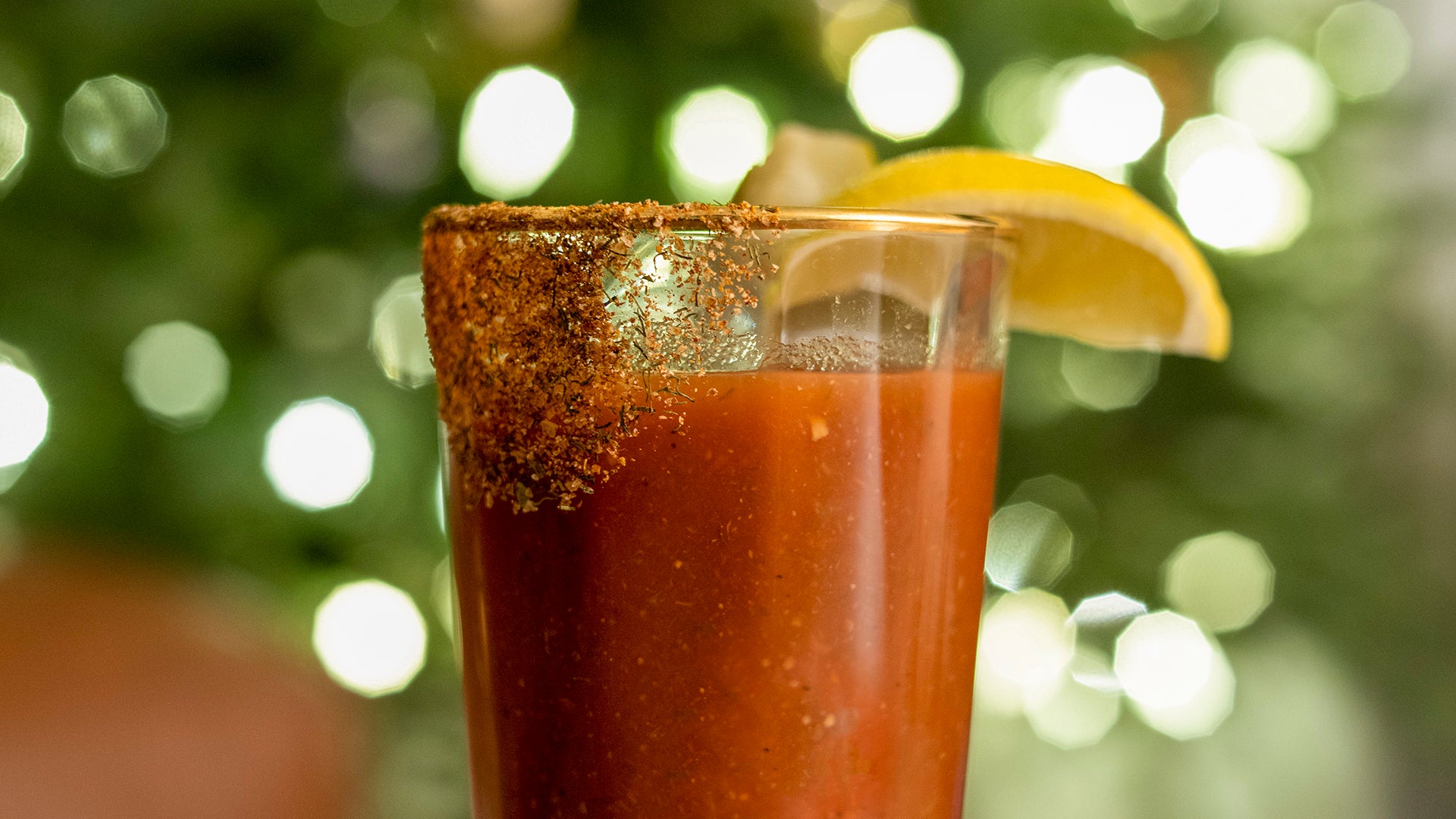 It's the most wonderful brine of the year! From lighting Hanukah candles, decorating Christmas trees, giving and receiving gifts, and spending quality time with family, friends, and loved-ones, it does not get much better than the winter holidays. And to top it all off, quite possibly the best thing about the holiday season is the never-ending holiday meals. From festive spreads to celebratory holiday appetizers, cookie exchanges and traditional holiday recipes, food is everywhere you turn from Thanksgiving to Christmas. Yet, as jolly and merry as the season can be, the holidays are also a busy time for everyone. If you are the one cooking and entertaining, it can be an especially labor intensive and stressful time of year. We want you to be able to sit back and relax when your guests arrive and actually enjoy the holiday celebrations this time around. Since we can't send a team of elves to help out with the extra time you will spend in the kitchen in the coming weeks, we put together this guide with our favorite, simple, and spirited holiday recipes that sparkle in appearance and taste without all of the extra fussing.
Savory Bloody Mary Parmesan Palmiers
A palmier is a classic French pastry that is crispy, sweet, and buttery. Although complex in appearance, these impressive palm shaped cookies only require a few simple ingredients. Palmiers are traditionally a sweet treat, but this savory version is delightfully cheesy, tangy, and slightly spicy. They are one of the easiest holiday appetizers you can make, and we also recommend serving them in your bread basket with your holiday meals.
Loaded Nachos with Dill Pickle Salsa
Not every holiday meal needs to be a fancy one. Loaded nachos are one of our favorite quick meals or snacks and there is so much flavor in this unconventional variation. When you are all out of ideas for what to cook next between holiday meals, this is your new go-to recipe that will save you in a bind. With minimal effort and maximum flavor, this recipe is so colorful and fun, and you get to be creative and use whatever you have in your pantry and fridge. Plus, these nachos are one of the greatest customizable holiday appetizers or snacks for any size group of people, especially if you are hosting a holiday party. The best part of this recipe is the unexpected dill pickle salsa, made with Jalapeño Honey Dills, which adds a nice, unique savory and sweet flavor to the dish. Top off the nachos with our Green Chile Hot Sauce for a healthy dose of round, smoky, medium heat. Grab your favorite tortilla chips, the can of beans hiding in your back pantry, and all of the cheese you can find, and bake until bubbly and crispy perfection!
Bloody Mary Rimming Spice Party Nuts
This is the salty, crunchy star that will carry your guests from lunch to dinner. The recipe is super simple, and you can also make it several days ahead if you are pressed for time on Christmas Day. Serve it on a cheese or charcuterie tray or as a bar snack next to your cocktail station.
Spicy Bloody Mary Bruschetta
Bloody Mary bruschetta is one of our favorite vegan holiday appetizers that packs the same bold, spicy flavors found in your favorite Bloody Mary. This quintessential party snack is simple and easy to prep ahead of your holiday meals. It is also one of those holiday recipes that works for brunch, lunch, dinner, or as a snack. All you need to do is assemble the bruschetta before you are ready to serve. Dress it up with whipped ricotta or your favorite spreadable cheese for a vegetarian version. Or crumble some bacon over the top if that's up your alley.
Bloody Mary Bacon Wrapped Jalapeño Poppers
Jalapeño poppers are one of the best holiday appetizers, or any time appetizers, that you can make. They are spicy, cheesy, salty, crispy, and oh-so-satisfying. Wrap them in smoky bacon and add in bold, tangy Bloody Mary Rimming Spice flavor, and quite honestly, you will have yourself the greatest jalapeño popper of all time. Plus, their red and green appearance is a Christmas-themed match made in heaven.
This Simple Pickle Flatbread may be the easiest way to impress your guests with virtually no effort. Store bought flatbread is topped with creamy, melted cheese, sweet and savory pickles, and salty, crisp salami, giving you the salty, slightly sweet, umami bomb that will hit all of your taste buds. It is also an extremely versatile recipe; you can dress this flatbread up however you would like with additional toppings, spices, and sauces. Make it when you need a meal in a pinch, an appetizer to satisfy your guests before dinner, or as an effortless late-night snack once your cleanup is done. We know, pickles on pizza sounds strange, but trust us, it is a winning combination. 
Pickle Brined Fried Chicken Waffle Sandwich with Greek Yogurt Slaw
Homemade fried chicken and waffles is food for the soul. Transform this crave-able brunch dish into a sandwich, and you have the perfect comfort food for any meal, any time of the day.
In this recipe, juicy, crispy pickle brined fried chicken sits between two fluffy, made-from-scratch waffles. Maple syrup is substituted with sweet and spicy hot honey pickle spread that bumps up the flavor to another level. Dress it all up and cool it off with crunchy Greek yogurt slaw to finish the masterpiece. If you are on holiday brunch duty, you can make all of the components in this recipe ahead of time. Assemble the sandwiches before serving or serve them deconstructed and let your guests craft their own!
Parmesan Bloody Mary Rimming Spice Pretzels
Parmesan Bloody Mary Rimming Spice Pretzels could not be easier to make or more addicting. You can mix them together with Bloody Mary Rimming Spice Party Nuts for the ultimate delicious holiday party mix. This is another great addition for a cheese or charcuterie board or to use on your holiday bar as a quick nibble for your guests.
Bloody Mary Rimming Spice Brussels Sprouts
Brussel sprouts get a bad rep. However, these crispy Brussels sprouts are here to turn things around. This recipe is an elevated take on a traditional, wintery holiday vegetable side dish that you can use for any of the upcoming holiday meals. Even your kids will be excited to eat their green vegetables when they taste this recipe.
Russian Vinaigrette Salad
Russian Vinaigrette Salad is a classic Eastern European recipe with slow roasted red beets, vibrant green pickles, and pillowy white potatoes. Not only does this dish have a holiday color scheme, it is also the perfect way to highlight the best produce that winter has to offer. The true star of this recipe is the deliciously dilly vinaigrette dressing, which is centered on Caraway Garlic Dills, both the pickles and the brine. Toasted caraway, fragrant dill, and fresh garlic give this exciting salad a flavor explosion fit for any celebration.
Do not forget to place your orders by December 14th to receive them by December 24th so you can make these festive and celebratory recipes for your holiday bashes. And make sure to grab some extra Bloody Mary Mix for your cocktail bar while you are at it!
Leave a comment