10 Recipes For Your Next Big Cookout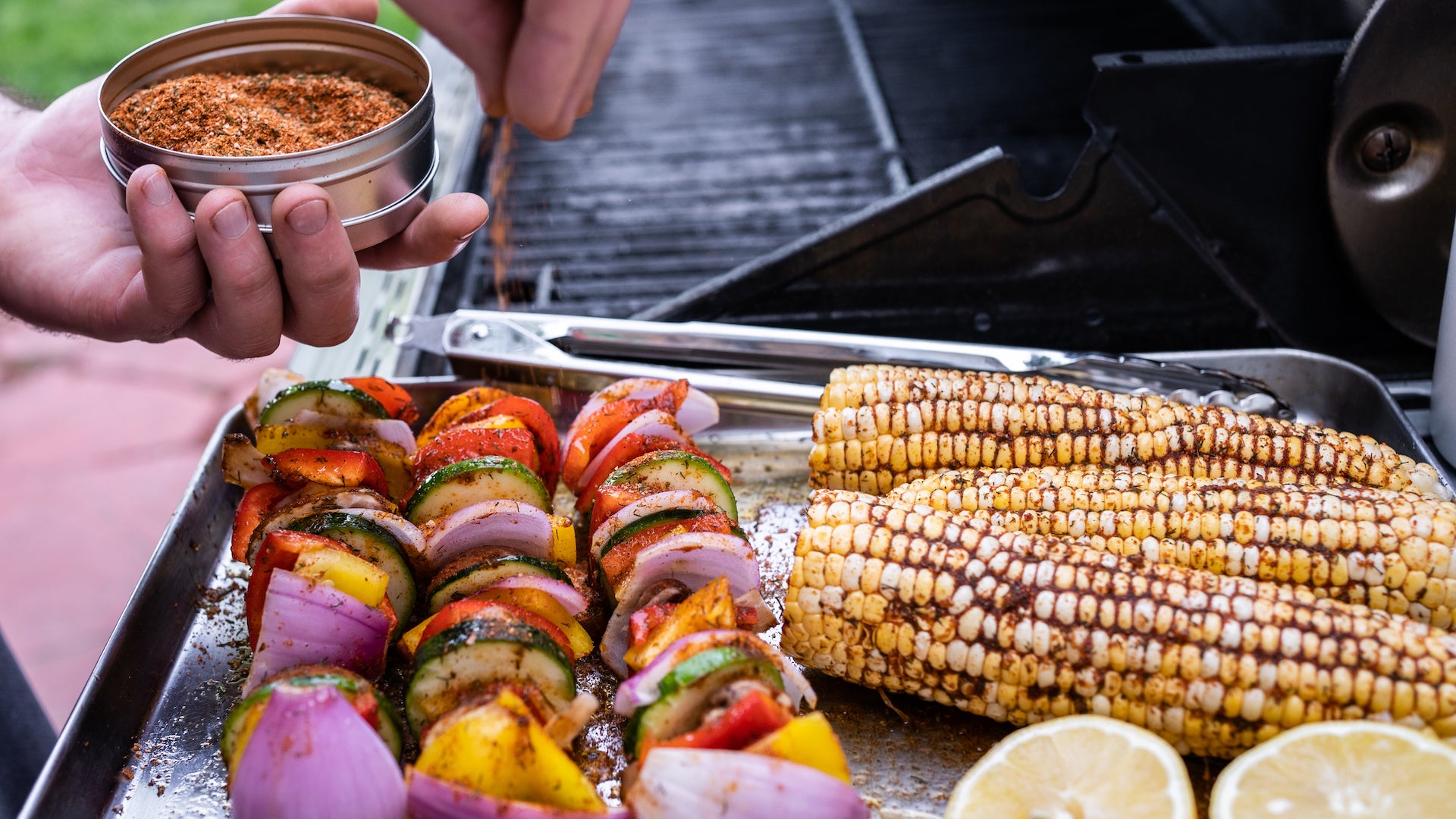 Fire up the grill; it is National Grilling Month. We rounded up ten of our favorite summer recipes for your next backyard cookout to celebrate one of our favorite summer activities: grilling!
Summer is in full swing, which likely means you are balancing a full schedule of outdoor adventures, pool time, weekend travel plans, and other warm weather fun. While summer is the best time of year for keeping busy, our favorite way to slow down and soak up the sunshine is to fire up the grill with our friends and family. We hope that you take the time to kick back, relax, and enjoy these recipes at your next backyard BBQ.
White Bean Veggie Burger with Pickles
Trying to work meatless meals into your summer dinners repertoire? Maybe you are searching for a vegan or vegetarian cookout recipe for your friends and family with dietary restrictions? This White Bean Veggie Burger is one of the perfect cookout recipes to check all of those boxes. The plant-based patty is packed with loads of protein, textures, flavors, and a surprising twist: our take on traditional dill pickles, Caraway Garlic Dills. Veggie burgers get a bad rap. But this riff defies all of the stereotypes.
Spicy Bloody Mary Kabobs
Grilled kabobs are one of those go to summer dinner ideas that you make on repeat during the warmer months. They are simple, fresh, and oh so flavorful. However, we can bet you have never had kabobs like these before! Fun, tangy, zingy, and fiery, our Spicy Bloody Mary Kabobs feature Charcutnuvo's delicious, all-natural sausages, fresh veggies, The Real Dill citrusy Bloody Mary Rimming Spice and an unexpected twist: fried pickles. Serve them as an appetizer, an easy summer dinner, or as a garnish on your Bloody Mary bar. Trust us, your guests will be impressed.
Pickle Brine Chimichurri
Steak and chimichurri go together like peanut butter and jelly. Chimichurri is Argentina's crown jewel condiment. The colorful sauce is full of fresh herbs, bright acidity, and a bit of spice. Similar to pesto, chimichurri is one of those dishes that you simply cannot mess up. In fact, almost every recipe for chimichurri varies from one to the other. Pickle Brine Chimichurri features The Real Dill Caraway Garlic Dills pickle brine, which is used in place of vinegar, the traditional form of acid in South American recipes. In addition to being an incredible dipping sauce for steak and veggies, chimichurri also doubles as an excellent marinade for meats and fish.
Bloody Mary Rimming Spice Grilled Veggies
Looking for a summer recipe to whip up in a flash? Grab your favorite veggies or some fresh corn and a tin of Bloody Mary Rimming Spice. The prep time is minimal, yet the flavor is so robust and satisfying.
Dill Pickle Chicken Salad Spring Rolls
This is one of the easiest chicken salad recipes that you can make. It is light, refreshing, and full of unexpected flavors. Eat the chicken salad as is or wrap it in a rice paper wrap spring roll with crunchy, colorful vegetables-- one of our favorite healthy alternatives to a sandwich! Don't forget to serve it with a side of Green Chile Hot Sauce for an extra flavor boost.
Jalapeño Honey Coleslaw
Jalapeño Honey Coleslaw is a slightly sweet and tangy twist on your favorite picnic or backyard barbecue coleslaw recipe. Crunchy cabbage and carrots are tossed in a punchy, flavorful dressing, which features pickle brine in place of vinegar. This cold dish is perfect for summertime cookouts or as an addition to fish tacos, burgers, and sandwiches.
Baked Chorizo Mac And Cheese
Made-from-scratch mac and cheese is easier to make than you would think, and this is one of the best recipes that we have ever tried. The chorizo adds a subtle heat and burst of salty flavor, and the Bloody Mary Rimming Spice provides a tangy zing to counterbalance the richness of the melty cheese. Baked until perfection with a crispy, buttery topping, this creamy and savory mac and cheese is the perfect comfort meal that you can always count on.
Simple Slider Skewers
These adorable slider skewers are both addictive and low carb. Plus, they have all of the fixin's that make for a delicious burger. Serve them as an appetizer or alongside hotdogs and grilled chicken for the ideal barbecue spread.
Dill Pickle Cheese Ball
If you love dill pickles or pickle dip, you are going to love this easy appetizer! It is simple to make, yet its presentation is impressive. We gave a traditional cheese ball a makeover by adding chopped pickles, a splash of pickle brine, and tons of fresh dill to pack this dip with extra flavor.
Bloody Mary Flank Steak
This simple Bloody Mary marinade adds incredible flavor and tenderness to your favorite grilled steak. While we used flank steak for this recipe, other cuts such as skirt steak would also work well. Seared to juicy perfection, this flavorful meal can be made in a snap. Serve with grilled veggies on the side.
Looking for more ideas for your next barbecue? Check out all of our recipes, here.
Leave a comment