5 Ways to Repurpose the Leftover Ingredients in Your Pickle Jars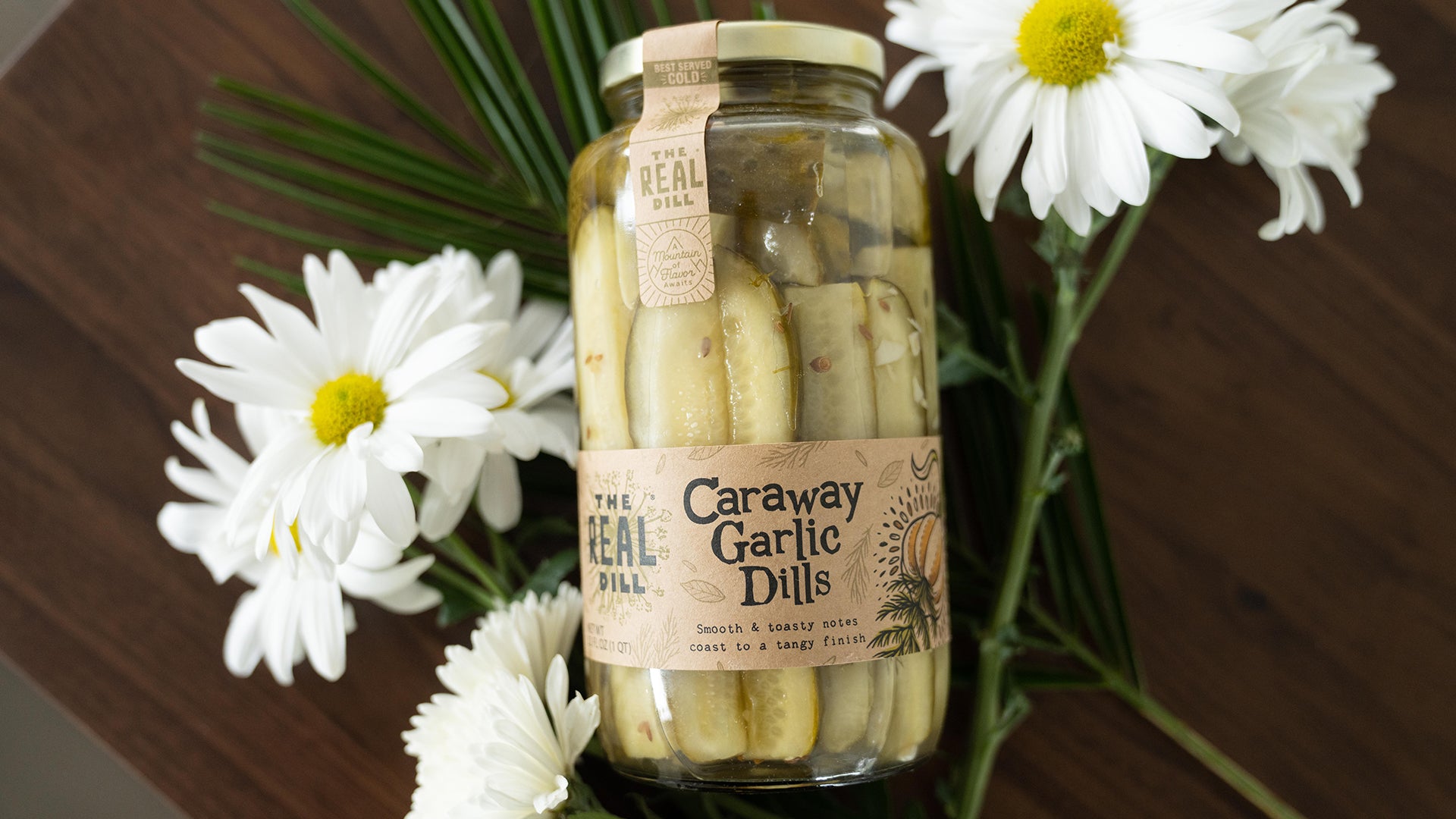 Nothing is better than digging into a fresh jar of your favorite pickles. From the minute you hear the "pop" as you untwist the lid, you start salivating. Then, one day, you grab your pickle jar from the fridge and open it only to discover that there is one spear left. The horror! While, we agree, the best part of pickle jars is, of course, the pickles, once the pickle spears are gone, you are left with an array of exciting byproducts that can be repurposed into all sorts of culinary treats.
To start, let us discuss the anatomy of a pickle jar. First, you have the cucumbers, which turn into pickles once they are covered in brine and canned in a water bath to make them shelf stable. Next, you have a brine, which is made up of salt, water, vinegar, a sweetener, and spices. Lastly, there are the spices and garnishes in the jar, which make for a beautiful presentation and add loads of flavor to the final product.
Unlike other pickle brands, we use a unique pickle brine, spice blend, and jar garnishes for each of our pickle flavors. Most pickle producers have one base pickle brine that they add heat to for spicy pickles, dill to for dill pickles, and sweetener to for sweet pickles. We pride ourselves on developing individual brine recipes for each of our pickle flavors. This pickle juice becomes a magic potion that can be used as a secret weapon in the kitchen. Of course, you can drink it straight up for a healthy dose of minerals if that tickles your fancy.
When we pack our pickle jars, we focus on creating an aesthetically pleasing presentation, which revolves around packing the jars with as many cucumber spears as possible and adding fresh garnishes to the jar. For example, we garnish our Habanero Horseradish Dills with a piece of fresh horseradish, a fresh habanero pepper, garlic, and loads of fresh dill. For our Caraway Garlic Dills, our take on a traditional dill pickle, we garnish the jar with tons of garlic and fresh dill. All of these ingredients are beautifully flavored with the same notes as the pickles in your pickle jar, so there is no reason to let them go to waste. In fact, some of the most flavor-packed components in the jar are the garnishes.
Waste not, want not is a proverb that we take to heart at The Real Dill, and we challenge everyone to reduce your food waste by reusing all of the ingredients in your pickle jar before throwing it away. You will be surprised by all of the amazing things you can create, not to mention, you can do something sustainable at the same time.
Here is a list of our favorite ways to repurpose the leftover ingredients in your pickle jars. Trust us, after you try these tips and recipes, you will never throw away a pickle-less pickle jar again until it is truly empty.
1. Dressings. One of our favorite uses for leftover pickle juice or pickle brine is using it as a base for dressings. The salty, flavorful liquid will instantly elevate the most basic vinaigrette. All of our pickle brines have a combination of vinegar, a sweetener, salt, and spices, so the brine can replace the need for vinegar in a dressing recipe. Plus, it will add more flavor than plain vinegar does. Please note, pickle brine does contain salt, so adjust your salt accordingly.
For super salty dishes, we recommend using Jalapeño Honey Dills brine.  While Jalapeño Honey Dills are not truly sweet pickles, especially not as sweet as a bread and butter pickle, we like to treat them similarly. They have a the perfect kiss of sweetness and mild heat to balance out salt. This
Sweet & Spicy Vinaigrette
 uses Jalapeño Honey Dills pickle brine with the garlic clove, pickled dill, and jalapeño from your pickle jar.  

Caraway Garlic Dills brine is ideal for a dressing that has a lot of different flavors going on; it is the perfect foundational pickle brine that will not outshine the other ingredients in the recipe. For example, our Pickle Brine Chimichurri recipe uses pickle brine from Caraway Garlic Dills in place of vinegar, and it melds seamlessly with the fragrant, fresh herbs, bright lemon juice, and spices in the condiment. 
Chimichurri is Argentina's crown jewel dressing. The colorful sauce is full of fresh herbs, bright acidity, and a bit of spice. 
In addition to being an incredible dipping sauce, chimichurri also doubles as an excellent marinade for meats and fish, as does pickle brine in general.
2. 
Sauces
. Pickle brine is also a great foundation for sauces. We love to use it to whip up a quick aioli to spread on sandwiches or as a dipping sauce for French fries, crudités, and chicken wings. It also pairs well with creamy sauces such as our 
Dilly Dipping Sauce
, which repurposes Habanero Horesradish Dills pickle brine in a spicy, horseradish, dill-packed, sour cream-based condiment. 
Habanero Horseradish Dills have a rather intimidating name for a flawlessly balanced pickle. Often mistaken for spicy pickles, Habanero Horseradish Dills are florally, dilly, and even in flavor, making the pickle brine extremely versatile.
3. Cocktails. Briny cocktails have been a staple since the dirty martini was born in the early 1900s. The obvious use for pickle juice in a cocktail is as a replacement for olive juice in a dirty martini such as a Dirty Dill Martini or 
Dirty Creole Spiced Okra Martini. These recipes are
 salty and briney and you can make them with any of your favorite pickles. 
Not only is pickle brine great in martinis, but it also makes for a simple ingredient that adds acidity and complex flavor to libations
 without turning them into pickle-centric cocktails.
Our
Fresh Cut Gin Cocktail recipe
 combines savory, floral, herbal, spicy, and citrusy flavors together to create an extremely bright, refreshing, and drinkable cocktail made for a warm summer day.
Pickle brine can also help combat a nasty hangover from its salt and water content, making it an even more appealing cocktail ingredient.
 Using pickle brine in a drink is one of the easiest ways to feel like a master bartender with minimal effort, as it adds another dimension of flavor to any cocktail.
4.
Potatoes
. Potatoes are one of the most adaptable and well-loved foods. However, boiled potatoes can be such a bore. Our recipe for 
Crispy 
Salt & Vinegar Potatoes
 takes plain, boiled potatoes to the next level by adding a healthy dose of pickle juice to the boiling water. Think s
alt and vinegar chips meet crispy, roasted potatoes, but instead of vinegar, this recipe uses pickle brine. Sprinkle some chopped pickled dill over the top for the ultimate chef's kiss. P.S. you can also use this boiling water method to make zingy potatoes for potato salad.
5.
Deviled Eggs. 
Our
Jalapeño Honey Deviled Eggs recipe
 repurposes almost everything leftover in the pickle jar, and you can easily replicate it using your favorite pickle flavor. We should note that the spice from the pickled jalapeño pepper, sweet and savory pickle brine, pickled garlic, and pickled dill create a winning combination of just the right amount of sweet, salt, and heat. No matter what type of pickles you choose, the pickle brine and pickled ingredients from the jar will give a burst of flavor and extra zing to your deviled eggs.
Leave a comment