Mojo Pork Sandwich with Spicy Air Fryer Onion Rings & Pickle Aioli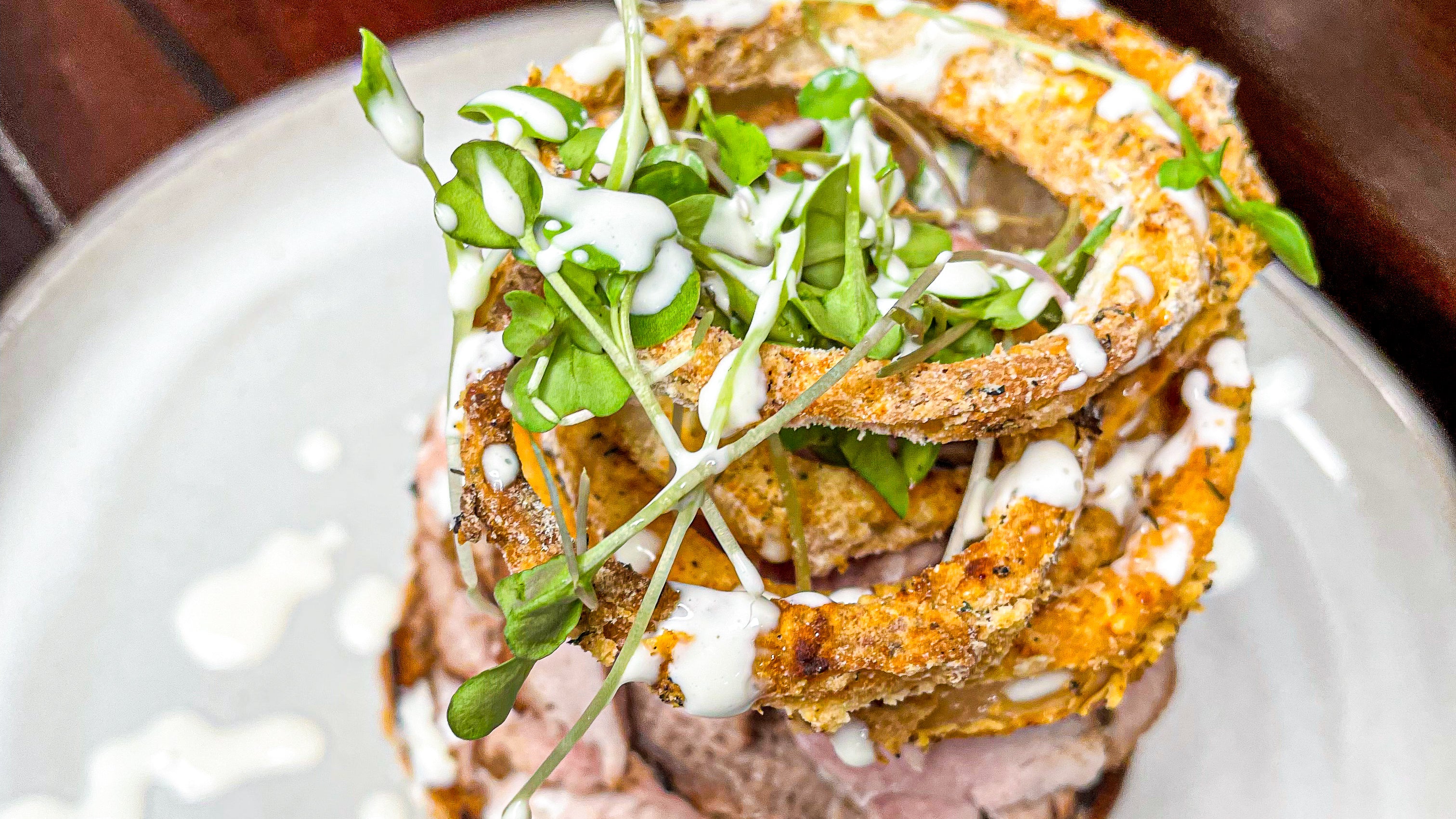 Mojo sauce is a zingy, citrusy, fresh, and flavor-packed Cuban sauce that is often used to marinate slow-roasted pork. In this recipe, we use a slightly unconventional, pickley Mojo sauce to marinate pork tenderloin, which is later grilled and thinly sliced and used for an epic open-faced sandwich that is piled high with crispy, spicy onion rings and drizzled with creamy pickle aioli.

Ingredients:

Mojo Style Pork
1 cup The Real Dill Habanero Horseradish Dills pickle brine
1 cup orange juice
1/2 cup lime juice
1 tbsp dried oregano
1 tbsp salt (Kosher or Himalayan pink salt work best)
1 bunch of green onions
4 sprigs of fresh mint
2 pork tenderloins
Spicy Air Fryer Onion Rings
1 sweet onion, sliced in 1/4 to 1/2 inch rings and separate rings
1/2 cup unsweetened almond milk (regular milk or coconut milk would also work well)
1/4 cup The Real Dill  Original Bloody Mary Mix
1 cup Gluten Free All Purpose Flour
1/4 cup The Real Dill Bloody Mary Rimming Spice
1 egg
Avocado oil spray
Pickle Aioli
Directions:

Mojo Style Pork
Add Habanero Horseradish Dills pickle brine, orange juice, lime juice, dried oregano, salt, green onions, and fresh mint to a blender. Blend until all ingredients are combined.
Pour mojo marinade over the pork tenderloins, and leave them marinating in the fridge overnight (the more time, the better!)
Once the pork is done marinating, grill the tenderloins until they reach an internal temperature of 150 degrees F.
Thinly slice the pork and set aside.
Spicy Air Fryer Onion Rings
Mix Bloody Mary Mix, eggs and milk together in a shallow bowl for dipping.
In a separate bowl, mix Bloody Mary Rimming Spice with the flour.
Take one onion slice at a time and dip them it in the egg mixture, and then immediately dredge them in the flour mixture. Set each onion slice aside on a plate or baking sheet.
Once all onion slices are prepared, place them in the air fryer basket or tray in a single layer. Lightly spray with avocado oil. Fry in air fryer till crispy at 400 degrees, roughly 11-14 minutes.
The onion rings can also be fried using the traditional oil on the stove method.
Pickle Aioli
Mix mayo with Habanero Horseradish Dills pickle brine.
Adjust the ratio of ingredients until your desired consistency is reached. If the aioli is too thick, add more pickle brine, or if it's too thin, add more mayo.
Mojo Pork Sandwich
Grab your favorite bun or sandwich bread and toast it until it's golden brown.
Spread a thick layer of Pickle Aioli on both sides of your bread.
Pile thin slices of Mojo Pork onto the bun.
Top the pork with Spicy Air Fryer Onion Rings.
Drizzle with extra Pickle Aioli.
Grab a bunch of napkins, and dig in!
Recipe made in collaboration with Stephanie Bernier, @mountainfed