Bloody Mary Skillet Huevos Rancheros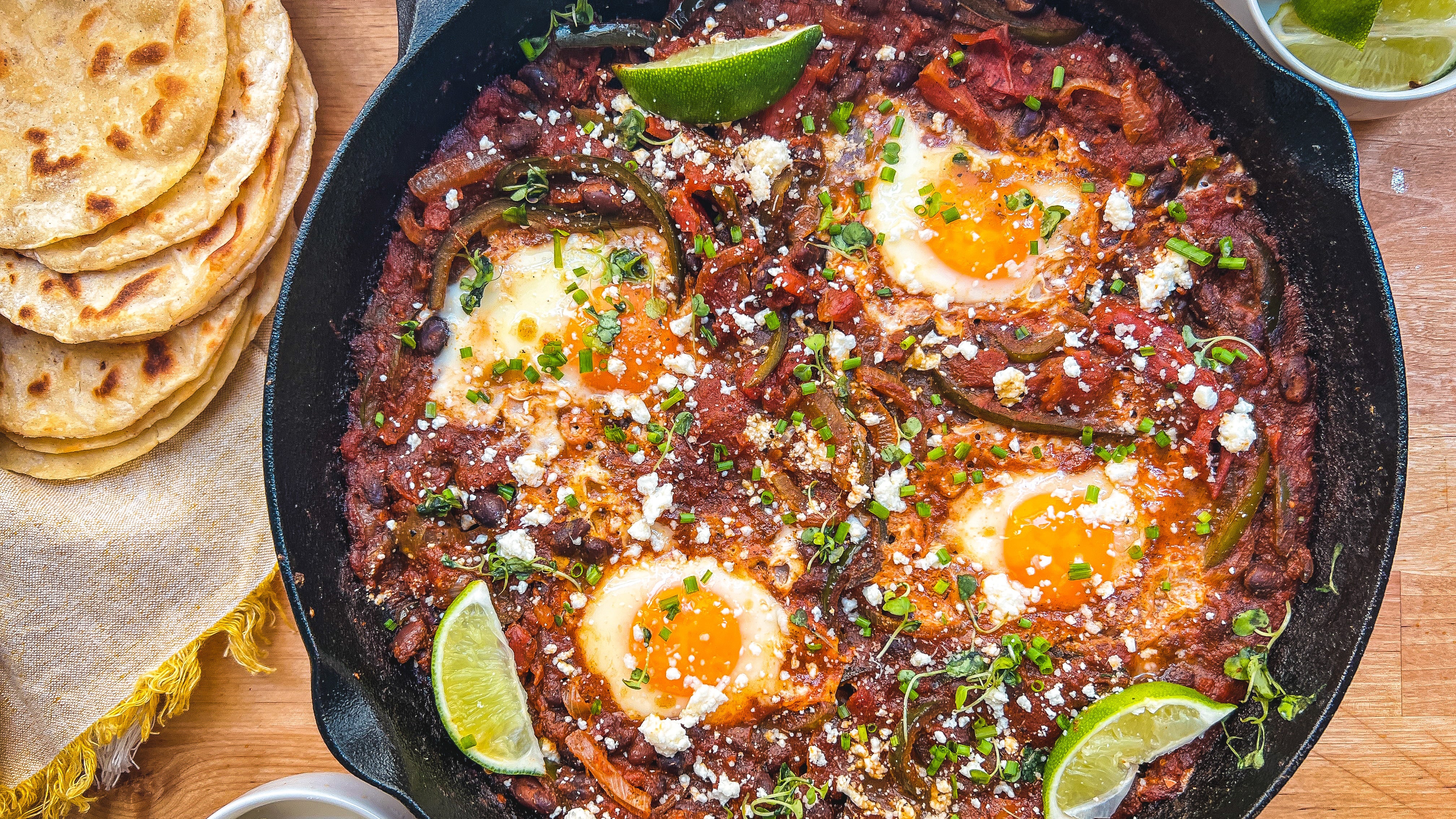 Huevos rancheros is a hearty, vegetarian Mexican breakfast dish with eggs, tortillas, and cooked salsa. Swap Bloody Mary Mix for salsa in this updated twist on a classic.
Ingredients:

Extra virgin olive oil
6-8 corn tortillas
1/2 yellow onion, sliced
1 bell pepper, sliced
2 jalapeños, thinly sliced
1 28 oz. can whole tomatoes
1 15 oz. can black or pinto beans, drained and rinsed
4 eggs
1 cup Original Bloody Mary Mix
1 tbsp chili powder
2 tsp ground cumin
1 tsp garlic powder
1/2 tsp oregano
1 tsp salt
Toppings (optional): sliced avocado, crumbled cotija cheese, cilantro, lime wedges, Green Chile Hot Sauce
Directions:
In a cast iron skillet, heat extra virgin olive oil and fry tortillas, 2 minutes per side. Transfer to a paper towel to drain, and season with salt. Keep warm while you assemble the huevos.
Add sliced onion, jalapeños, and bell pepper to a cast iron skillet. Sauté until soft.
Add whole tomatoes, Original Bloody Mary Mix, and spices. Using your hands or a spoon, break up the tomatoes. Mix to combine as you go. Season with salt.
Add beans to the skillet and simmer for 10-15 minutes.
Make 4 wells in the vegetable mixture. Crack 1 egg into each well. Simmer for another 8-10 minutes, or until the eggs are set, but the yolks are still runny.
Remove from heat. Add toppings. Serve with tortillas and limes.
Recipe made in collaboration with Fulla-yum.