Tropic Like It's Hot with Our Spicy Caribbeans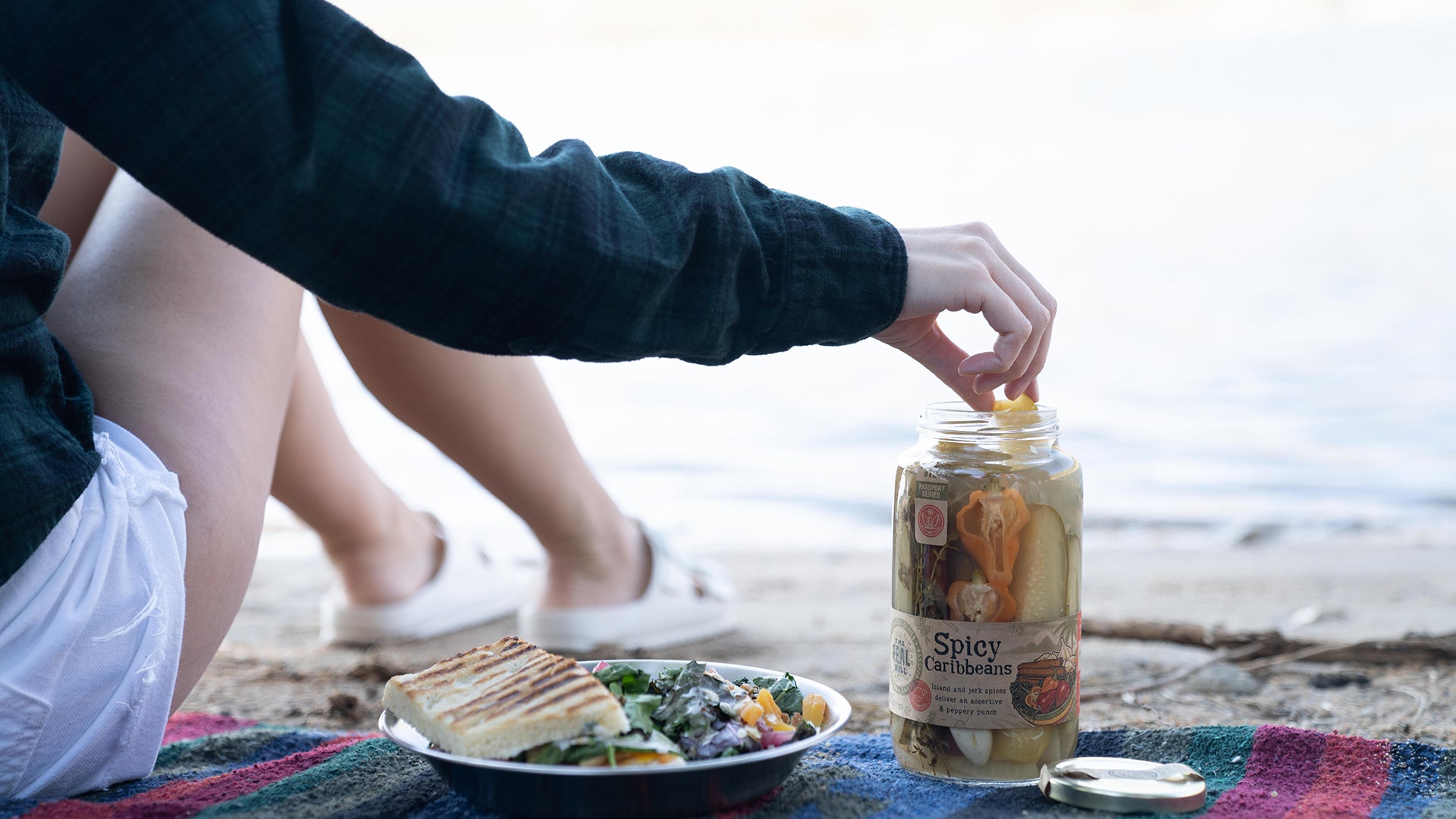 Nine years ago, our co-founder Tyler DuBois was gifted a tropical honeymoon from his wife's grandparents to the Grand Cayman Islands. Coincidentally, this trip took place when The Real Dill starting hitting the local, Denver farmers market scene in full force. Tyler worked the markets every weekend, and naturally, he made a point to visit the local farmers market when he arrived.
With much excitement, Tyler and his new wife wandered around the vibrant market in awe of the unique, regional items on display. They met an elderly Jamaican lady who was extremely outgoing. Her name was Ms. Ivy.
Ms. Ivy primarily made pickled scotch bonnets, which are a Caribbean variety of chili pepper named for their visual similarities to the tam o' shanter hat. Ms. Ivy also made Jerk sauces, which were packaged in recycled vessels such as soy sauce containers and other colorful bottles. Her product display was as lively as her animated personality, and both left a lasting impression on Tyler.
Eventually, Ms. Ivy and Tyler started chatting about pickles. She was so engaged in the conversation that Tyler was moved to create a pickle inspired by her pickled scotch bonnets and Jerk sauces. He asked Ms. Ivy what she would include in the recipe, and she advised him to use cinnamon, thyme, scotch bonnets, and allspice. Tyler took detailed notes and exchanged address with Ms. Ivy. He also brought Ms. Ivy's pickled scotch bonnets and Jerk sauces home to Colorado and started developing a recipe for spicy pickles influenced by his Caribbean travels and new friend. After many trials, Spicy Caribbeans were born. When the recipe was complete, Tyler wrote a letter to Ms. Ivy to share the exciting news, and she sent back an equally excited reply.
People frequently ask us how we create our pickle recipes. For some, it is a surprise to learn that none of them are family recipes, even though we admire those who have preserved their family traditions for generations. As a collection of culinary trail blazers, independent thinkers, and innovative makers, we are inspired by creativity and ingenuity and challenge ourselves to reimagine what has been done before. We approach consumer packaged goods with a chef's mentality, and we are slaves to the details. We pride ourselves on not just repeating what has been done before, and we get excited about unique ingredients that are not usually, if ever, found in pickle jars.
We also love good food, and we get inspired by the flavors we discover in cuisines from around the country and international flavors from around the world. This notion has led to the creation of all of our pickle offerings, and most notably, those found in The Passport Series.
We believe that food has the ability to transport us, taking us on a journey around the globe. In 2020, we launched The Passport Series - a series consisting of four extremely limited annual pickle releases, which explores distinctive flavors from cuisines around the world. With the conception of The Passport Series, our pickles with international flavors, Thai Chile Ginger and Spicy Caribbeans, transitioned from full-time products to limited releases that we only make once per year. We also added two new global-inspired pickle flavors: Ethiopian Berbere Spice and Vindaloo Curry. For all of The Passport Series releases, we make one batch that yields extremely limited quantities, and when it is sold out, we do not make it again until the following year. Each flavor is available once per quarter per year.
The Passport Series' recipes are centered around international flavors, rather than traditional dill pickle flavor profiles. In this case, Spicy Caribbeans came from an inspiring and impressionable trip to the Caribbean islands. Most importantly, the recipe would not have been possible without Ms. Ivy's warmth and vivacious personality. These pickles are a love letter to her.
Something magical happens when you combine thyme, cinnamon, allspice, onions, and hot peppers. Inspired and refreshed from a Caribbean honeymoon, we dreamt up this recipe to bring the island vibes to our Colorado mountainside. Highlighting the explosive flavors we love about Jamaican Jerk cuisine, this formidably complex pickle has a fiery kick that warms you like the tropical sun. If you can't take a vacation to paradise, at least your taste buds can.
Spicy Caribbeans is one of the few spicy pickles, if not the spiciest, that we make. However, the heat creeps up on you like it does in traditional Jerk cuisine. Instead of only tasting hot pickles and scorched taste buds when you bite into a spear, your palate is hit with an eruption of intricate flavors. From the tasting experience, to the beautiful jar, which has a whole cinnamon stick, fresh thyme sprigs, and a bright orange, spicy habanero (we were unable to source scotch bonnets regularly, so we had to make this adjustment to the recipe), to the fragrant brine, it is a sensory overload.
Jerk is a style of cooking that is native to Jamaica. Jerking is when meat is dry-rubbed or wet marinated with a hot spice blend called Jamaican Jerk spice. It is believed that jerking dates back to the Amerindians from tribes who mingled with Maroons. Jamaican Maroons were African slaves who escaped and fled to Jamaica. The Maroons seasoned and slow cooked wild hogs over pimento wood, and used spices and herbs available in their new home such as scotch bonnets. These methods and flavors became the foundation to Jerk cuisine. Today, Jerk cooking is commonly found in the Caribbean and West Indian communities in North America and Western Europe. 
When people think Caribbean food, they usually think Jerk chicken. The spicy dish is comprised of rich, complex, distinguishable flavors that seamlessly meld together. Traditional Jerk seasoning is a flagship of Caribbean food, and it must contain scotch bonnet peppers, allspice, cinnamon, ginger, garlic, and thyme to be considered true Jerk. Aromatic, peppery, herbal, sweet-spiced, and heat are the mainstay attributes found in this spice blend, and Spicy Caribbeans touch on all of these notes. These hot pickles are truly one big flavor firework. We will leave it to our customer Adam K., who said it best: "I was not expecting this many flavors in my mouth right now" --my roommate as she bit into a spicy Caribbean. Honestly these are amazing, perfect amount of subtle sweetness and heat."
As summer fades into autumn, the perfect way to keep the sunshine going is to dive into a jar of our Spicy Caribbeans. If you are a fan of these unique, tropical, spicy pickles, please keep Ms. Ivy in mind next time you relish in their magnificent glory. We hope that Spicy Caribbeans speak to her spirited attitude and the colorful culture of the Caribbean food that inspired them. 
Spicy Caribbeans are one of our staff-favorite pickles to make and eat, and if you are one of the people who asks if we make hot pickles, this is a flavor you have to try. P.S. the spicy, floral pickle brine is also a magic potion, which acts as an incredible secret weapon in marinades and dressing, so make sure you save it once your pickles are gone! 
Click here to grab your jar before they vanish until 2022, or visit our retail locator to find them at a store near you.
Leave a comment