The Real Dill proudly presents: Virtual Pickle Party 2020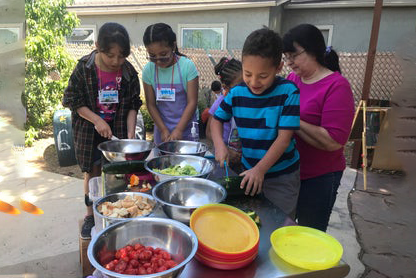 Every year, we have the pleasure of hosting a Pickle Party at our facility, The Dillery, to raise money for our Charitable Partner, The GrowHaus. It's an amazing fundraising event, which draws in a crowd of over 600 people and brings in over $10,000 in donations. It's a one-of-a-kind experience built around celebrating our community for a great cause. We bring in local vendors who serve creative, collaborative cocktails, cider, beer, and Bloody Marys, as well as Plinko, food trucks, live music, lots of pickles, and a fan-favorite spicy pickle eating contest.
We were devastated that we had to cancel our Pickle Party this year due to the pandemic. However, we knew that we had to come up with an alternative plan to bring everyone together in the spirit of community to raise money for The GrowHaus and to support their work of ensuring lasting access to healthy food. And so, our Virtual Pickle Party Fundraiser 2020 was born!
The structure of our Pickle Party looks different from years past, yet our goal remains the same: bring together our community for a great cause! If you're anything like us, you're craving human connection and fun experiences more than ever. We really miss being around our community since we have all been separated for many months.  
The Virtual Pickle Party is the perfect way to come together when we all need it most and make a huge impact for all stakeholders in our community by supporting small businesses, supporting The GrowHaus, and supporting each other! Plus, The Real Dill will match up $10,000 in total donations to benefit this important cause.
The Impact 
$25 provides one week of emergency food staples for a family of two 
$50 provides one week of emergency food staples for a family of four 
$100 provides one week of emergency food staples for two families of four 
$250 provides one week of emergency food staples for five families of four
$500 provides one week of emergency food packages for ten families of four
$5,000 of The Real Dill's $10,000 matching contribution will benefit The GrowHaus'

 

Harvest Week
The GrowHaus Story
The mission of The GrowHaus is to cultivate community-driven food justice through education and food access. They offer food distribution programming and educational opportunities related to growing and cooking food, as well as overall wellness. The organization serves the Globeville and Elyria-Swansea (GES) neighborhoods, two vibrant neighborhoods in North Denver, rich in culture and tradition. However, residents of GES face barriers to living a healthy lifestyle. There is not one full service grocery store for the 10,000 residents living in GES. Additionally, the heavily industrious neighborhood has been deemed one of the most polluted zip codes in the country. However, residents of Globeville and Elyria-Swansea are incredibly resilient and passionate about supporting their neighbors and ensuring healthy food access.  
The GrowHaus strives to be a community-driven organization, meaning that their goal is to have all programs led and implemented by members of their community or others from similar neighborhoods. They are successful when the youth, families, and communities that they work with are empowered to feed, nourish and strengthen themselves and each other.
The GrowHaus and COVID-19
At their core, The GrowHaus is committed to ensuring healthy food access in Globeville and Elyria-Swansea. In response to the COVID-19 crisis outbreak, The GrowHaus has taken several steps to support residents of GES, ensuring that they are receiving food and have information and resources to support themselves in this difficult moment. At the best of times, accessing food -- especially healthy food -- is difficult for their community. The necessity of social distancing, economic disruption, and health risks make this moment especially challenging. The GrowHaus is acting quickly to overcome these barriers.
At the onset of COVID-19, The GrowHaus launched an emergency food distribution program to support residents. Emergency food packages include a a bag of fresh produce as well as a bag of dry food staples. The GrowHaus has been distributing these food packages every week to over 550 families, providing 2,550 kids and adults with nourishment and comfort. In total, The GrowHaus has distributed the equivalent of over 356,000 free meals. 
Additionally, The GrowHaus is supporting families in Globeville and Elyria-Swansea with classes for adults and at-home learning kits for kids. Classes for adults are all held outdoors, with appropriate safety precautions, and focus on overall wellness, in addition to nutrition. In the midst of COVID-19, our team has also been distributing at-home learning kits to families with kids that provide interactive activities for kiddos to learn about healthy food. 
What We Need 
The GrowHaus needs additional funds to continue providing emergency food to families in the Globeville and Elyria-Swansea community. Please consider making a donation to support their important work, especially during the pandemic, when ensuring rapid response to those in need is more crucial than ever. The Real Dill will be matching all donations up to $10,000 to show our support and solidarity.
Our goal is to raise $15,000 for The GrowHaus, which is more than we ever have in the past. We are counting on our amazing community to rally together and make this our biggest and best fundraiser to date by collecting as many donations as possible. Every dollar helps!
We also reached out to some of our favorite partners to bring you incredible rewards that can be enjoyed locally and virtually. Make a generous donation in exchange for perks such as gift cards, gift packs, tickets to virtual classes, and more. All rewards are priced at double the value of the reward to maximize our fundraising efforts. Once you have claimed your reward, we will contact you to coordinate pickup (either at a physical location or virtually). 
If you have a few dollars to spare, you also have the option of donating without receiving a perk.
Thank you to our incredible partners for your generous donations!
We know that we can make a huge difference through this fundraiser, and we appreciate each and everyone one of you and all that you do for us and our community. We miss you, and we look forward to the days when we can party the night away with you again!
Ready to donate? Click here!
Other Ways You Can Help
Leave a comment