No Passport Needed for Our Thai Chile Ginger Pickles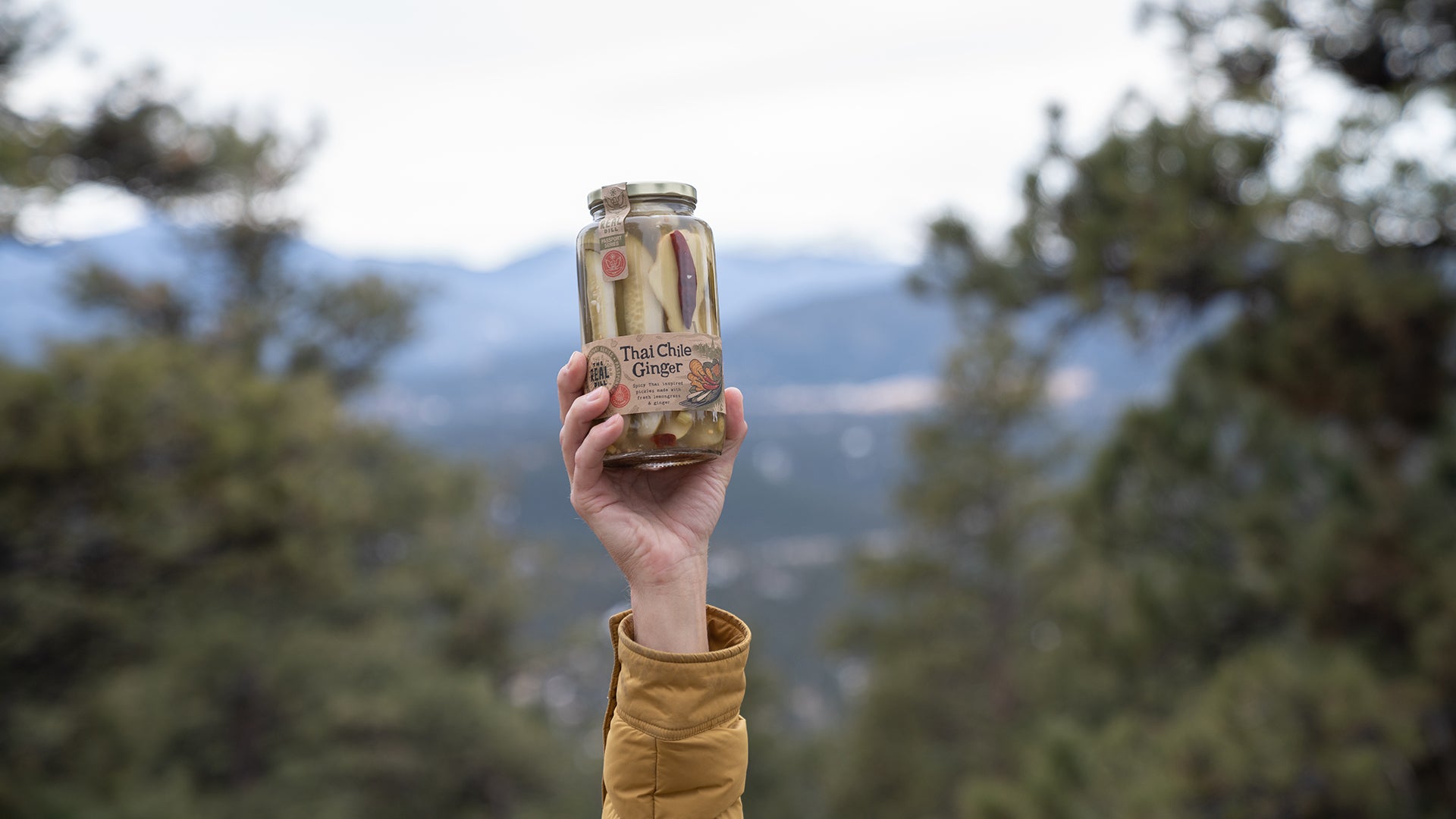 In 2016, we released our Thai Chile Ginger pickles, which we launched at our first annual Pickle Party. We threw a raging Thai themed bash with a Thai food truck, Thai cocktails, Thai-inspired beer and Bloody Marys, and live music. Initially, we packaged Thai Chile Ginger in 16 oz. jars, and they were cut into chips instead of spears. For a variety of reasons, we decided to reimagine these pickles and package them in 32 oz. jars, in 2020. With this change, we launched The Passport Series, the latest addition to our pickle lineup.
We believe that food has the ability to transport us, taking us on a journey around the globe. The Passport Series - consisting of four extremely limited annual pickle releases - explores distinctive flavors from cuisines around the world. With the conception of The Passport Series, Thai Chile Ginger transitioned from a full-time product to a limited release, which we only make once per year. That means, we make one batch that yields extremely limited quantities, and when it is sold out, we do not make it again until the following year.
In addition to Thai Chile Ginger, we moved Spicy Caribbean, which also utilizes unique and specialized ingredients, from our core lineup to The Passport Series, and we released two new pickle flavors: Ethiopian Berbere Spice and Vindaloo Curry.
People frequently ask us how we create our pickle recipes. For many, it is a surprise to learn that none of them are family recipes. As a collection of culinary trail blazers, independent thinkers, and innovative makers, we are inspired by creativity and ingenuity and challenge ourselves to reimagine what has been done before. We approach consumer packaged goods with a chef's mentality, and we are slaves to the details. We pride ourselves on not just repeating what has been done before, and we get excited about unique ingredients that are not usually, if ever, found in pickle jars. If someone has a good idea for a pickle flavor, we go for it and see what we can yield. From the start of The Real Dill, this has been our iteration process.
We also love good food, and we get inspired by the flavors we discover in cuisines from around the country and around the world. This notion has led to the creation of all of our pickle offerings, and most notably, those found in The Passport Series.
Thai food has always held a special place in our hearts. The deep flavors, aromatic qualities of ingredients such as lemongrass and lime leaf, the pungent, sharpness of ginger, and the intensity of the spicy Thai chilies. With every bite, the combination is a giant electric shock to your palate. Needless to say, Thai food gets us very excited.
In the early days of The Real Dill, we knew we wanted to create Thai pickles that encapsulated the nuanced flavors, experience, and emotion that Thai cuisine evokes. Our first attempt at making Thai pickles took place only five months after we launched the company in 2012, and it was a total flop. The flavors were muted and dull, which is the complete opposite of what you experience when you dive into a steaming bowl of Thom Kha Gai or Phad Thai.
However, we did not let this failure from our first attempt stop us from persevering. We were hooked on the idea that we needed Thai pickles as a product offering. For the next four years, we reworked the recipe, revisiting it with new techniques that highlighted certain ingredients, in hopes of achieving the perfect balance and flavor profile.
In early 2015, we traveled to Portland and dined at Pok Pok, which was the turning point in our Thai Chile Ginger journey. After relishing a meal of bright, spicy, sour Thai dishes and meeting James Beard winning chef and Pok Pok owner Andy Ricker, we reignited our drive to perfect the Thai pickles of our dreams.
At the same time, Cart Driver, one of our favorite local, Denver restaurants, asked us to create one-off batches of pickles. We were instructed to do something fun and different, which provided us with an opportunity to test out new ideas, and in turn, they could offer their customers something unique and special. This was the chance to revisit our Thai pickles recipe and test it out on a real audience.
Luckily, this time around, we hit the nail on the head, and we finally attained the results we were striving for since 2012. The feedback we received from the Cart Driver staff and their patrons was highly encouraging. We dialed in the recipe to the point that we executed a balance and flavor profile, which adequately captured the beautifully complex flavors found in Thai cuisine.
These Thai Chile Ginger pickles, highlighted by fresh ginger and lemongrass, draw inspiration from the revitalizing qualities of a hot bowl of Tom Kha Gai soup. Simultaneously salty, sour, spicy, and sweet, these complex and aromatic pickles are equal parts explosive and delicate.
Thai Chile Ginger is proudly made with authentic Thai ingredients, including lemongrass, ginger, Thai chilies, galangal root, lime leaf, and palm sugar. In addition to showcasing bold flavors, these pickles also pack a ton of heat. They are arguably the spiciest pickle in our product lineup, and they are not for the faint of heart. However, if you love fiery heat and ginger, these will be your new favorite snack.
Inside the jar, you will find sliced, fresh lemongrass, a large piece of fresh ginger, and a dried Thai chile. This year, we added a fresh Thai chile and extra spices in the brine and jar to bump up the heat level in the new 32 oz. jar format. 
As always, we encourage you to use everything you find in the jar, especially the brine. Thai Chile Ginger pickles are one of our favorite pickles to produce. The aroma of the brine is fantastic, and it really transports you to Thailand. We love it in a Thai-inspired cocktail or as a marinade. The lemongrass, ginger, and Thai chilies are the perfect ingredients to use to level-up your homemade Thai food. And of course, the Thai pickles are the ideal crunchy snack straight from the jar. We also recommend using them on sandwiches, charcuterie boards, and as a Bloody Mary garnish (add in a dash of fish sauce for a Thai twist).
Thai Chile Ginger pickles are truly one of a kind, and if you are one of the people who asks if we make spicy pickles, this is the flavor for you. Click here to grab your jar before they vanish until 2022, or visit our retail locator to find them at a store near you. We do anticipate they will disappear quickly, so do not sleep on it.
Plus, you can take their word for it:
"Whoa! Thai Chile Ginger Pickles The Real Dill hit this one out of the park. Complex flavors that's unique to their brand. Thank you kindly!" - Jared W.
"These pickles have the most unique flavor profile I have ever had hands down the best ever." - Barry A.
"The pickles are gone. That should say something.....3 quart size annihilated. Quite tasty." - John O.
Leave a comment