Drink Me, I'm Irish: 3 Bloody Marys for Your St. Patrick's Day Celebrations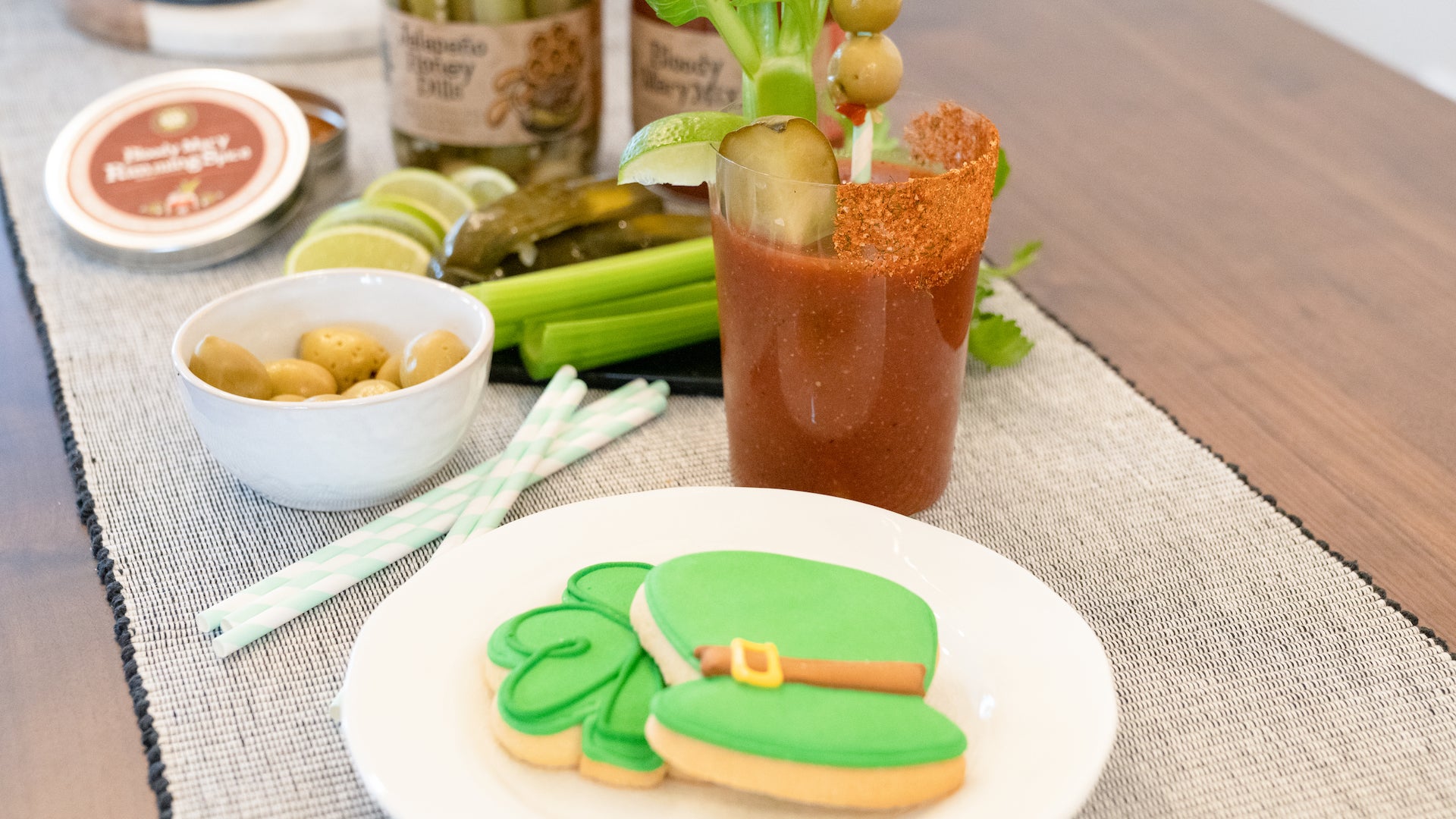 Bust out the green and gold; it is almost St. Patrick's Day! Known for green beer, raucous parades, and Irish cheer, St. Paddy's Day is a party goer's dream. Yet, believe it or not, St. Patrick's Day is not exactly a traditional Irish holiday, at least how we know it. In fact, the way that it is celebrated today is actually a result of Irish immigration to the United States.
Even St. Patrick himself was not Irish, despite being the patron saint of Ireland. St. Patrick was born in Britain in the times of the Roman Empire, and he was held captive by Irish raiders when he was a teenager. Centuries after his death, he became a popular religious, Irish figure.
St. Paddy's day has been around since the ninth or 10th century. People in Ireland used March 17 as a Roman Catholic feast day to celebrate St. Patrick. It also served as a break in Lent, a Christian tradition when meat is forbidden, so people were allowed to eat meat. They danced, drank, and enjoyed Irish bacon and cabbage.
Parades began in major cities across the United Sates in the 1700s, as Irish populations formed across the country. However it was not until the 1900s when many Americans spent March 17 eating corned beef and cabbage, watching parades, and wearing customary green clothing as a symbol of Irish pride. Today, the New York City St. Patrick's Day parade has over 150,000 participants, and people from all backgrounds celebrate St. Paddy's Day. 
Though Bloody Marys are certainly not a St. Patrick's Day tradition in any part of the world, as Bloody Mary makers, we created a few holiday-inspired Bloody Marys to enjoy on St. Paddy's Day. After all, most of us will need a Bloody Mary or two to start a day of early drinking and to curb a nasty hangover by the end of the night. Here are three Bloody Mary recipes for your St. Patrick's Day celebrations:
Irish Whiskey Bloody Mary
Forget the vodka! At The Real Dill, we like to color outside of the lines and drink our Bloody Marys with unconventional spirits. And one of our very favorites is whiskey.
We pride ourselves on producing a Bloody Mary Mix that requires zero doctoring. Our mix is zingy from the fresh garlic, tangy from the vinegar, crisp from the fresh dill and cucumber-infused water, and subtly spicy from the fresh horseradish and habaneros. Traditional Bloody Mary ingredients usually include Tabasco sauce for an added layer of heat and vinegar. In its place, we use habaneros and horseradish, which provide a unique level of freshness and heat. We have all had a watery, bland Bloody Mary or two, so when we formulated our Bloody Mary ingredients, we opted for tomato paste instead of tomato juice. This ensures that the bold tomato flavor shines through.
Because our Bloody Mary Mix has clean ingredients and flavors, it is extremely versatile. A whiskey Bloody Mary may seem odd at first, but it is quite delicious. The subtle sweetness of the whiskey compliments the tangy, vegetal notes of the Bloody Mary Mix. We love Bloody Marys with all types of whiskey, but since Irish whiskey is the customary drink on St. Patrick's Day, we think this would be the most suitable version for your celebration. This riff on a traditional Bloody Mary delivers maximum flavor. Garnish your glass with a green pickle spear, lime wedge, and green olives for extra St. Paddy's day flair.
Stout Bloody Mary
In 2021, we produced a barrel-aged Bloody Mary mix called Powder Keg. We aged our bestselling Bloody Mary Mix in WeldWerks Brewing Co.s' Medianoche Imperial Stout barrels, merging the complex and rich character of this massive beer with the fresh and lively notes of our cocktail mix. Although a surprising combo, the barrel-aged mix had a refreshing roundness with hints of oak and a mild sweetness.
Unfortunately, this extremely limited Bloody Mary mix is no longer available. However, you can recreate a similar flavor profile with your favorite stout, such as Guinness beer, on St. Patrick's Day. Stouts are dry, dark Irish beers. They provide an amazing amount of flavor in a Bloody Mary, while also adding a slight creamy, surprising texture to the drink. When added to Bloody Mary Mix, the subtly sweet notes and smooth richness in the stout beer come together to make an incredibly unique Bloody Mary. Whether you are a beer lover or a Bloody Mary lover, or both, this combination will be a winner on St. Paddy's Day! Serve it up with corned beef hash for the ultimate Irish inspired breakfast.
Green Chile Hot Sauce Bloody Mary
Skip the green food coloring this year, and make a Green Chile Hot Sauce Bloody Mary instead! In case you missed it, a few years back, we created a bangin' hot sauce called Green Chile Hot Sauce. Our Green Chile Hot Sauce is not a typical hot sauce. We put it in a larger than usual bottle because you will want to pour, not dash, it on everything. It is an amazingly versatile flavor bomb that has a kick to it. Inspired by authentic Denver green chile, this sauce features rich, roasted flavors, celebrating Colorado's Pueblo Green Chile at the forefront, followed by a smoky, round, but not overwhelming, heat on the finish.

The star ingredients in Green Chile Hot Sauce are fire roasted Pueblo Green Chiles and Baere-liner Weisse beer from our friends at Baere Brewing Company. We also fire roasted jalapeños, garlic, and onions. Baere-liner Weisse has a nice acidic backbone to its flavor profile, which cuts through the heat, adding a complimentary, subtle fermented funk flavor to the sauce.

When we had leftover green chiles from a Pueblo Chile Chips, our 2015 Fall/Winter Seasonal Series release, that we did not want to go to waste, we created a scratch-made hot sauce and gave away bottles, labeled as "Made for fun, not for sale." But not everyone got the message and pleaded with us to start selling it. After several years of persistent requests, we relented, and created Green Chile Hot Sauce as our 2017 Fall/Winter Seasonal Series release. Since then, we had received overwhelming feedback and the requests for hot sauce, had not stopped. We had literally received hundreds of emails with pleas of bringing it back again (re: Please make more green Chile hot sauce. My wife got into my stash and I cannot find it anywhere. (Russell F.)). Alas, our love for this recipe led us to cave into the pressure once again, and we brought back Green Chile Hot Sauce as a full time product.

This slightly acidic hot sauce perfectly compliments the vinegar foundation of our Bloody Mary Mix, and it adds a round, medium heat, so you will not mask all of the beautiful flavors in your Bloody Mary with too much spice. As its name suggests, this hot sauce is green, making it an appropriate addition to your St. Paddy's day cocktail menu. Grab your favorite spirit, some Bloody Mary Mix, and dash in some Green Chile Hot sauce for an on-theme, St. Patrick's Day cocktail. If you want to add even more green to your drink, we recommend garnishing your glass with your favorite pickle spear, green olives, pickled green beans, celery, and a lime wedge.
Leave a comment