Sheet Pan Nachos with Green Chile Crema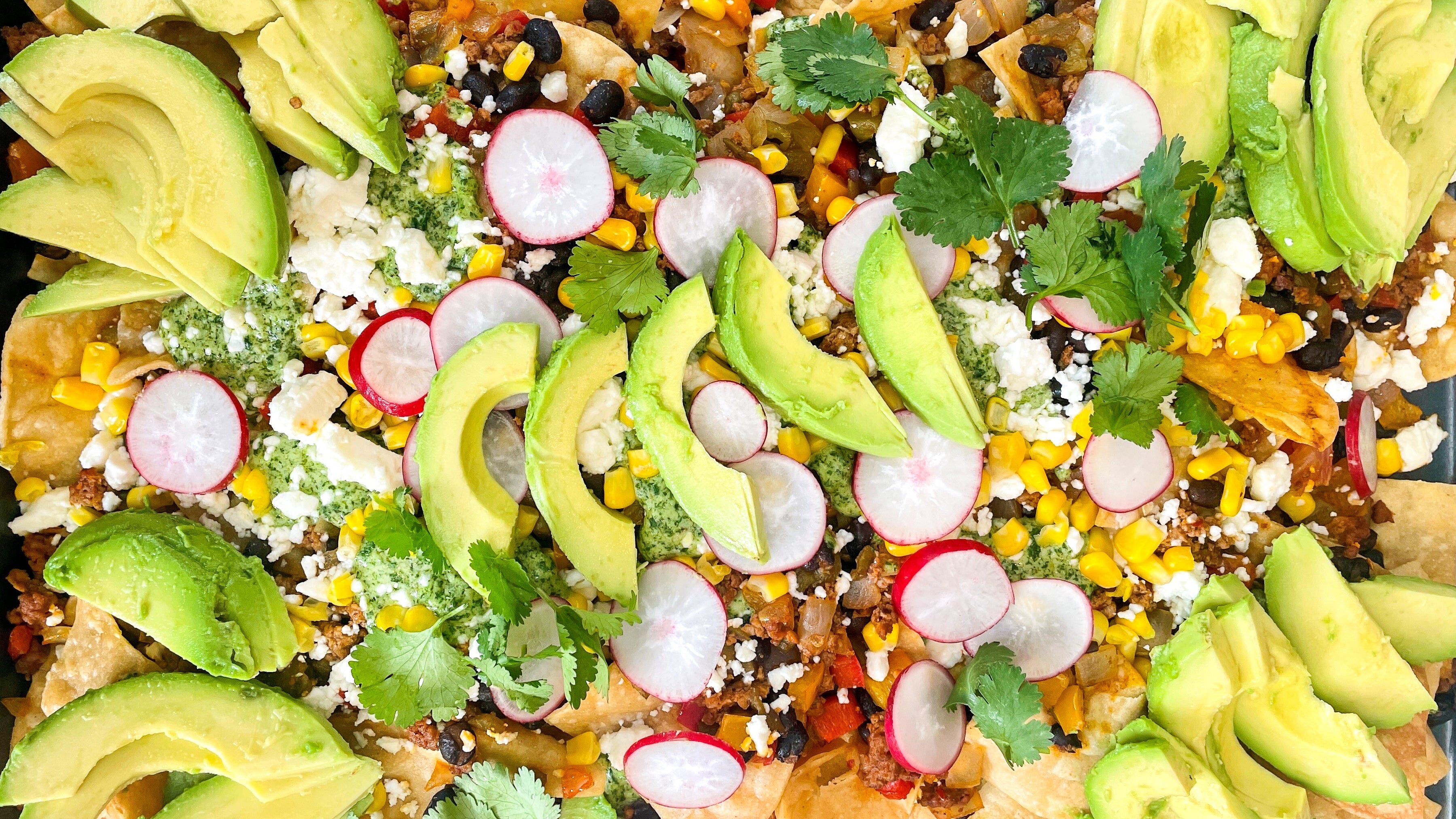 Spicy chorizo, mountains of cheese, tangy beans, and refreshing green chile crema come together to make southwestern, sheet pan nachos of epic proportions. Although we love all of the components in this recipe, the green chile crema may is the star of the show. You will want to drizzle this awesome sauce on everything, and we highly recommend making a double batch to have some extra on hand.
Ingredients:
1 teaspoon olive oil
1 small white onion, diced

1 small red bell pepper, chopped
1 small orange bell pepper, chopped

16 oz. ground chorizo (we like Polidori Sausage

 Chorizo

)
1/4 cup The Real Dill Green Chile Hot Sauce
1 15 oz. can black beans, drained
1 7 oz. can diced roasted and peeled green chiles, 2 tbsp reserved
2 garlic cloves, minced
1 oz. taco seasoning mix
1/4 cup ricotta cheese
8 oz. fresh mozzarella cheese
Zest and juice of 1 lime
1 small bunch (about 2 cups) of cilantro, stems trimmed, finely chopped
1 bag of tortilla chips, corn chips, or fried crispy tortillas
5 oz. feta crumbles
1 cup frozen corn kernels
Salt and pepper, to taste
1 avocado, thinly sliced, to garnish
3 radishes, thinly sliced, to garnish

Fresh salsa or tomatoes, to garnish
Directions:
Preheat the oven to 400°F. Prep a large baking sheet pan by lightly spraying with cooking oil. Set aside.
Heat the olive oil in a large skillet over medium heat. When the oil is bubbling, add the onions and bell peppers, stirring well. Cook until onions are translucent, about 4 minutes.
Stir in the chorizo, breaking it up with a large wooden spoon, and cook through. Then, add the black beans, green chiles (except for the reserved 2 tbsp), minced garlic, and taco seasoning mix to the chorizo and stir well. Reduce the heat and let it simmer on low.
While the meat is simmering, get started on the green chile crema. In a small food processor, pulse together the reserved 2 tbsp of green chiles, ricotta cheese, fresh mozzarella, zest and juice of one lime, 1/4 cup of The Real Dill Green Chile Hot Sauce and 3/4 of the bunch of cilantro (leaves and stems). Puree until smooth, and add salt and pepper to taste.

Once the green chile crema is done, remove your meat from the heat and set aside.
It's time to assemble the nachos. Cover the baking sheet with a layer of tortilla chips. Top with the chorizo mixture, dollop with spoonfuls of the green chile crema, and sprinkle with feta and corn kernels. Repeat by adding another layer of tortilla chips, chorizo mixture, green chile crema, feta, and corn kernels on top of the first layer. When all of the ingredients are layered on to the sheet tray, place in the oven for 12-15 minutes, or until the cheese is melted and the tortilla chips are lightly browned.
Remove from the oven and garnish with remaining cilantro, sliced avocado, sliced radishes, and salsa. Serve immediately with lots of napkins!