Extra Spicy Tomato Chutney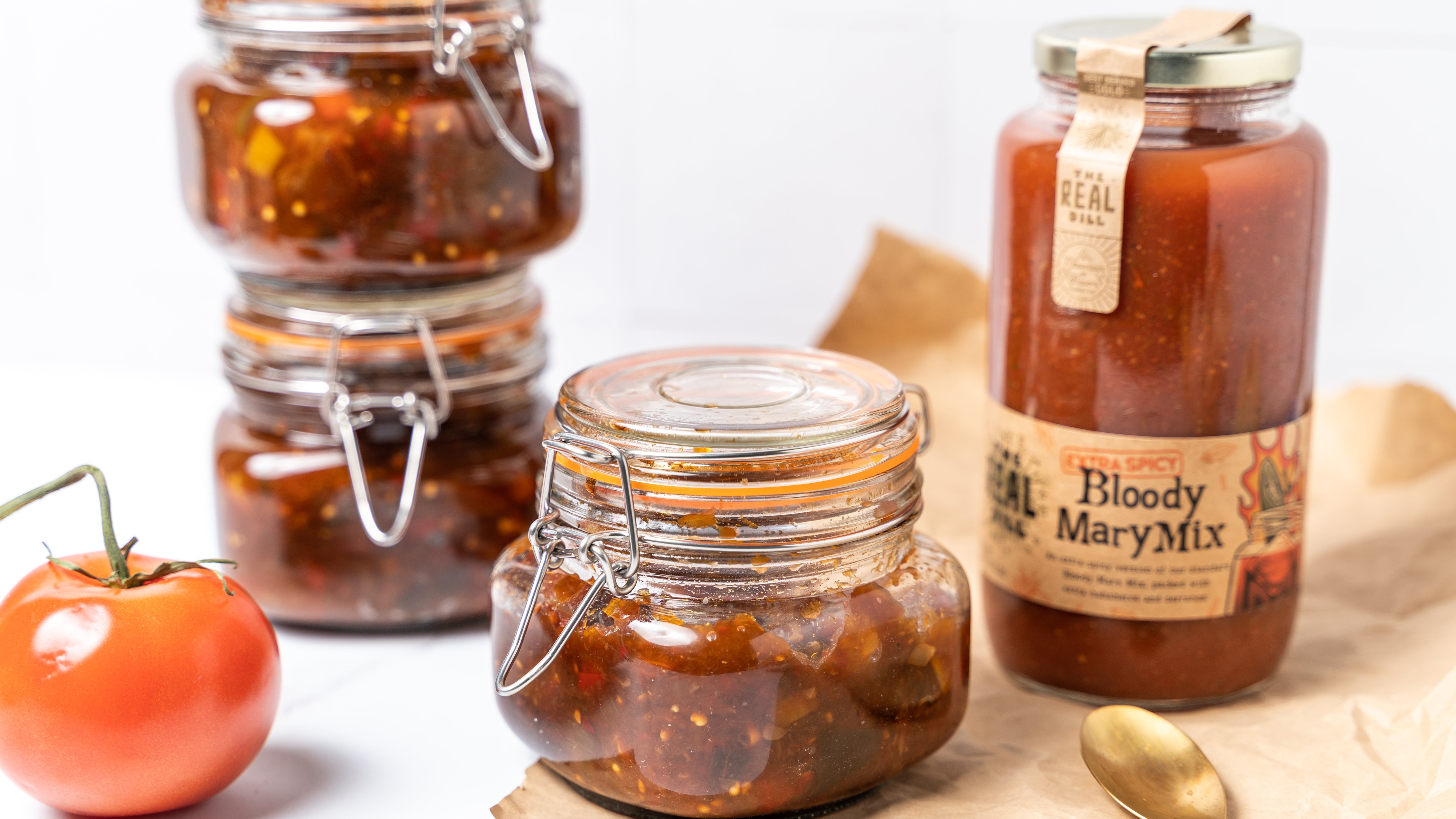 Looking for an easy holiday appetizer recipe for Thanksgiving or Christmas dinner? Extra Spicy Tomato Chutney is a perfect match for cheese boards and charcuterie. You'll also love adding it to your leftover turkey sandwiches the next day.
Ingredients:
2 1/2 lbs. fresh tomatoes
3 bell peppers, chopped
1 medium - large eggplant, chopped
3 yellow onions, chopped
5 cloves of garlic, crushed
1 in. piece of fresh ginger, minced
1 3/4 cups of sugar
3/4 cup of The Real Dill Extra Spicy Bloody Mary Mix
3/4 cup The Real Dill Habanero Horseradish Dills pickle brine
1 tbsp salt
1 tbsp coriander seeds, crushed
1 tbsp smoked paprika
2 tsp cayenne pepper (optional)
Directions:
Blanche tomatoes, and peel the skin off of each tomato. Chop into small chunks and place into a large dutch oven or heavy bottomed pan.
Place bell peppers, eggplant, onions, and garlic in the pan with the tomatoes. Bring to a boil over medium high heat.
Once boiling, cover with lid and lower the heat until the mixture simmers. Leave for about an hour, stirring occasionally and making sure the bottom of the pan does not begin to burn.
Once the vegetables are tender, about an hour, add the sugar, Extra Spicy Bloody Mary Mix, Habanero Horseradish Dills pickle brine, salt, coriander, smoked paprika, ginger, and cayenne pepper to the pan.
While the mixture is simmering, sterilize the jars you will be using to store the chutney.
Continue to simmer for about 30 minutes or more until a thick consistency is reached. You can check by running your wooden spoon through the pan. If liquid quickly seeps from the walls that the wooden spoon creates, continue to simmer until it reaches a thicker consistency.
Carefully spoon the chutney into your sterilized jars and seal while still hot. You can serve immediately, but the best flavor develop after the chutney has sat for a few weeks.