Bloody Mary Penne Alla Vodka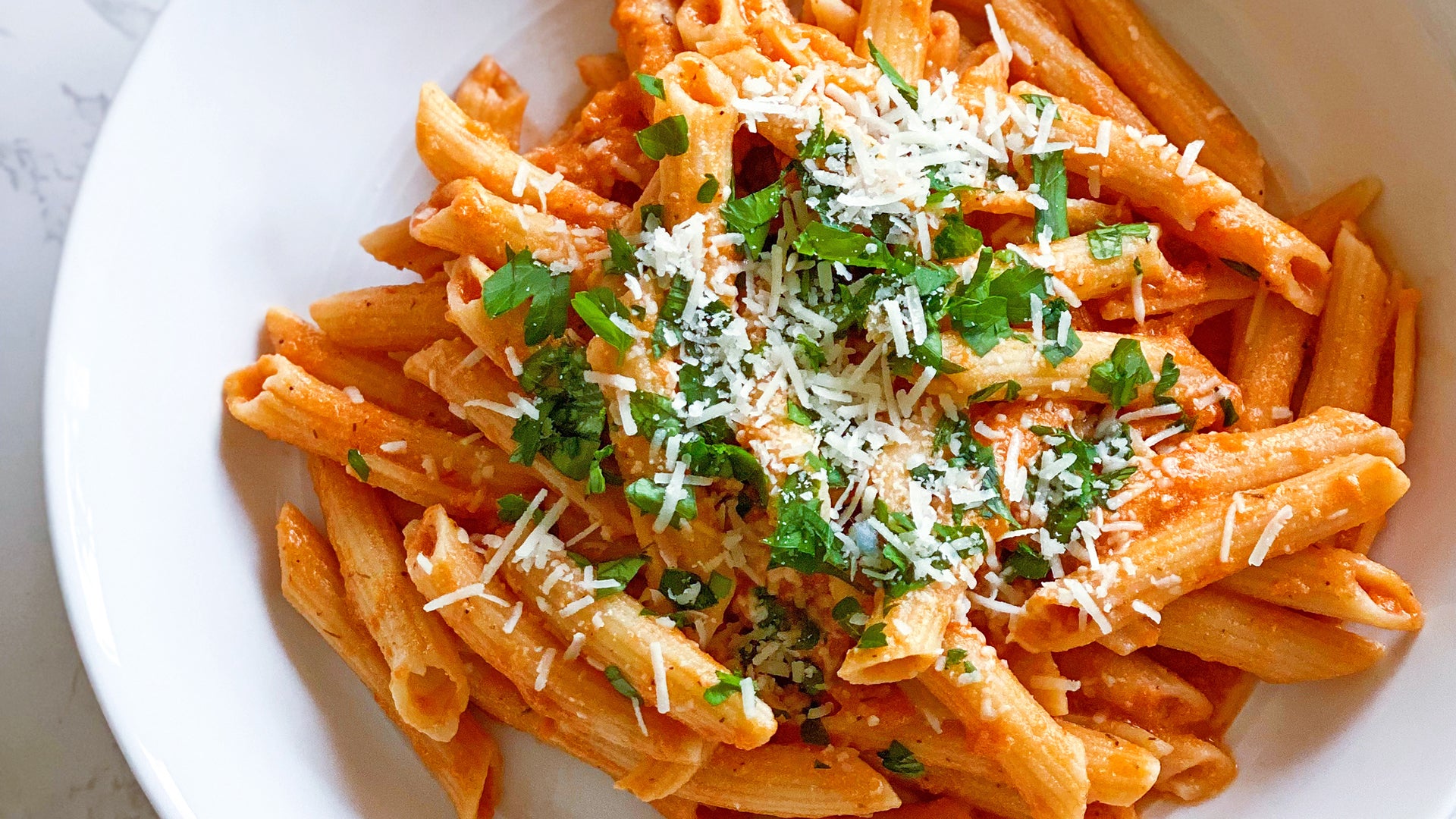 The secret to perfect vodka sauce is swapping out the canned (crushed, diced, or whole) tomatoes with tomato paste. Tomato paste has a richer, purer tomato flavor, and it makes for a velvety sauce. Our Bloody Mary Mix is made with tomato paste, which makes it the ideal base for a vodka sauce (not to mention, Bloody Marys and vodka are the ultimate dynamic duo). The tangy acidity from the Bloody Mary Mix seamlessly blends with the sweetness of the heavy cream. The bold flavors from the dill, habanero, and horseradish in the mix mellow out by the time that the sauce finishes simmering, making the overall flavor balanced and harmonious. When you need a bowl of comfort, you'll find yourself reaching for this tangy, spicy recipe over and over again.
Ingredients:
Cook penne according to directions on the packaging. Before you drain the pasta, make sure to reserve 1/2 cup of pasta water. Set the drained pasta aside.
Add the extra virgin olive oil and chopped onion to a large pan over medium heat. Sauté until the onion is translucent, about 5 minutes.
Add the minced garlic to the pan and sauté until fragrant, about 1 minute.
Pour 1/3 cup of vodka into the pan to deglaze, about 1 minute.
Add 2 cups of The Real Dill Bloody Mary Mix and 1/2 cup of reserved pasta water to the pan stir. Bring to a simmer for 20 minutes until the liquid reduces and thickens.
Transfer the sauce to a blender or use an immersion blender to blend the sauce together. It should become thicker once blended.
Add the sauce back to the pan and stir in 1/2 cup of heavy cream.
Add the pasta to the sauce and season with salt and pepper to taste. The Bloody Mary Mix has a lot of salt in it, so make sure to taste as you go.
Serve immediately and top with freshly grated parmesan cheese.