The Real Dill receives recognition for Environmental Leadership!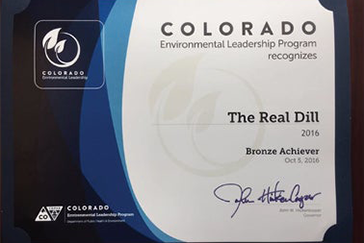 Today we were recognized by the State of Colorado and Governor Hickenlooper as a Bronze Achiever in the Environmental Leadership Program!
We strongly believe that we have a responsibility as a business to operate in such a way that creates a positive impact on our community and our environment. It was with that responsibility in mind that we set out to divert 100% of our vegetable waste away from the landfill and towards something more environmentally beneficial. 
Imagine large containers of cucumber scraps, horseradish peelings, herbs that have started to go bad, and other waste that can actually be put to use for a good cause. We generate quite a bit of these scraps. 

We proudly re-purpose or donate all of this vegetable waste, and in the process we divert nearly 500 pounds of vegetable waste from the landfill every week. That's over 25,000 pounds per year! The vast majority of it currently gets donated to our partner Re:Vision for their urban farming initiatives. 

We look forward to challenging ourselves to go above and beyond our current efforts to make an even greater impact in the years to come!
To learn more about our partnership with Re:Vision, check out our story on how we turn our trash into a treasure. 
Leave a comment