Introducing Ethiopian Berbere Spice Pickles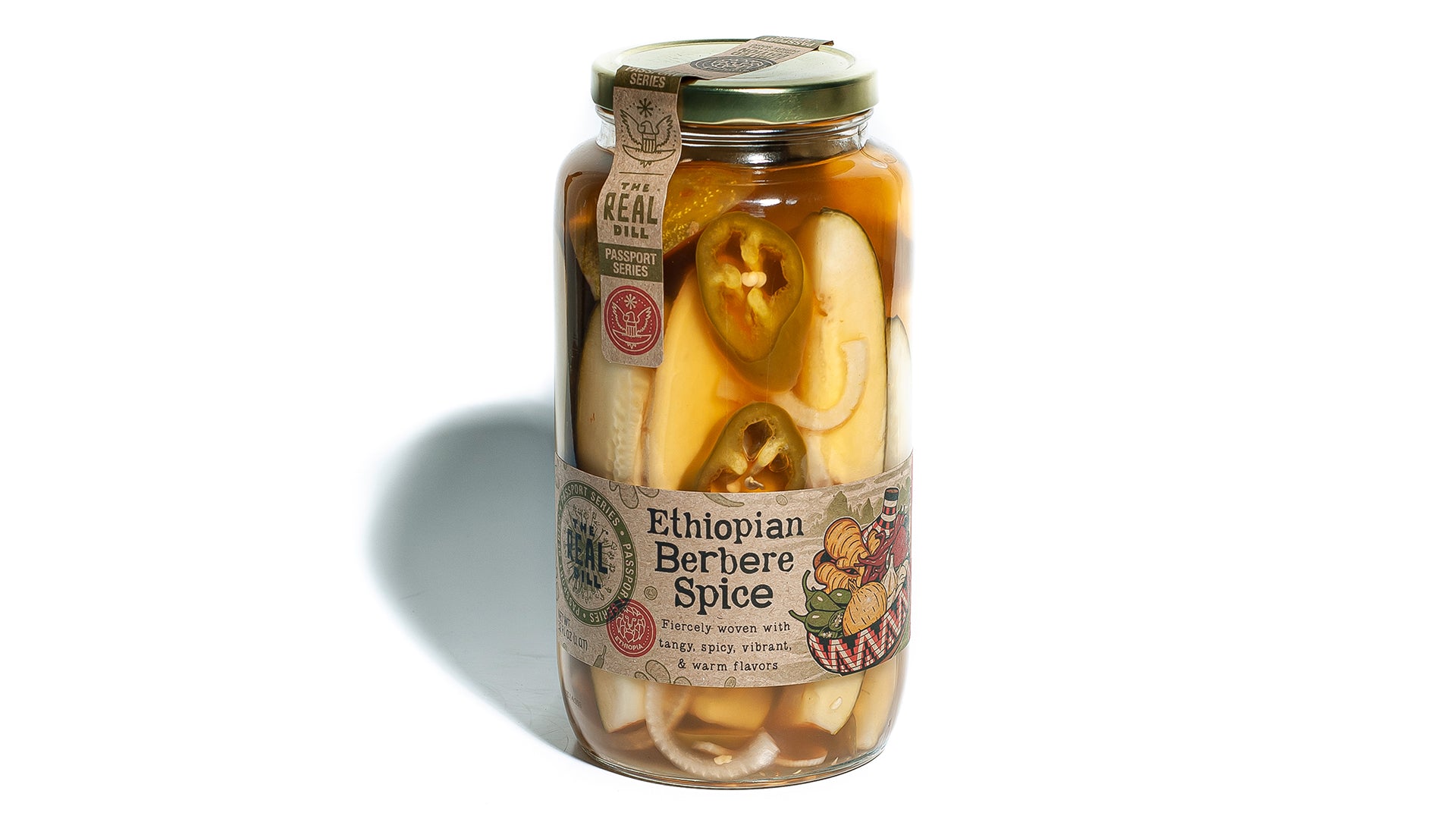 I still remember the first time I had Ethiopian food. It was such a magical experience. The smell of coffee roasting and warm spices filled the air. A huge colorful platter covered in a large array of dishes arrived with vibrant lentils, stewed meats and vegetables, all accompanied by an incredible spongy sourdough bread called injera, which not only served as the utensil to eat these delights, but also caught every drop of sauce on the platter. I was in heaven. Eating with my hands off of the same communal plate felt more like a shared experience compared to any other meal I had eaten at that point in my life. I remember taking every sauce soaked piece of injera home with me to eat the next day and thinking they were the best leftovers ever. That experience started my lifelong obsession with Ethiopian cuisine. I even went to an Ethiopian restaurant for my senior prom! I still get those cravings frequently.  
As I got older, I was introduced to more Ethiopians living in Denver. These friendships taught me about the country and its rich culture and history. After starting The Real Dill, I always had the idea of making a pickle based off of the flavors found in Ethiopian cuisine. Although I had prepared a few meals at home, I was by no means an expert, and I knew I needed help. Luckily, I know an expert.
I have known Fetien for many years. From our wild barhopping 20s to having children and businesses and far less energy, she has always been a kind-hearted and generous person. On our third night home from the hospital with our firstborn son, she brought over a feast of injera, gomen, misir wot, doro tibs and more. She has been this way ever since I have known her. Fetien and her business partner opened the first Ethiopian food truck in Denver, as well as a catering company, and eventually a brick and mortar in the Edgewater Public Market called Konjo Ethiopian Food. When I started working on this release, Fetien walked me through flavors and ingredients that could work in a pickle. I couldn't have made this recipe without her instruction and assistance. I mean, she even told me where to source the unique spices I needed. 
The anchoring spice in this pickle is Berbere. Berbere is a ground spice blend made up of 12 or more spices. It is used in stews and other dishes to impart deep flavor, similar to how curry powder is used. It is unique to Ethiopia and neighboring Eritrea and the signature flavor of their cuisine. The powder can also be blended with honey wine or red wine to make a paste called awaze, which is used as a condiment.
So if you like these pickles you have her to thank, and if you're a Denver-local and these pickles move you to learn more about Ethiopian cuisine, then Konjo Ethiopian Food is a great place to start. They are located in the Edgewater Public Market and currently open 12pm-8pm Wednesday-Friday and 10am-8pm Saturday-Sunday.
I hope that these pickles speak to the vibrant culture that inspired them and that they inspire you to learn more about an unfamiliar culture. Thanks again to Konjo Ethiopian Food, and especially Fetien and her business partner, for all of the delicious meals throughout the years and the help with Ethiopian Berbere Spice pickles. 
- Tyler Dubois, co-founder, The Real Dill
*Ethiopian Berbere Spice pickles are now available online and in select retail stores for a limited time.
Leave a comment