Introducing: Colorado WildSage Pickles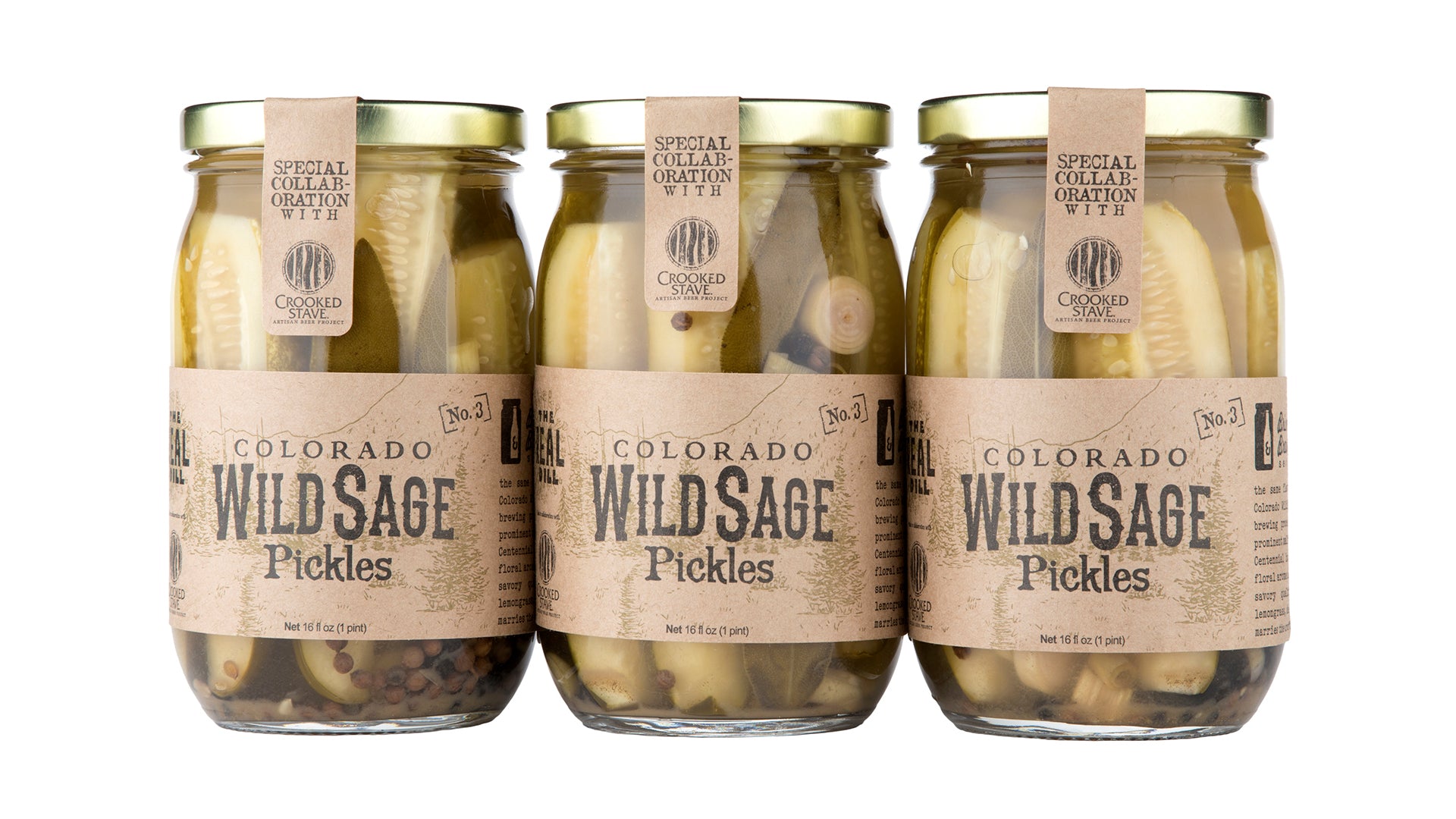 At The Real Dill, we take pride in pushing boundaries and choosing the road less traveled. It's what motivates us and fuels our creativity. Simply put, we're committed to making innovative products that stand out, and if a particular recipe or idea doesn't make us enthusiastic, then we don't produce it. When it comes to passion and inspiration, there's nothing that stokes our imaginative fire more than the craft and inventiveness employed by Colorado's many talented brewers. 
The inspiration behind our Briners & Brewers series struck once we realized how many similarities there are between the art of brewing beer and brining pickles. Don't get us wrong, there are worlds of difference, but we were surprised to discover the vast correlations between our approaches to building depth, developing flavor, and achieving balance in our respective products.
That's what led to the initial release in our Briners & Brewers series in 2013, which featured a pickle based on Great Divide Brewing Company's Titan IPA, as well as the second release in 2015, which showcased the same flavors found in Odell Brewing Company's Myrcenary Double IPA. 
Every release in this series has been a true collaboration - one that begins with us learning as much as we can about the method that goes into brewing the beer we're highlighting and teaching our collaborator as much as we can about pickling. The goal is to identify the intersection at which we can merge the two techniques.
The process to make the Briners & Brewers pickles isn't a simple matter of pouring beer into brine. In all three releases of this series, we've made a point to creatively marry the brewing and brining methods by using the same raw ingredients that are involved in executing the featured beer.
We're ecstatic to partner with Crooked Stave Artisan Beer Project for the third release in this series! This installment draws from the inspiration behind Crooked Stave Beer Project's Colorado WildSage Brett Saison, a beer that transports you to the Colorado mountainside. The unfiltered beer pays homage to the state of Colorado by incorporating all local ingredients and fresh herbs such as lemongrass and sage. We're proud to make a pickle that honors and highlights our beautiful home state. 
We've known Chad Yakobson, founder of Crooked Stave Artisan Beer Project, for a few years, and one thing that we've always admired is his love and appreciation for food. The first time we met him, he gave us the most detailed tasting notes on all of our products that we had ever received. His palate is spot on.
Upon initial conversations, we immediately agreed that making a savory pickle featuring the same flavors found in his Colorado WildSage Brett Saison was a brilliant idea. The luscious, herbaceous sage and lemongrass notes captured in the beer would be a great pair for pickled cucumbers. Elevate those flavors with gentle oak, malt, and hop characteristics, and we could devise a pickle that had a similar taste profile as the delicately balanced beer. 
Each pickle we make has its own unique brine, which is our vehicle for building depth of flavor. For this brine we started with a malt base, added vinegar, filtered water, lemongrass, sage, and a handful of other spices that are subtly expressed by the beer. We then aged the brine on oak and centennial hops for two weeks. The result is a delightfully savory and harmonious brine that displays a subtle oaky backbone. To accentuate the herbal characteristics of the beer, we added fresh lemongrass and fresh sage to each jar, resulting in a beautiful, pickled interpretation of Crooked Stave's masterful Colorado WildSage Brett Saison.
Needless to say, these pickles are best enjoyed with a cold can of WildSage Brett Saison in hand. Just like the perfect pairing of wine with your meal, enjoying them together accentuates flavor notes that otherwise would go unnoticed. 
The Colorado WildSage Pickles will be available Tuesday September 5th on our online store. Signup for our email list for access to an exclusive presale starting Friday August 18th. 
Colorado WildSage Pickles will also be available at Crooked Stave's Taprooms, as well as select liquor stores within our distribution footprint. 1,000 of the jars will have a removable, limited edition wood sticker that was designed specifically for this release.
To be the first to try these pickles and have an opportunity to take them home with you, join The Real Dill and Crooked Stave for a Briners & Brewers launch party at the Crooked Stave Taproom (3350 Brighton Blvd, Denver, CO 80216) on Thursday August 31st at 5 pm.
Leave a comment