Increasing Health Equity with Denver Neighborhoods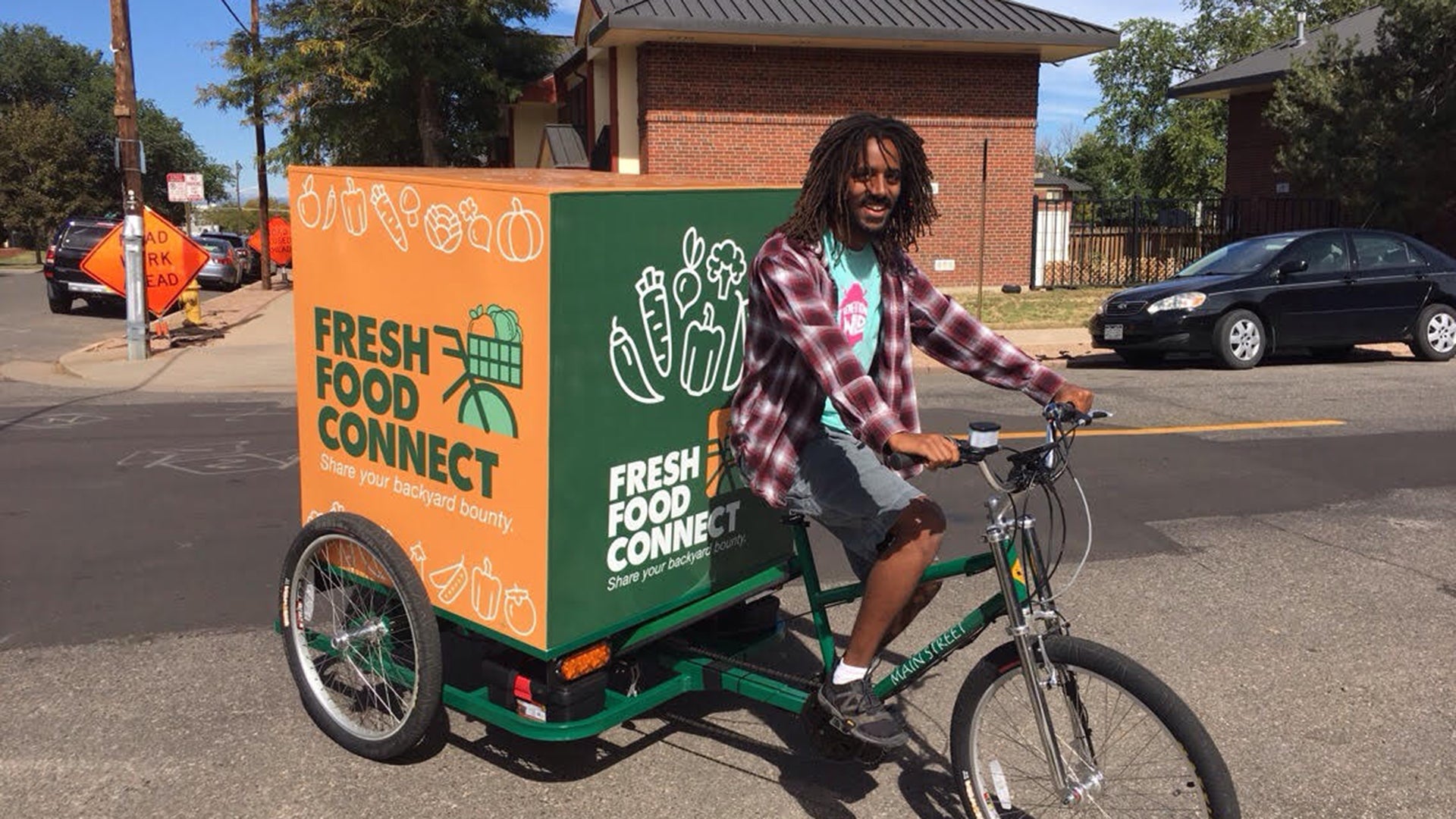 Every day, an alarming amount of edible food is wasted in the U.S (an estimated 30-50% to be exact.) At the same time, there is a significant population that lacks access to fresh fruits and vegetables that are often unavailable in traditional food bank models. These populations often have difficulty accessing food pantries because of location, stigma, and other barriers.
Insert Denver Food Rescue, a Denver-local nonprofit that uses the sustainable method of bicycle power and an amazing volunteer crew to save good produce from grocery stores, farmers markets, and distributors that would otherwise be thrown away. Denver Food Rescue then redistributes this food directly to organizations that work with food-insecure communities. We're excited to share that Denver Food Rescue is also our 2018 Charitable Partner through our Charitable Partner Program!
Denver Food Rescue believes in the following values:
Health equity: health is a right that should be enjoyed by everyone.

Food security: each individual deserves to have control of his or her own food situation.

Integration of feedback: lasting solutions will only be formed through consistent and authentic engagement with people who are experiencing the issues we exist to address.
The organization focuses its efforts on the four following programs:
1. No Cost Grocery Program (NCGP) 
The DFR No Cost Grocery Program (NCGP) model exists to serve otherwise overlooked neighborhoods with a realization that income is inversely proportional to consumption of fresh fruits and vegetables. Often low-income communities exhibit diet related diseases that can be avoided by increased consumption of fresh produce. Currently, Denver Food Rescue has increased access to healthy food in 16 communities with the help of their No Cost Grocery Program partners (farmers markets, grocery stores, wholesale distributors, small markets, community organizations, and restaurants/commercial kitchens/ caterers.) In 2017, 36,166 total individuals were supplied with fresh, whole produce. This saved residents $1.9 million in grocery savings, allowing recipients to solely rely on this method for food sources. The NCGP serves the Elyria-Swansea, Globeville, Park Hill, Clayton, Five Points, Aurora, Montbello, Sun Valley, East Colfax, Berkeley, Chaffee Park, and Skyland neighborhoods.
2. Fresh Food Connect (FFC)
Fresh Food Connect utilizes technology to solve two problems - excess produce in backyard/ community gardens, and food insecurity. Founded in 2015 by Groundwork Denver, Denver Urban Gardens and Denver Food Rescue, local gardeners schedule a pickup using the FFC web-app, then the FFC team picks up the produce via bicycle and shares it with community based organizations in neighborhoods facing food insecurity. This web-app brings healthy fresh produce to food-insecure families, reduces food waste, and provides jobs to low-income youth. In 2017, FFC distributed 4,000 lbs. of locally grown produce, donated by over 130 local gardeners.
3. Abarrotes Bondadosa (AB)
To expand food delivery options in Denver's northeast neighborhoods, DFR created the social enterprise Abarrotes Bondadosa, which offers affordable grocery delivery service with no minimum order requirements, delivery fees, or membership fees. Abarrotes Bondadosa also hires local community members to deliver fresh groceries and name-brand goods to participants' doors via electric powered tricycles. Folks can order in English or Spanish, online or by telephone. Community members who are underserved by public transportation or nearby grocery stores, those who find themselves without time to go grocery shopping, and those looking for an easier way to get groceries and other goods will find the program to be a convenient, helpful alternative to conventional shopping.
Denver Food Rescue relies on its extraordinary volunteers to help with all aspects of our programming. From rescuing food to volunteering at the NCGPs and maintaining bicycle trailers to help spread the word about DFR. In 2017, volunteers provided $318,648 worth of assistance to DFR by volunteering 13,200 hours. Not to mention, this incredible team, rescued and redistributed 516,021 lbs of food!
If you're interested in engaging with this incredible organization, there are a number of ways to get involved!
We hope to see all of your smiling faces on June 9 at The Dillery and look forward to bringing The Real Dill community together to raise money for this important cause. Even if you can't make it out, there will be a place to make a donation on the event page. In the meantime, please check out Denver Food Rescue's website for more information and donation opportunities. 
Leave a comment