Creole Spiced Okra: The Best Pickled Okra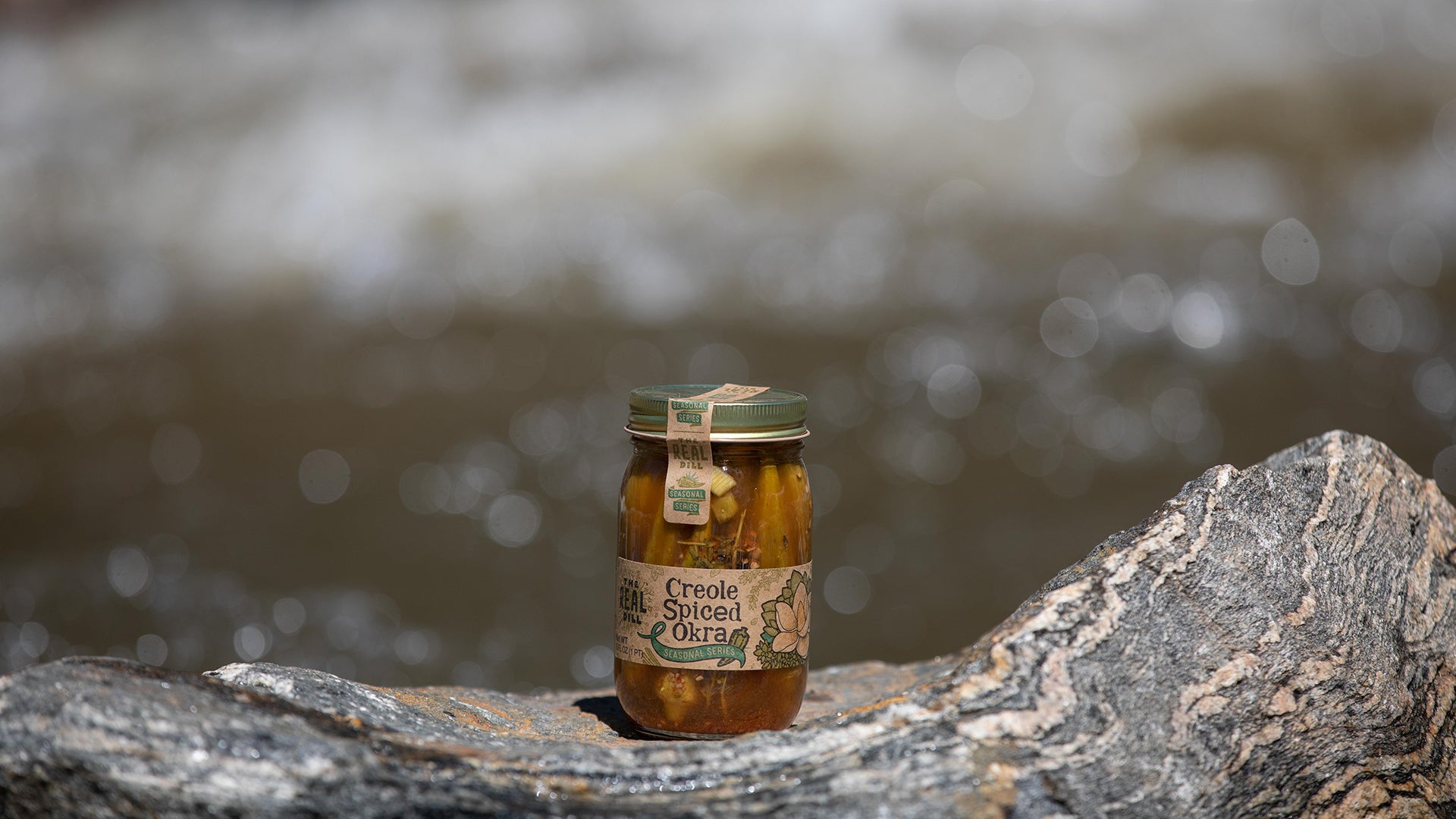 Okra is a fundamental Southern food that is as quintessential to the culturally rich region as collard greens. In the sticky heat of the summer harvest season, farmers and gardeners across the South pick bright green okra pods from the field. Okra is a staple for Southern side dishes, and you commonly find it in soul food sides all over this area of the United States. However, it took okra centuries to travel across the globe and root itself in Southern American cuisine.
Most believe that okra's beginnings come from Africa, likely somewhere between Mali and Ethiopia. Cooks in this region use it as a thickener and as a vegetable in a variety of dishes. Commonly, West Africans make gombo, a saucy dish made of okra, tomatoes, and chiles. In Senegal, they make soupikandia, which is a soup-like stew that is the predecessor to the Southern gumbo we eat now.
There is no official account of how okra ended up in the Western Hemisphere, though enslaved Africans is the most plausible explanation. Okra made its way to Brazil in the mid-1600s, and scholars believe it arrived in the southern part of the United States through the Caribbean. By the early 1700s, okra landed in Louisiana, home of Creole cuisine. Today, Louisiana cooking is almost synonymous with gumbo. It is feasibly the most famous and arguably most popular dish from the state, similar to how Texas is known for its chili.
Louisiana cuisine is the melting pot of America. Gombo is also the Louisiana French word for okra, which is short for the Bantu word kigambó. In a traditional bowl of Creole New Orleans gumbo, you will find French roux, African okra, Indian filé, Spanish peppers, Cajun sausage, and Yugoslavian oysters served over rice, which originated from China, with French bread on the side. Creole food is a harmonious cuisine that represents the mixture of cultures that have inhabited the region over centuries.
The term Creole describes the people who were born in French colonial Louisiana, and more specifically, New Orleans, before Louisiana was a state in the United States. In the 18th century, these people were descendants of the French and Spanish upper class that governed the region. The term Creole was originally used by French settlers to distinguish between the people who were native-born to Louisiana and the people who were from elsewhere. Similar to the Creole people, Creole food is a melodic blend of the many cultures of New Orleans: French, Italian, Spanish, African, German, Caribbean, Native American, and Portuguese, just to name a few. The Creoles had easy access to exotic ingredients and a wide array of cultures, which led to their use of spices from various global regions that were melded together in unique combinations.
Aside from gumbo, Louisiana is known for its Creole dishes and soul food sides. It is a common misconception that Creole and Cajun are transposable. The Creoles were the worldly urbanites of Louisiana, and the Cajuns settled later on in the Louisiana countryside in the bayous. The people of New Orleans invented Creole cuisine, which is comprised of dishes that are centered around spices and rich, delectable sauces.
While the South has always embraced okra in its cuisine, especially in southern side dishes, most regions of the United States are oblivious to this ingredient. It seems like everyone has an opinion about okra. Enthusiasts applaud its thickening capabilities and adaptability. Okra is an extremely versatile ingredient: you can make deep fried okra, boiled okra, grilled okra, steamed okra, stewed okra, sautéed okra, roasted okra, pickled okra, and fermented okra. It is especially praised for its ability to thicken soups and big, steaming pots of gumbo of the style served in southern Louisiana and Creole cuisine.
Despite its adaptable nature, okra is known as a slimy, gooey vegetable that most people and cooks avoid at all cost. Do not get us wrong, okra can be slimy, and sometimes, the key to eating it is to embrace the slime, similar to eating a slimy oyster. However, there are so many ways to prepare okra so that it is not slimy, and believe it or not, so that it is crunchy and delicious.
Eating okra raw is one way to convert an anti-okra devotee. The pods have a grassy sweetness to them like other raw, green, crunchy vegetables. When it comes to cooking okra, one of the best ways to lock in that crisp texture is through adding acid, which is why okra and tomatoes are famously paired together. It is also exactly what takes place when you make pickled okra.
As a kid, The Real Dill co-owner Tyler loved pickled okra. In fact, it's the reason he became a pickle fanatic later in life and eventually decided to pursuit his pickle dreams and open a pickle company. Every Thanksgiving, Tyler was in charge of making the relish tray, and the pickled okra was his favorite addition.
In 2015, we sought out to develop a southern-inspired pickled okra built around Creole flavors due to okra's deeply entrenched role in the food history of the South. Just like our love of okra, we have always admired the cuisine of New Orleans, and a Creole-inspired brine just seemed to make sense in our pickled okra recipe. After testing several recipes and spice blends, we found the highest quality okra at peak harvest season that we could source, and we were off and running.
Once we finalized the recipe for Creole Spiced Okra, we felt like this special product should not be lumped into our core product line, especially because of the limited nature of okra's harvest season. So, we created our Seasonal Series because we believe that some ingredients only shine when used in-season. Our Seasonal Series highlights these ingredients, featuring single batches that are preserved at peak freshness.
For the sixth summer season, we brought in the freshest okra during peak harvest season and pickled it with oregano, thyme, green onions, and Creole spices. The flavorful, crunchy, and spicy results shatter okra's slimy stereotype.
Our Creole Spiced Okra is seasoned with approval from the Bayou. We have witnessed many okra naysayers become okra enthusiasts after one bite. Pop open a jar on a hot summer day, sit back, relax, and let the good times roll. Seriously, if you close your eyes, you may transport yourself to The Big Easy no matter where you are sitting. They also make for an incredible base for spicy deep fried okra, one of our favorite southern side dishes. 
For all of the pickled okra lovers out there, needless to say, this is the pickle for you. For all of the okra-phobics, we really hope you give Creole Spiced Okra a chance to open your eyes to all of the glories that this beautifully misunderstood ingredient has to offer. Click here to grab your jar before they vanish until 2022, or visit our retail locator to find them at a store near you. This is a seasonal product that we only make once a year, so do not sleep on getting some while you can!
Plus, you can take their word for it:
"This Okra is the "Bomb Diggety". My oh my.........I had to stop myself from eating the entire jar at one time. YUM!!!!" - Tom H.

"These are amazing. I hesitate to give a great review because I don't ever want them to sell out. I'm rationing the jars we have so we won't run out too soon." - Sharon H.

"These are delicious!! Look forward to them every year! Perfect with Bloody Marys!" - Shelly T.
Leave a comment