A Salted Cucumber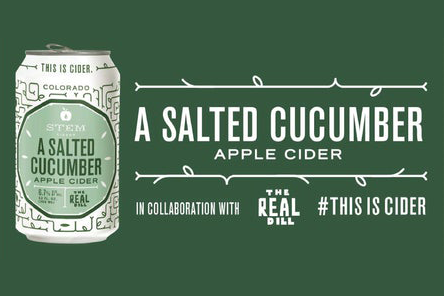 "Two cucumbers were walking down the street. One was a salted."
Last May, we released a collaborative cider, Salty Pomme, with our friends at Stem Ciders. Originally, this limited release was for our five year anniversary party. However, after receiving overwhelming feedback, we reincarnated Salty Pomme into A Salted Cucumber. 
We added a special cucumber juice, sea salt, and cascade and citra hops to fresh pressed apple juice. A Salted Cucumber is refreshing and bright, and its flavor harmoniously merges together what Stem Ciders and The Real Dill do best. Cucumbers are naturally crisp and refreshing without being sweet, and these are the same qualities that make Stem's ciders so special. A Salted Cucumber is the perfect way to cool down on a hot summer afternoon; seriously, we could drink it all day! 
This was a true collaboration that evolved over the course of a year or so, and we couldn't be happier with how it turned out. A Salted Cucumber is, without a doubt, the most invigoratingly delicious cider we've had, and that is saying a lot considering the fantastic ciders that Stem is routinely producing!
A Salted Cucumber is now available in cans in California, Colorado, Illinois, Kansas, and Missouri. Not to mention, you can sip one in the Colorado sunshine at Stem's RiNo Taproom and new Acreage location in Lafayette.
But wait- there's more! Come hang out with us at A Salted Cucumber Celebration on Sunday April 15 at Acreage. 
The festivities begin at 12pm with a special Bloody Cider Bar featuring a full lineup of Stem Ciders, Bloody Mary Mix and pickled delights from The Real Dill, and candied bacon from Tender Belly. Chef Daniel Asher and team are cooking up some special menu items with The Real Dill's help including oyster shooters featuring The Real Dill's Bloody Mary Mix and A Salted Cucumber Cider, and spiced cider pickles. 

The Spicy Pickle Eating Contest, with MC Tyler Dubois, aka The French Pickler, starts at 2pm. Plan to arrive early to register for your chance to eat your way to the 2018 Spicy Pickle Champion Title and prizes from The Real Dill, Stem Ciders and Acreage. 
We hope to see you there! 
Leave a comment