4 Unique Ways to Spice Up Your Bloody Mary (Without Tabasco)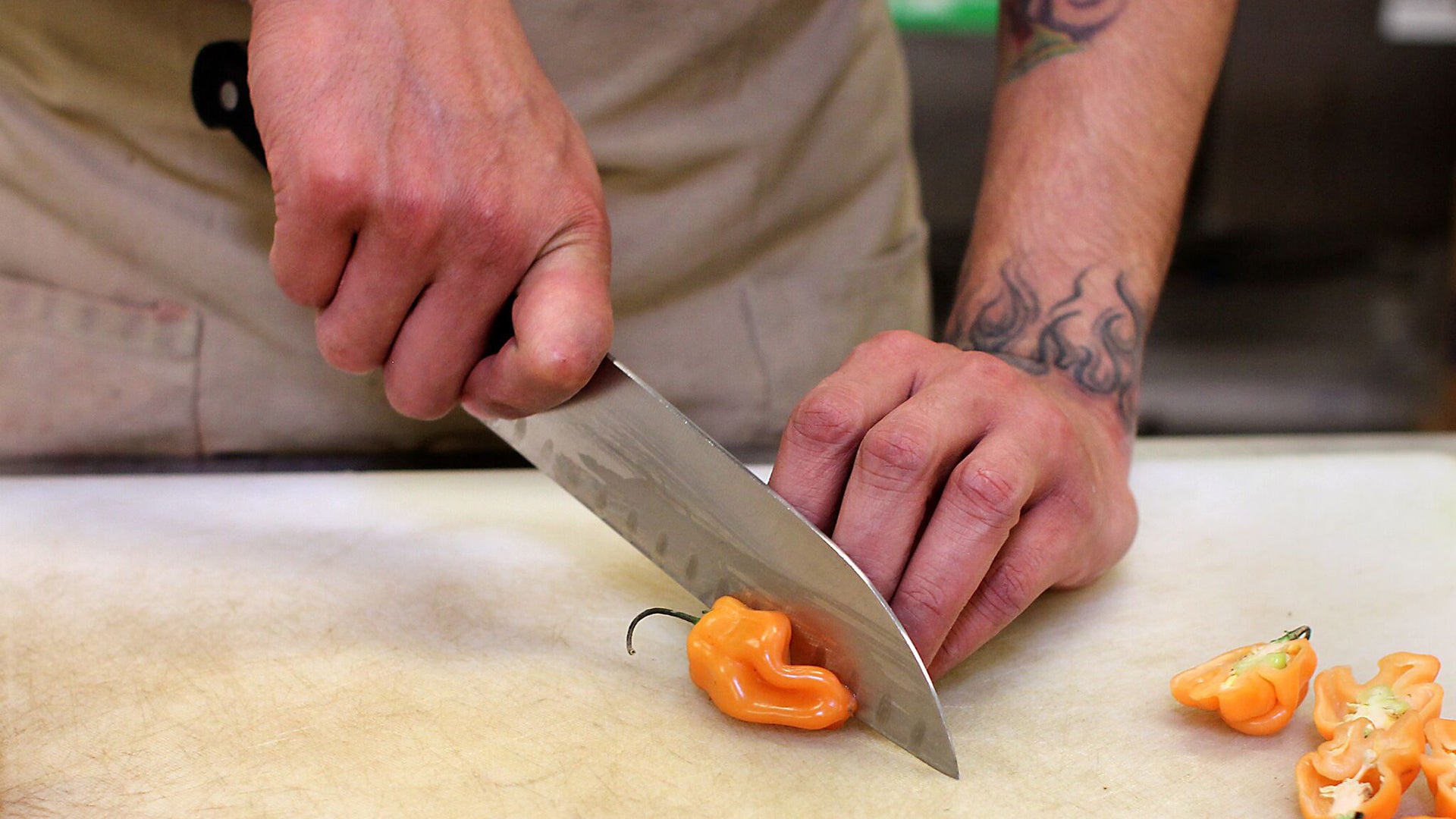 Back in 2012 when we started The Real Dill, we had no intention of creating a Bloody Mary recipe. While working the farmers market circuit, many people asked us for a Bloody Mary recipe using our pickle brine. Although our co-owners Justin and Tyler were not huge Bloody Mary drinkers, we came up with a scratch-made Bloody Mary mix recipe utilizing the ingredients found in our bestselling Habanero Horseradish Dills.
As The Real Dill grew and our pickle line expanded, we were faced with a new challenge. Our pickling process results in a delicious, and refreshing cucumber-infused water, which, at the time, we were throwing away. The overwhelming smell of fresh cucumbers made us feel guilty every time we dumped the invigorating liquid down the drain.
"Waste not, want not" is a proverb that we take to heart, and with that in mind, we decided that the days of throwing away this fragrant byproduct were over. We knew this was the perfect opportunity to begin experimenting with a Bloody Mary recipe that highlighted this cucumber-infused water as the star ingredient.  Similar to our scratch-made Bloody Mary recipe, we based our famed Bloody Mary recipe on our crowd-favorite, Habanero Horseradish Dills. What we did not know at the time is that people would eventually recognize us for our Bloody Mary Mix more than our pickles, causing us to joke that we are no longer just a pickle company, but a Bloody Mary company with a pickle problem!
Cucumber infused water, a byproduct of our pickling process, is the star ingredient in our now famed Bloody Mary Mix. Paired with generous amounts of horseradish, dill, garlic, and habaneros, we bottled the essence of your backyard garden, shattering the stigma that freshness cannot come in a jar. Unlike most mixes, ours only contains ten simple, high-quality ingredients bursting with bold, rich flavors. Bright, vivacious, and spirited, we set a new standard for what Bloody Marys can and should be.
We pride ourselves on producing a Bloody Mary Mix that requires zero doctoring. Our mix is zingy from the fresh garlic, tangy from the vinegar, crisp from the fresh dill and cucumber-infused water, and subtly spicy from the fresh horseradish and habaneros. Traditional Bloody Mary ingredients usually include Tabasco sauce for an added layer of heat and vinegar. In its place, we use habaneros and horseradish, which provide a unique level of freshness and heat. We have all had a watery, bland Bloody Mary or two, so when we formulated our Bloody Mary ingredients, we opted for tomato paste instead of tomato juice. This ensures that the bold tomato flavor shines through. 
For the average Bloody Mary drinker, our mix is a slightly spicy and balanced. However, we all know someone who is a hot sauce addict who's motto is "the hotter the better". If spicing up your Bloody Mary is your modus operandi, ditch the boring Tabasco hot sauce. We have four unique, fiery tips for you to spice up your Bloody Mary to the next level!
1. Green Chile Hot Sauce. In case you missed it, a few years back, we created a bangin' hot sauce called Green Chile Hot Sauce. Our Green Chile Hot Sauce is not a typical hot sauce. We put it in a larger than usual bottle because you will want to pour, not dash, it on everything. It is an amazingly versatile flavor bomb that has a kick to it. Inspired by authentic Denver green chile, this sauce features rich, roasted flavors, celebrating Colorado's Pueblo Green Chile at the forefront, followed by a smoky, round, but not overwhelming, heat on the finish.
The star ingredients in Green Chile Hot Sauce are fire roasted Pueblo Green Chiles and Baere-liner Weisse beer from our friends at Baere Brewing Company. We also fire roasted jalapeños, garlic, and onions. Baere-liner Weisse has a nice acidic backbone to its flavor profile, which cuts through the heat, adding a complimentary, subtle fermented funk flavor to the sauce.
When we had leftover green chiles from a Pueblo Chile Chips, our 2015 Fall/Winter Seasonal Series release, that we did not want to go to waste, we created a scratch-made hot sauce and gave away bottles, labeled as "Made for fun, not for sale." But not everyone got the message and pleaded with us to start selling it. After several years of persistent requests, we relented, and created Green Chile Hot Sauce as our 2017 Fall/Winter Seasonal Series release. Since then, we had received overwhelming feedback and the requests for hot sauce, had not stopped. We had literally received hundreds of emails with pleas of bringing it back again (re: Please make more green Chile hot sauce. My wife got into my stash and I cannot find it anywhere. (Russell F.)). Alas, our love for this recipe led us to cave into the pressure once again, and we brought back Green Chile Hot Sauce as a full time product.
This slightly acidic hot sauce perfectly compliments the vinegar foundation of our Bloody Mary Mix, and it adds a round, medium heat, so you will not mask all of the beautiful flavors in your Bloody Mary with too much spice. 
2. Our Spicy collections. We curated two spicy Bloody Mary collections that we sell on our website that are tailor made for spice lovers. Our Spicy Bloody Mary Collection features our best selling Habanero Horseradish Dills and Green Chile Hot Sauce. This combo will elevate your Bloody Mary cocktail repertoire with a fiery, mind-blowing Bloody Mary. For an added bonus, pour in a little Habanero Horseradish Dill brine and toss in a pickle spear or two, and if you are brave, chop up the habanero from your pickle jar. Warning, it will be spicy. To level up one step further, upgrade to the Some Like It Hot Collection, which also includes a jar of our O.G. pickles, Jalapeño Honey Dills. 
3. Infused spirits. Still not enough heat for your extra spicy Bloody Mary? We love to experiment with different spirits in our Bloody Mary cocktail recipes. The obvious choice is vodka, but believe it or not, gin, tequila, and even whiskey, make for a killer Bloody Mary. One of our favorite ways to elevate our Bloody Marys is by using infused spirits. You can either purchase some in stores or make your own at home (it is easier than you would think!). For added spice, we recommend testing out spirits infused with horseradish, black pepper, jalapeño, habanero, or chili. These options will compliment the Bloody Mary ingredients seamlessly. 
4. Garnish it up! Aside from dashing your favorite tangy hot sauce in your spicy Bloody Mary and testing out peppery infused spirits, garnishes are the key to spice up your brunch cocktail. Think banana peppers, hot peppers such as habaneros, jalapeños, and other chili peppers (Carolina reapers for the bravest souls), pickled peppers (do not forget to use yours from your pickle jar!), spicy pickles (i.e. Habanero Horseradish Dills and Jalapeño Honey Dills), cajun shrimp, hot chicken wings, jerky, pepper jack cheese, pepperoni...the possibilities are endless! Top your Bloody Mary with fiery garnishes for an extra layer of heat. You can snack on these delectables while sipping on your Bloody Mary cocktail. Trust us, your tastebuds will be on fire!
Leave a comment