3 Reasons Why Our Pickles Pack a Punch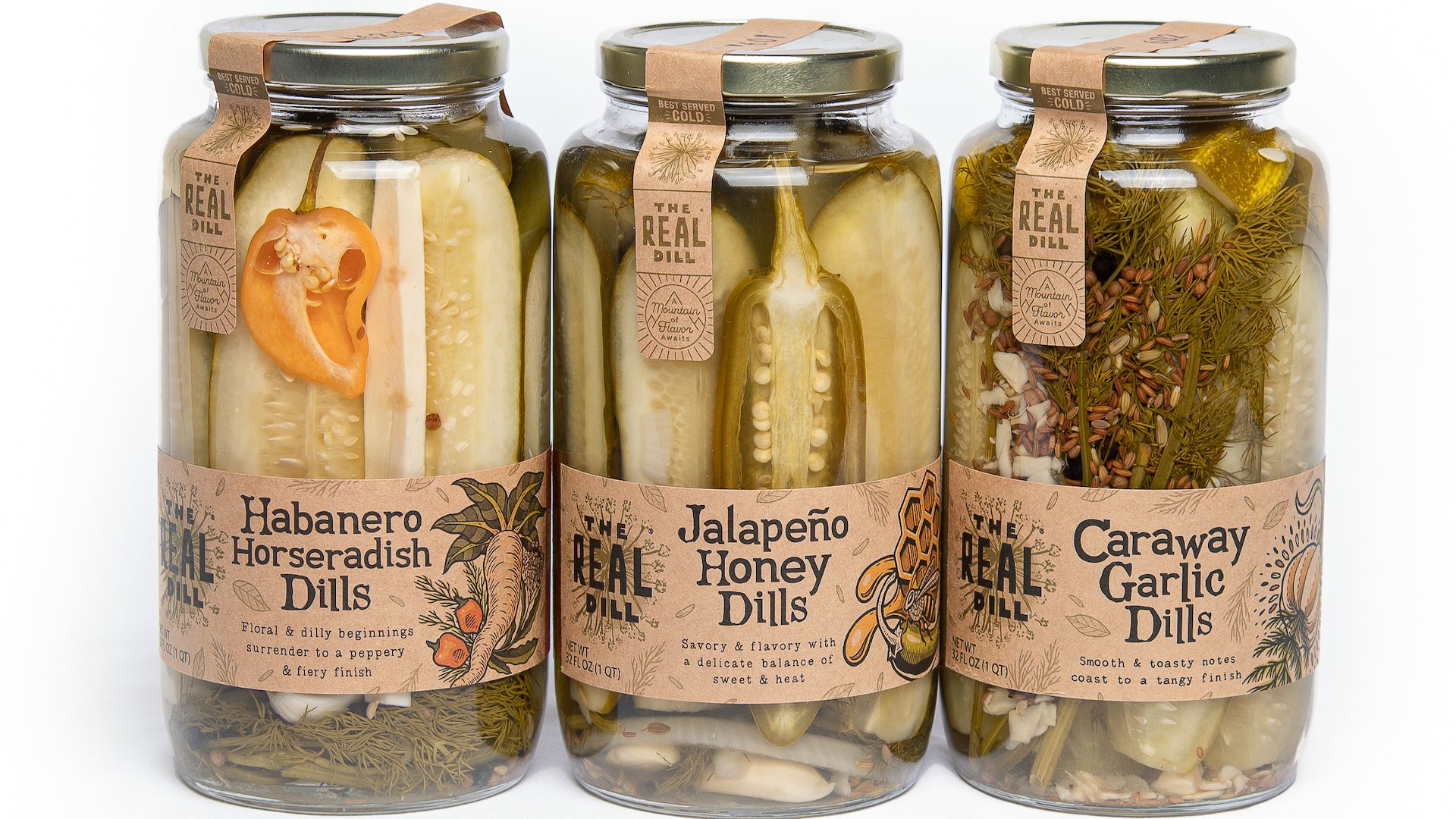 Since 2012, we have been on the quest to make the perfect all natural pickles. It all started with us making pickles just for fun. Then one day, as we bit into a batch of what would later become our Jalapeño Honey Dills, we had a "Pickle Epiphany." The pickles had an incredible depth of flavor, unbelievable crunch, and gorgeous presentation. They were unlike anything we had ever tasted before. We were hooked, and that's when our hobby started turning into an obsession. So we set out on the journey to create the best products of their kind in the best way possible.
Pickles are a simple food, and you can find a unique version of them in almost every culture and cuisine. However, pickles are one of those divisive foods that you either love or hate. We are, obviously, pickle lovers, and in our humble opinion, we believe that pickles make everything better. To us, nothing beats digging into a fresh jar of pickles. From the minute we hear the "pop" as we untwist the lid, we start salivating.
Pickles are a quick, healthy snack that are satisfying when you are craving something salty and crunchy, especially late at night, when minimal effort is ideal. Pickles are tangy and acidic, and they brighten rich, creamy foods. They also add texture to plain and boring dishes. Not to mention, pickling eliminates food waste, and it is the best method to preserve fresh produce so that it stays good for months, and at times years, past the standard expiration date. Pickles are versatile; you can practically pickle anything. Cucumbers, beets, green beans, asparagus, carrots, cabbage, onions, garlic, sweet peppers, hot peppers, green tomatoes, radishes, peaches, apples, cauliflower, pears, and even eggs...the list is virtually endless. Flavored pickles hit all of the major tasting notes on your palate: salty, sweet, sour, bitter, and umami. Burgers love them, Bloody Marys love them, sandwiches and wraps love them, cheeses love them, and we love them.
As self-appointed pickle experts, we believe that there are three pillars to making perfect pickles. Here is how we create the best pickles of their kind:
1. We rely on the simplicity of our ingredients.
We make all natural pickles using the freshest and finest all natural ingredients that Mother Nature has to offer, which shine and speak for themselves. No additives. No preservatives. This sounds like a no brainer, but believe it or not, many pickle producers add these things to their pickle recipes. All of our flavored pickles are created in-house, and made 100% from scratch using whole, singular ingredients. That means that none of our ingredients contain other ingredients, and we don't use anything that you don't recognize from your own pantry or garden.
When it comes to the ingredients we source, we employ rigid standards for the quality we will accept. Since we make all-natural products, we have to chase the harvest as the produce seasons change. We work with a produce broker to ensure that we receive the freshest, highest quality ingredients on the market that are up to our standards. After all, we believe that in the end, our products can only be as good as the ingredients that go into them.
We also believe in clean, simple, real food. We intentionally craft all of our pickles so that the raw ingredients shine. From the beautiful presentation to the fresh flavors, our flavored pickles are designed around the natural ingredients that we use in each, individual recipe.
2. We are creatively driven.
As a collection of culinary trailblazers, independent thinkers, and innovative makers, we're inspired by creativity and ingenuity and challenge ourselves to reimagine what's been done before. We approach consumer packaged goods with a chef's mentality, meaning that we are not afraid to push the boundaries when it comes to pickle flavors. We are driven by creativity and strive to break the conventional mold. Above all, we have fun and love what we do.
People frequently ask us how we create our pickle recipes. For many, it is a surprise to learn that none of them are family recipes. We pride ourselves on not just repeating what has been done before, and we get excited about unique ingredients that are not usually, if ever, found in pickle jars. If someone has a good idea for a pickle flavor, we go for it and see what we can create. From the start of The Real Dill, this has been our iteration process.
At the heart of it, we're just a bunch of detail-obsessed food geeks who love taking on challenges in the kitchen. We like to reimagine what has been done before, while also discovering what has never been done before. We're proudly paving our own path without blindly following the dogma of our industry. For these reasons, for example, we do not make a traditional dill pickle, rather, we make Caraway Garlic Dills, our elevated twist on a classic dill pickle.
We also love good food, and we get inspired by the flavors we discover in the food we taste, whether it be from cuisines around the country or around the world. This is how we developed our Passport Series, which features four globally inspired flavored pickles that are unlike any other pickles on the market. (By the way, if you are a fan of spicy pickles, make sure to check out the pickle flavors in this series!) Yet, while many of our recipes are complex, balance is key when it comes to creating the perfect pickle flavor profile.
3. We focus on quality and the fine details. 
At The Real Dill, we handcraft all of our products in small batches, with obsessive attention to quality. In fact, when it comes to quality, we make no compromises.
Unlike other pickle brands, we use a unique pickle brine, spice blend, and jar garnishes for each of our pickle flavors. Most pickle producers have one base pickle brine that they add heat to for spicy pickles, dill to for dill pickles, and sweetener to for sweet pickles. We pride ourselves on developing individual brine recipes for each of our pickle flavors. This pickle juice becomes a magic potion that can be used as a secret weapon in the kitchen. Of course, you can drink it straight up for a healthy dose of minerals if that tickles your fancy.
When we pack our pickle jars, we certainly do not choose the easiest method. We focus on creating an aesthetically pleasing presentation, which revolves around packing the jars by hand with as many cucumber spears as possible and adding fresh garnishes to the jar. For example, we garnish our Habanero Horseradish Dills with a piece of fresh horseradish, a fresh habanero pepper, garlic, and loads of fresh dill. For our Jalapeño Honey Dills, we garnish the jar with a fresh jalapeño, fresh garlic, and fresh dill. Pro tip: all of these ingredients are beautifully flavored with the same notes as the pickles in your pickle jar, so there is no reason to let them go to waste. In fact, some of the most flavor-packed components in the jar are the garnishes. We highly recommend repurposing them when all of your pickles are gone.
Leave a comment