Pickle Brined Tofu Sliders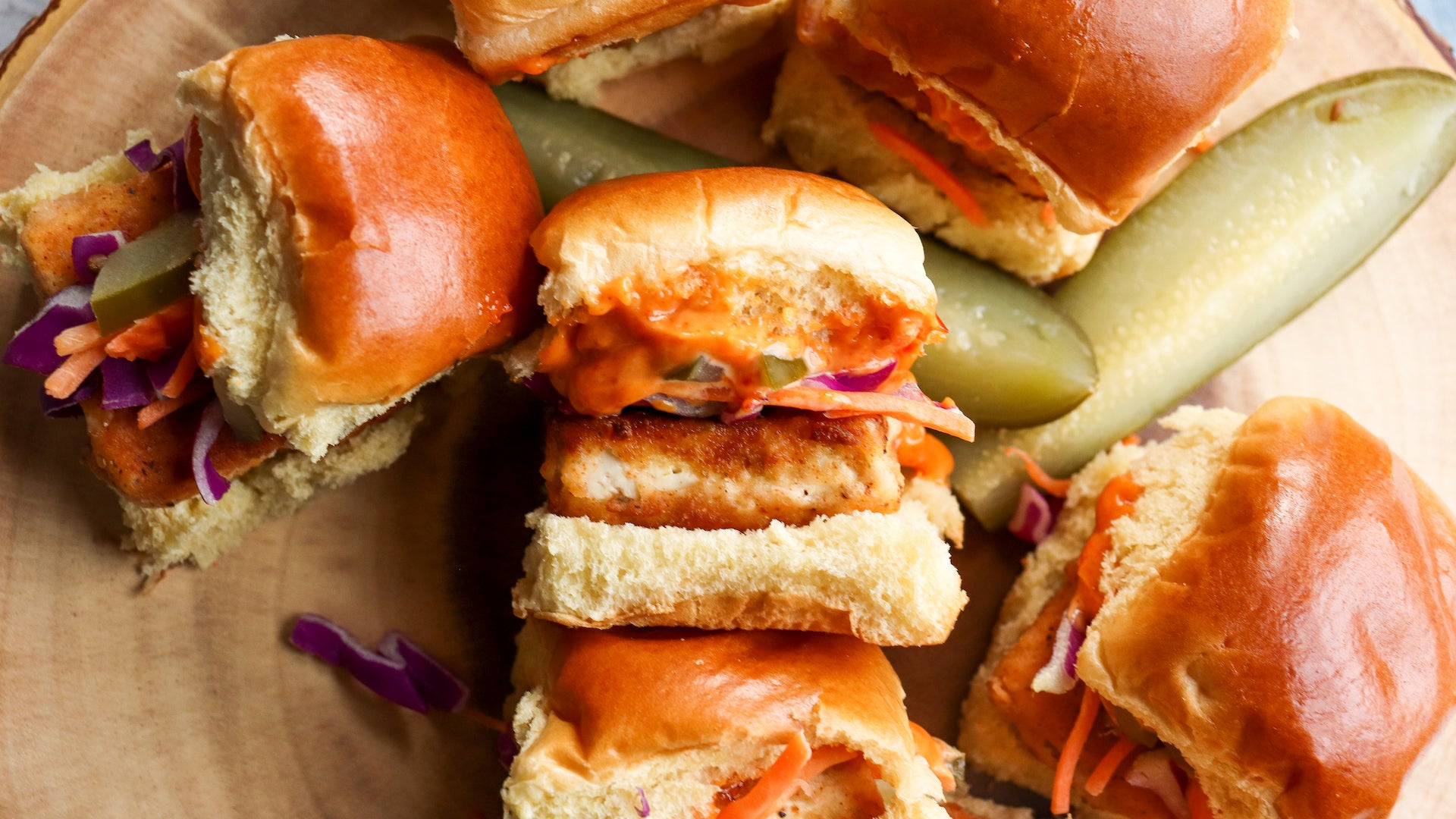 This Asian inspired recipe is the perfect vegan-friendly appetizer. It also would be a great addition to a lunch or dinner spread if you are entertaining at home. The pickle brined crispy tofu is reminiscent of fried chicken, the spicy sauce is built around sweet and tangy gochujang, a Korean red chili paste, which gives the slider a nice little kick, and the vibrant carrots, red cabbage, and sliced pickles add a refreshing crunch to every bite.
Ingredients:
Fried Tofu:
Toppings:
Sauce:
1/4 cup of vegan mayo (or mayo of choice)
2 tsp gochujang
1 tsp lemon juice
Directions: 
Wrap the tofu in paper towels and set on a cutting board. Place a heavy pan or plate on top of the tofu to remove all of the extra moisture. Let it sit for 5-10 minutes.

Slice the pressed tofu width-wise into 2 inch squares. 

Marinate the tofu squares in a bowl with the pickle brine for at least 30 minutes. 

In another bowl, combine the all purpose flour, corn starch, garlic powder, paprika, and chili powder. 

Coat each piece of tofu in the flour mixture, ensuring all sides are evenly covered. Shake off any excess flour.

Dip the tofu in the pickle brine a second time and and coat each side with the flour mixture again. This double-dredge method makes perfectly crispy fried tofu.

Heat coconut oil in a heavy skillet. Using tongs, place the tofu pieces in the hot oil and cook until crispy, about 3-4 minutes on each side.

Prepare the toppings and set aside.

Mix the vegan mayo, gochujang, and lemon juice together in a small bowl and set aside. 

To assemble the sliders, take a slider bun and spread the sauce on either side in a thick layer. Next, add a tofu square, a handful of sliced red cabbage, a handful of shredded carrots, and top with pickle slices.
Recipe made in collaboration with Meghan Lavin, a food blogger, recipe curator, and writer. Check out Meghan's Instagram to see more food-related content.