Pickle Brine Sausage Stuffing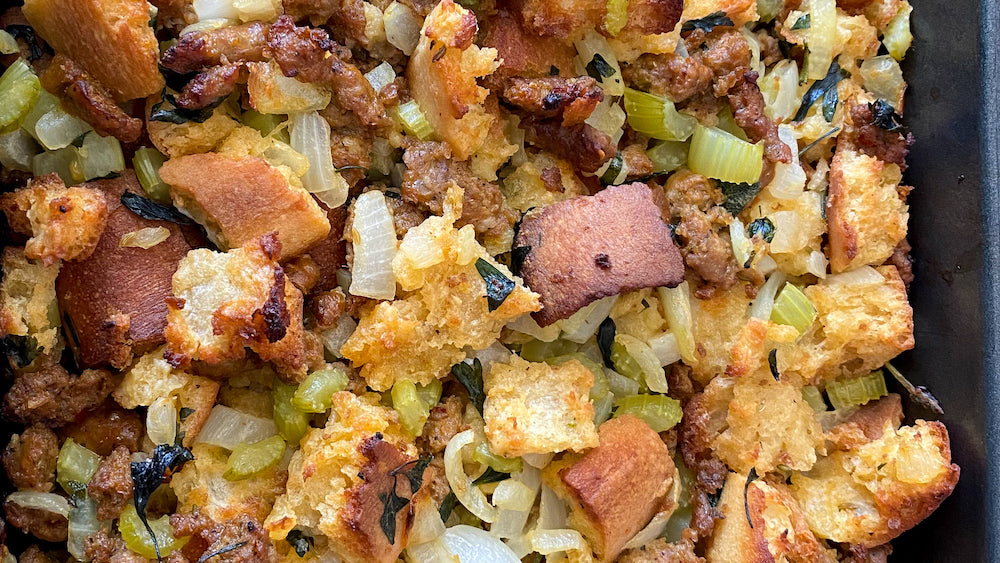 Stuffing, when made well, is a Thanksgiving showpiece. We gave this holiday classic a makeover by swapping out the chicken broth for pickle brine. The edges are golden and crunchy, the inside is buttery and soft, and you get a mouthful of rich sausage and familiar herb flavors with a subtle pickle acidity that cuts through every bite.
Ingredients:
16 oz. bread cut into 1-inch pieces (day old bread works best)
1 tbsp extra virgin olive oil
1 lb. spicy pork sausage (we like Polidori Hot Italian Sausage), casings removed
1/3 cup unsalted butter
1 cup finely chopped yellow
1 cup chopped celery (about 3 stalks)
1/2 cup chopped flat leaf parsley
1 tbsp. fresh chopped rosemary (stems removed)
1 tbsp. fresh chopped sage (stems removed)
1 cup The Real Dill Caraway Garlic Dills

 

pickle brine
1 egg lightly whisked
Directions:
Preheat oven to 350 degrees F.
Place the bread pieces on a baking sheet. Bake for 7-10 minutes, or until dried and toasted (it should be golden brown). Transfer to a large bowl.
Add 1 cup of Caraway Garlic Dills pickle brine to a large sauce pan. Heat on medium low.
While the pickle brine is heating, cook the sausage in a large skillet over medium heat, for about 10 minutes, or until browned and cooked through. Break up the sausage while cooking so it is crumbly.
Add extra virgin olive oil and butter to another pan over medium heat. Add the onions, celery, parsley, sage, rosemary or thyme and sauté until vegetables soften (about 10 minutes).
Add the browned sausage, toasted bread, and onion mixture to a large bowl. Add in 1/2 cup of pickle brine. Gently stir with a large spoon until ingredients are mixed through.
Whisk one egg and add it to the mixture. Stir to combine.
Gradually pour the remaining pickle brine until the stuffing is wet, but not mushy and dripping. You may ned to add a bit more pickle brine or less pickle brine, depending on the consistency.
When the pickle brine is soaked in and combined, spoon the stuffing into a 2qt. baking dish (or 9x12-inch baking dish). Cook for 30-40 minutes, or until it's heated through and golden brown on top.