Dill Pickle Soup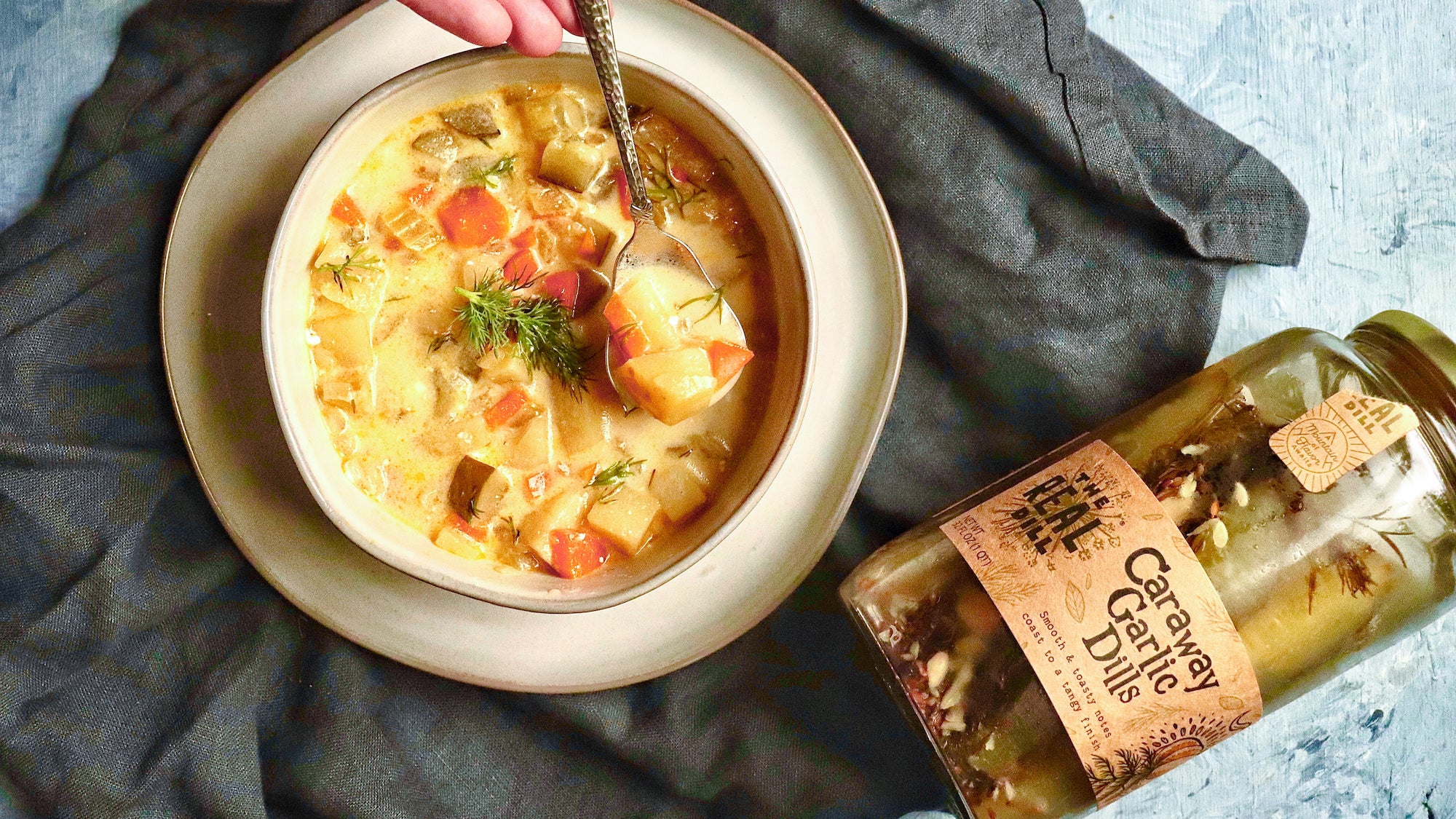 Inspired by zupa ogórkowa, a Polish dish that originates from the Gwizdały village, this dill pickle soup is bright, zesty, and creamy. The added Caraway Garlic Dills pickle brine adds a layer of unexpected flavor and depth to this simple, but delicious, dish.
Ingredients:

1 onion, diced

2 small carrots, diced

2 celery stalks, diced

1 lb. potatoes, cubed into ½ inch pieces

1 bay leaf

1 cup Caraway Garlic Dills, diced
1/2 cup Caraway Garlic Dills pickle brine

1/2 cup sour cream, plus more for plating

Small handful dill chopped, plus more for garnish

Salt and pepper, to taste

4 cups vegetable broth
Directions:
Add a drizzle of olive oil to the bottom of a large pot over medium heat. Sauté the onion for 2-3 minutes until fragrant and translucent. Season with salt and pepper. Add the diced carrot and celery and cook until soft, about 5 minutes.

Add the cubed potatoes, bay leaf, pickle brine, and vegetable broth to the pot and bring to simmer. Season with a little more salt. Cook until the potatoes are tender.
Add the diced pickles and fresh dill, stirring to combine.
Turn off heat, allowing the soup to cool down slightly, about 10 minutes.
Discard the bay leaf and stir in the sour cream. Taste and adjust salt and pepper, as needed.
Serve with more sour cream, if desired, and a sprig of fresh dill on top.
Recipe made in collaboration with Meghan Lavin, food blogger, recipe curator, and writer.