The Joy of the Unexpected: A Story About Whiskey & Pickles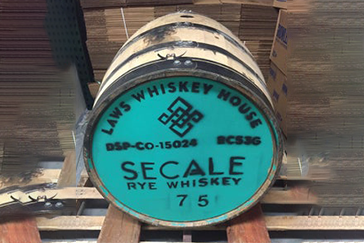 Throughout the four plus years that we have been in business, we have been fortunate to be able to collaborate with so many creative and talented people in our community. Those collaborations have helped to define us in many ways, and have inspired us tremendously. Most of all, they have been a lot of fun. It is an exhilarating experience to push boundaries and discover what lays on the other side. 
When we are lucky enough to collaborate with talented people that make products we love, our goal is to find a unique and creative way to marry their craft with ours. So what do you do when you team up with a distillery that makes world class whiskey? Adding whiskey to your pickle jar is fine and dandy (and so is chasing it with a shot of pickle juice), but how about finding a creative way to marry the craft of distilling and aging whiskey with the craft of making pickles? 
The answer is a lot more straightforward that you might expect. Thats exactly how we wound up with a Secale Rye barrel from our friends at Laws Whiskey House. These barrels are not easy to come by. Not only are barrels generally in high demand, but Laws had a waiting list over a year and a half ago to secure one of their elusive barrels. The secondary market for these barrels is burgeoning, and barrels are being filled with nearly everything. As pickle makers, however, its only natural that we would fill it with vinegar. And the best part is that we have no idea what is going to happen. 
What we do know is that the vinegar will sit in the barrel for several months while it becomes infused with notes of toffee, oak, vanilla, spicy rye, and well, who knows what else. We will then use that barrel aged vinegar to craft a brine that will be used to make some pretty unique and flavorful pickles. We'll search for the right pairings of ingredients to complement and highlight the flavors captured from inside of the barrel. 
There are a few other distilling processes and tricks that we intend to incorporate into the production of these pickles, but the exact steps that we take will be determined as the wonderful surprises unfold to us during this exciting, and somewhat unpredictable, process. We'd tell you more, but we don't know! Cheers to the unexpected.
Leave a comment