Strike Gold: The Prospector Series Featuring Aji Chile Sours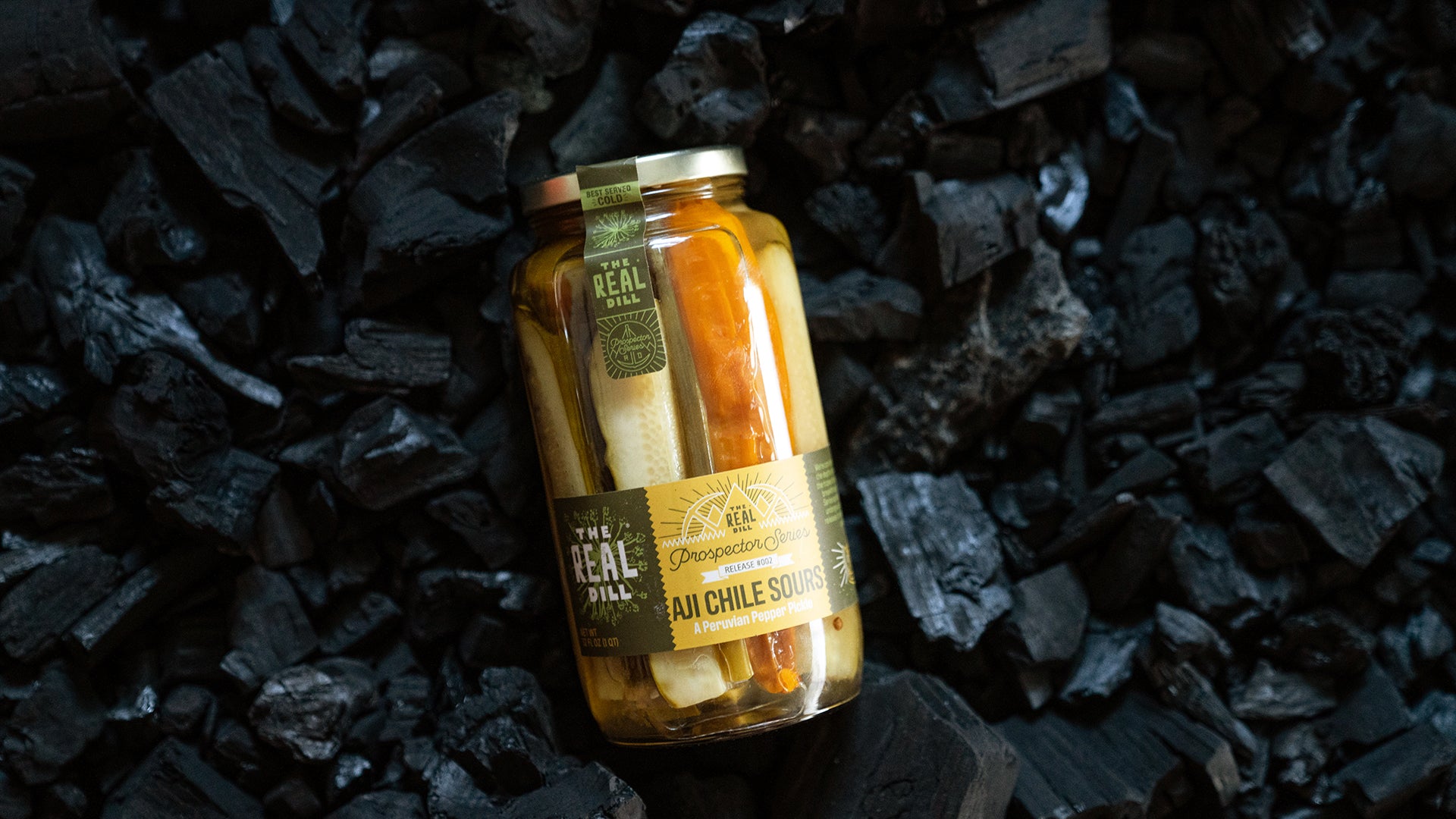 Many moons ago, before The Real Dill was born, our cofounder Justin Park traveled to Peru with his girlfriend who later became his wife. On this trip, he proposed. He also discovered a new, beautiful ingredient that he had never heard of or tasted before: the Aji chile. This exciting pepper was in almost every vibrant dish that Justin ate during his time in Peru, and it left a lasting impression on him.
Aji chile, also known as Aji Amarillo chile, is a major staple in Peruvian food. In fact, it is the most commonly cultivated and consumed pepper in the country of Peru, even though there are many other indigenous species of peppers that are grown there. Aji means chile pepper and amarillo means yellow in Spanish. This yellow chile pepper grows all over Peru, and along with garlic and red onion, it makes up the "holy trinity" of Peruvian food. For the most part, Aji chile can be bought in four ways: dried, fresh, canned, or as a chile paste.
Gastón Acurio, a famous Peruvian chef, declared the Aji chile the most paramount ingredient in Peruvian food. This complex pepper is native to South America and is used in many classic Peruvian dishes. It is also sometimes used in Bolivian cuisine, where Aji chiles also grow. In Peru, Aji chiles are used in many sauces and condiments, in which the chile pepper adds its recognizable yellowy, orange color and bright, spicy, fruity flavor.
Although its name literally translates to yellow chile pepper, the Aji chile, or Aji Amarillo chile, becomes bright, fiery orange as it matures and ripens. It is not until the pepper is cooked that it turns yellow. The thick skin around the chile pod is known to be very spicy. However, the Aji chile has an incredibly unique and distinctive fruity flavor that is similar to passion fruit and mango, which balances out its strong heat.
Fast forward to 2012, a few years after Justin's trip to Peru, when The Real Dill became a full time business. One day, our two cofounders, Justin and Tyler, were perusing the aisles at Savory Spice Shop, a local Denver spice purveyor and The Real Dill's longterm spice partner, searching for inspiration for new pickles to add to our growing product line. Justin saw dried Aji chiles on the shelf and was immediately drawn to the memories of his travels to Peru where he proposed to his wife. He had never seen this special pepper stateside, and he had not had it since his trip to Peru. Justin and Tyler left the store with dried Aji chiles, eager to start testing out a new recipe centered around the fruity, delicious pepper.
Often times, people ask us how we create the recipes for our pickles. For many, it is a surprise to learn that none of them are family recipes, even though we admire those who have preserved their family traditions for generations. As a group of food geeks, we are inspired by creativity and ingenuity and challenge ourselves to reimagine what has been done before. We approach consumer packaged goods with a chef's mentality, and we are slaves to the details. We pride ourselves on not just repeating what has been done before, and we get excited about unique ingredients that are not usually, if ever, found in pickle jars. We also love good food and draw inspiration from the culinary experiences we have, whether they are in home kitchens, at restaurants, or during our travels.
Typically, when we create a flavor of pickles, we begin with an idea, and we add a bunch of ingredients and spices to the first test batch. When we started working on the Aji chile-inspired pickles, we only added the brine, cucumbers, and dried Aji chiles from Savory Spice Shop to the jar. The flavors were so complex and the pickles tasted so good that we did not really change the recipe very much. Ultimately,  we released Aji Chile Sours in our original 2012 pickle lineup at the farmers market.
Aji Chile Sours were a staple in our pickle offerings in the beginning of The Real Dill. These incredibly simple pickles were a favorite among the foodies and chefs who were familiar with this special chile pepper. Eventually, we discontinued Aji Chile Sours in 2014, after two short years. At the time, we were scaling The Real Dill and had to make the difficult choice to focus on the pickles in our lineup that had mass appeal. However, we always loved this recipe and since 2014, it has remained in the back of our minds.
Earlier this year, we introduced a new home that we can use as a creative outlet to develop a more limited line of products called the Prospecter Series. As a collection of culinary trailblazers, independent thinkers, and innovative makers, we are constantly digging through the depths of our imaginations in the hopes of unearthing a creative breakthrough. With this notion, we developed the Prospector Series, our newest series that spotlights single-batch, underground, and very limited releases, for when our inspiration strikes gold.
Sometimes you have to dig a little deeper to find something truly unique. The Prospector Series features our most exclusive, experimental product offerings and taps into rare ingredients and eccentric combinations. We are so excited to bring back Aji Chile Sours as our second and latest release in the Prospector Series.
Made with the chef revered Aji Amarillo chile, which makes up one third of the holy trinity of Peruvian cuisine, these uniquely sour pickles beautifully showcase this bright, fruity pepper. We are proudly reviving this long-discontinued, but foodie-favorite product from our early days for one last run before it fades into the amarillo sunset.
When we developed the concept for the Prospector Series, we knew that Aji Chile Sours would be a great release to include. Not only are Aji Chile Sours easy pickles to make, but their story perfectly matches the spirit of the Prospector Series. These sour pickles were originally designed around one, simple, beautiful experimental ingredient, and it is the chile that truly makes them so special. The only difference between the 2021 version of Aji Chile Sours and the original Aji Chile Sours recipe from 2012-2014 is the addition of green onions in the jar.
We hope that when you try these pickles, you will feel all of the love that went into the simple, yet distinctive recipe and taste something new that you have never experienced before. And if you have had the pleasure of tasting the original Aji Chile Sours that we made in our humble beginnings, we hope that this batch does the original sour pickles justice and that they taste exactly as you remember.
Fair warning, Aji Chile Sours is a limited-run product that will only be available once. You can now buy Aji Chile Sours here, on our online store. This product is not available in any retail stores. Once these exotic pickles are sold out, they will be gone for good.
Be on the lookout for forthcoming Prospector Series releases in the future. Due to the specialness of the Prospector Series, each release will be crafted in extremely small quantities and typically, only available at therealdill.com.
Leave a comment