A Salted Cucumber is back!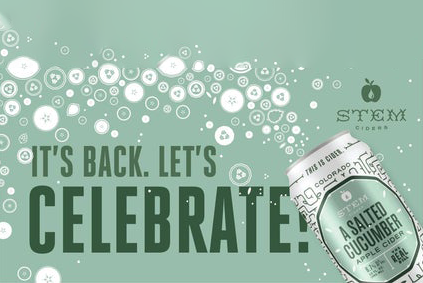 A Salted Cucumber, our beloved cider collaboration with our friends at Stem Ciders is making its 2019 debut this Saturday, March 16! Originally created for The Real Dill's five year anniversary party in 2017, A Salted Cucumber is back for the third year in a row, just in time for the beginning of spring patio season.
Featuring cucumber juice, sea salt, cascade and citra hops, and fresh pressed apple juice, this effervescent, bright cider marries Stem Ciders' and The Real Dill's crafts. Stem Cider's catalogue focuses on naturally crisp and refreshing ciders that don't rely on sweetness for flavor. Cucumbers perfectly fit into this framework. A Salted Cucumber is our go-to porch pounder on a sunny day, and it's the perfect compliment to our Bloody Mary Mix. 
A Salted Cucumber is hitting stores on mid-March within Stem Cider's distribution footprint. Not to mention, you can sip one on a Colorado bluebird day at Stem's RiNo Taproom and Acreage location in Lafayette.
Ready to step up your cider game? Come hang out with us on Saturday March 16 from 12pm-close at the RiNo taproom for A Salted Cucumber Release Party. You can look forward to drinking $5 A Salted Cucumber pours, playing Plinko from 12pm-2pm and winning awesome prizes, and dancing the night away to Scotty & The Late Nights and Gin Doctors. This is a free event, and the first 50 people will receive a free keepsake cucumber cider glass.
Can't make it on Saturday? Join us on Sunday March 17 from 12pm-close at Acreage for a Pickle Party + A Salted Cucumber Release. Expect the return of The Real Dill's spicy pickle eating contest, $5 A Salted Cucumber pours all day, A Salted Cucumber Bloodies featuring The Real Dill's coveted Bloody Mary Mix and pickled garnishes, and a reveal of Acreage's new Cider Garden. Plus, the first 50 guests receive a free Salted Cucumber keepsake glass and there will be a special St. Patrick's Day super menu. 
We can't wait to see you there!
Leave a comment