A Pickle Epiphany: Justin & Tyler's Story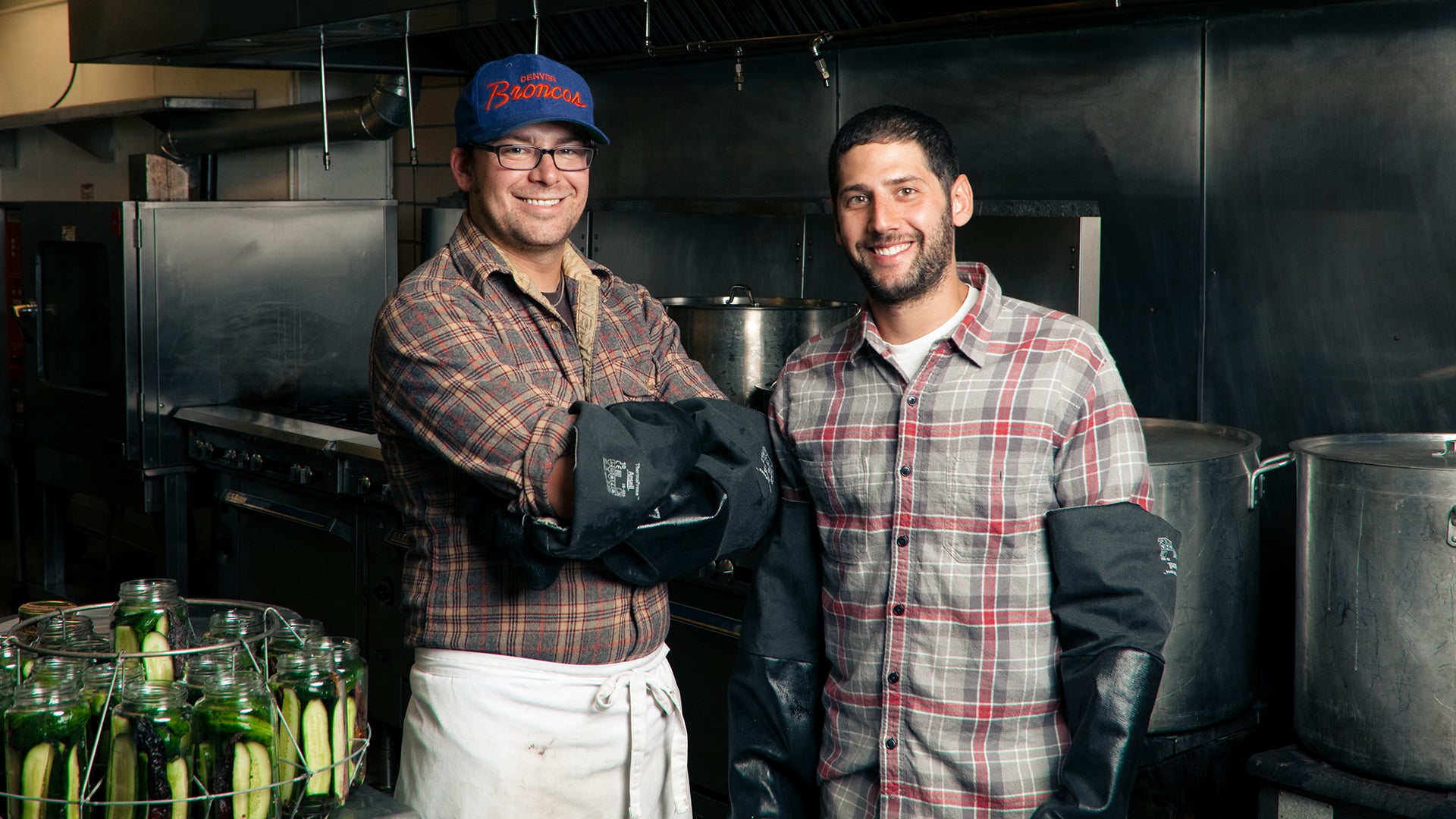 If you had told Justin Park and Tyler DuBois that they would eventually start a pickle company, they would have laughed at you. But as life often goes, one thing led to another, and their pickling hobby spiraled out of control, evolving from a part-time obsession into a full-time business.
It all started when Justin and Tyler were making pickles just for fun. One night, over dinner at Tyler's house, the two friends discovered that they were both pickling novices who were quickly becoming entranced by their shared hobby. They started hanging out and making pickles in their spare time, sharing recipes and ideas.
One day, as they bit into a batch of what would later become The Real Dill Jalapeño Honey Dills, they had a "Pickle Epiphany." The pickles had an incredible depth of flavor, unbelievable crunch, and gorgeous presentation. These dill pickles were unlike anything they had ever tasted. The eventual business partners were hooked, and that is when their pickling hobby started turning into an obsession.
For the next year and a half, Justin and Tyler spent all of their free time dreaming up new pickle recipes and honing their pickling craft. After giving out a batch of pickles as the favor at Justin's wedding, the guests' raving feedback confirmed that we were onto something special.
So in 2012, Justin and Tyler dove in head first by joining the local farmers market circuit. They were both working full time jobs, and they made pickles every waking moment that they were not at their paid positions. After some time had passed, they decided that they were brave enough and finally ready to open a pickle company. Telling friends and family that they left their jobs to "make pickles" - and maintain a straight face while saying it - was not easy. But, their passion for pursuing this dream was only matched by their stubbornness.
In the early days, The Real Dill operated out of a commissary kitchen space in Denver. Justin and Tyler spent their days hand-making pickles with the same methods that we use today at The Real Dill. We make pickles with the techniques that your great grandparents used to use in order to preserve their harvest each year. None of our products are fermented, although we are huge fans of fermented foods. We preserve our jars by submerging them in a hot water bath at a specific temperature and for a specific amount of time. This procedure locks in freshness and eliminates the need for cold storage and preservatives.
We also approach consumer packaged goods with a chef's mentality, meaning that we are slaves to the details. We handcraft all of our products in small batches, with obsessive attention to quality. Everything is created in-house, and made 100% from scratch using whole, singular ingredients. That means that none of our ingredients contain other ingredients, and we do not use anything that you do not recognize from your own pantry or garden. Most importantly, each jar we hand-pack is carefully crafted with care, intention, and love.
When Justin and Tyler were not making pickles, they were slinging them at farmers markets around Denver. Slowly but surely, through word of mouth, we started getting wholesale inquiries made by prospective accounts who were interested in our growing product line. And from there, we started evolving from an aspiring pickle company into a legitimate  business.
As time progressed, our small product lineup grew, leading us to the happy accident that is now our famed Bloody Mary Mix. Our pickling process results in a delicious and refreshing cucumber-infused water, so instead of dumping it down the drain we built a Bloody Mary mix recipe highlighting it as the star ingredient. What we did not know is that people would eventually recognize us for our Bloody Mary Mix more than our pickles, causing us to joke that we are no longer just a pickle company, but a Bloody Mary company with a pickle problem! To this day, our famed Bloody Mary Mix is our bestselling product.
In 2014, we moved our pickle company into its own space, which we dubbed "The Dillery." After working within a tiny, shared commissary kitchen space, as well as managing multiple storage units across the city, having our own facility was a dream come true. Initially the space was too large for our small but mighty pickle company, so we shared the facilities with three other local food manufacturers: Red Camper Picnic Supply & Mercantile, Elevated Ketchup, and Backyard Soda Co.
Several years later, we are still at The Dillery, but we no longer share the space with any other Denver-based food brands. We have been fortunate to grow in ways that we never have imagined. This year, we are in the process of expanding our production facility to be able to keep our operations at The Dillery. Much to our dismay, seven years later, we are bursting at the seams in our space.
Although many things have changed throughout the years, including the offerings available in our product lineup, the size of our team, and the interior of The Dillery, we still maintain our core values.
We're proudly an independent company, 100% owned by our original founders. That means, we stay true to our vision, not the deliverables demanded by an investor. At the heart of it, we're just a bunch of detail-obsessed food geeks who love taking on challenges in the kitchen. We care about making things the right way, not just the standard or easy way.
We have always strived to make the best products of their kind, and to us, this means experimenting with new combinations and flavors that have not been discovered. If we make something that is already in existence, we challenge ourselves to reimagine what has been done before. For example, we developed our Caraway Garlic Dills as an elevated take on classic dill pickles. Each jar of Caraway Garlic Dills is packed with loads of fresh garlic and dill and a healthy serving of toasted caraway seed. Opening a jar of our version of traditional dill pickles is reminiscent of when your grandmother's freshly baked Rye bread comes out of the oven and the warm aromas paint the entire house. Toasty notes of caraway and fragrant garlic pay homage to tradition and transport you back in time to the nostalgic memories of days past.
We also care about more than just pickles and Bloody Marys, and we have challenged ourselves to build this business in a way that makes a positive impact on our environment and our community. We are always working towards operating a zero food-waste production facility. Currently, we divert over 40,000 lbs of food scraps, annually, away from the landfill and into the capable hands of local nonprofit partners that compost it for their urban farming initiatives. Additionally, we partner with one local nonprofit each year through our Charitable Partner Program in order to achieve our goals of giving back through community outreach and fundraising.
Looking back on the past nine years, we are eternally grateful for all of the support that we have received both from our local and national communities. It has been a wild ride, and we cannot wait to see what this next chapter holds in The Real Dill's story.
1 Response
Leave a comment